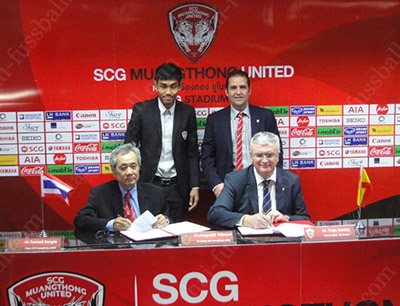 The contratcs are signed
image: © thai-fussball.com
Now it is finally official, perfect and sealed by contract. Teerasil Dangda will move to Spain in summer. In a press conference on Wednesday the last week at SCG Stadium the contracts were signed.
No space were left in the small room where the press conference took polace in the catacombs of the SCG stadium. And the delegation of the Spanish club from Almería seemed impressed - not only by the fuss on Wednesday. Two weeks ago, shortly after the initial announcement was made that the clöub has agreed to sign Teerasil Dangda, the website of the Spaniards couldn't be reached for a longer time and up to 1 million hits were counted as it was to be heard.
However, the rage about Thailand's superstar, who doesn't really wants to be one, could still intensify. At the earliest when he is going to start his service for his new side on 1 July of this year. At the very latest, when Teerasil scores for the first time. But, the road until he may find the back of the net for Almería is long. Very long.
To begin with, Teerasil has still 21 matches to play for Muang Thong in the Thai Premier League before he can move. The game against TOT SC at SCG Stadium on 28 June (taken the schedule will not change) could see his farewell from his fans and Muang Thong. But with having to report for his new side four days later, this could also mean he probably will not see any days off for a longer time. He will have to go through the whole season preparation and, besides, will have to settle before the new season starts in Spain. Presumably mid August.
However, up to his final move really happens, there are two open questions which, up to now, have not been addressed publicly yet or have been cleared. On one hand: Does Teerasil also join UD Almería in case the club gets relegated from La Liga? We have no answer but we are hopeful to get it answered soon.
And on the other hand, what we don't want to hope, does he also move if he is injured and would have to miss preparation or even the first months of the season? Also here, we have no answer from the officials. But we assume that an injury, provided that it did not cost him the whole season, could take place nevertheless. Since the transfer of the prolific striker is no financial risk for Almería. Because we have been told that there is no transfer fee agreed for the one year loan deal. With the spread rumours that Teerasil will earn 900,000 Baht per month, so a good 20,000 Euros, he is still a bargain for Almería.
It would become expensive for the club of the Spanish Mediterranean coast, if they want to buy him out of his contract with Muang Thong. Then, the contractually agreed fee will amount to 100 million Baht (≈ 2 million Euros). Certainly too much for one, then, nearly 27 year-old striker from Thailand. However, the omitted lending fee might have been calculated in to the agreed buy out price.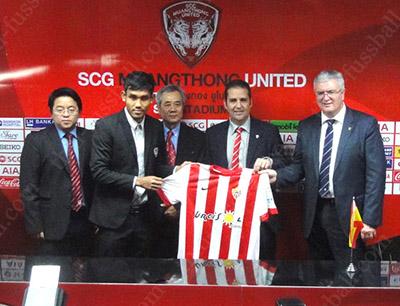 Teerasil receives his shirt
image: © thai-fussball.com
After all there was not much new to hear around the press conference. The key facts of the deal was already known before. So the usual flatteries were exchanged and Teerasil Dangda was handed a jersey with his name and the number 10.
The fact that both sides are now consider a cooperation and that the Andalusian fancy themselves a trip to Asia in summer, probably lies not least with the charisma of their new signing, which they have obviously realised. Finally, Thailand is simply part of a football-crazy region with a population of 600 million people and Dangda can easily be counted as of the five best players of South-East Asia. Pressing forward into spheres, measured in fame and popularity, like Real Madrid or Barca in the region, is not impossible for Almería. But a lot depends, of course, also on Teerasil.
The signing and Teerasil's move to Spain can be called historic anyway.
Mui
will be the first Thai to play in Spain. All the same, whether in La Liga, or the Segunda División. However, he is not the first player from Thailand to earn his money in Europe. If one refrains from the time when Suree Suka, Kiatprawut Saiwaeo and just Teerasil had their stint with Manchester City, before they were parked later in Switzerland, there are a few prominent predecessors.
From 1979 to 1984, Witthaya Hloagune played for Hertha BSC and the 1. FC Saarbrucken in Germany. In 1999/2000 current Thai national coach Kiatisuk Senamuang undertook an attempt to make an impression in England with Huddersfield Town. However, could not assert itself and mostly played in the reserve. And at last, there is current Bangkok Glass FC captain Teeratep Winothai who tried his luck in Belgium with Lierse S.K. This was in 2009.
If everything runs smoothly and successfully for the 1.80 tall beanpole, fans in South-East Asia will still have to swallow a drop of bitterness. Not only the fact that they would have to renounce to see him playing the Asian Games tournament in September and the AFF Suzuki Cup in December. Both competitions are not part of the FIFA calendar and therefore UD Almería would not have to release him.
So the only place to follow him, how he is going after goals and battling with the likes of Neymar, Messi and Ronaldo, might be in front of the TV screen at home. Blessed is he, who has the broadcasting rights for La Liga 2014/15 in his portfolio. His grin might be as wide, as the one Teerasil Dangda carried last Wednesday over the whole day.