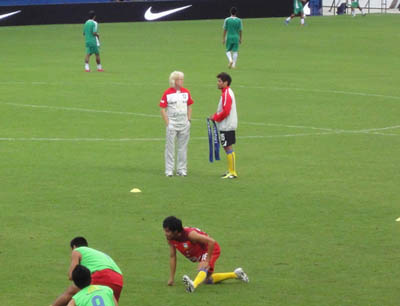 Bild: © thai-fussball.com
For the international on Wednesday 12 September, Winfried Schafer has nominated 25 players. Who always wanted to know how a Thai national team could look without players of Chonburi, should get an eyeful.

Myanmar national team was in the plans for a warm up match on 12 September initially. However, the western neighbor, as well as other options had to be dropped. Meanwhile it looked even in such a way, as if Thailand would be without any preparatory game in September for lack of opponents. Although Schafer were assured of friendly games for September by the FA. Who is not able to plan in the long-run, and has to arrange games hastily will left with nothing. Other nations participating the AFF Suzuki Cup in November, most likely to have more preparatory games on at the end than Thailand. Albeit it should be mentioned that e. g. in Indonesia the league is on pause and the Philippines are equipped to large parts with players who do not earn money in the domestic league.
The game against Laos will be the second test after the All Star game in August. The match is to take place at the Suphachalasai Stadium, and kickoff is at 19:00. Furthermore it will mark the first official international of Thailand after the world championship qualifier in February against Oman.
Because of the league cup, Winnie could not draw back on players of Chonburi and Bangkok Glass and had to puzzle a selection together without them. Both sides are to face each other on Tuesday next week in a quarterfinal return tie of the Toyota League Cup next week. Chonburi, then will preparing for the first leg of the AFC Cup quarterfinal against the Syrian representative Al-Shorta.
Schafer knew how to surprise this time again with his nomination, what is owed of course, to the absence of the internationals from Chonburi. In the absence of Sinthaveechai Hathairattanakool, Kosin Hembut of Army United is called up. Looks like nothing goes without a Kosin at goalkeepers position, if one remembers Sinthaveechai's former given name. Future Thai Premier League side Ratchaburi FC could see its first internationals in club history, after Prayad Boonya and Rattana Petch-Aporn are nominated.
Another first timer, under the Germans reign, Thana Chanabut of Police United. He moved mid-season from Esan United to Police and already scored ten goal this season. Samut Songkhrahm's shootingstar Napat Thamrongsuphakorn, received his second call after he has been part of the squad against the All-Stars last month. No surprise and only a logical consequence of his good performances, the nomination of Anthony Ampaipitakwong. The qualities of the Texan by birth, are indisputable, and if he can make an impression, there should be nothing in his way to become a regular for Winnies team.
Winnie's 25-man squad for the game vs Laos:
GK:
Sivaruck Tedsungnoen (Buriram), Kawin Thammasatchanan (Muang Thjong), Kosin Hembut (Army United)
DF:
Theeraton Bunmathan (Buriram), Prayad Boonya (Ratchaburi FC), Piyaphon Bantao, Panupong Wongsa, Weerawut Kayem (alle Muang Thong), Nattaporn Phanrit, Prat Samakrat (beide BEC Tero Sasana), Niweat Siriwong (Pattaya United)
MF:
Suchao Nuchnum, Anthony Ampaipitakwong, Jakkraphan Kaewprom, Jirawat Makarom (alle Buriram), Datsakorn Thonglao, Phichitpong Cheuichieu (beide Muang Thong), Rattana Petch-Aporn (Ratchaburi FC), Sumanya Purisai (Chainat FC)
FW:
Suriya Domtaisong (Buriram), Teerasil Dangda (Muang Thong), Thana Chanabut, Surachart Sareepim (beide Police United), Kirati Keawsombat (Wuachon United), Napat Thamrongsuphakorn (Samut Songkhram)