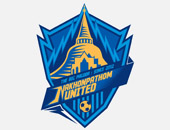 Nakhon Pathom United 2013
The fact that, occasionally, time runs is not new. We are just months away from 2013 and Nakhon Pathom is set to return on Thailand's football stage. The specialist is astonished - the layman is surprised. Two years already past since? Nakhon Pathom? Never heard!
We are close to half-time of Thai Division One and so we get closer to Nakhon Pathom's return in 2013. Only few months, and the banned club is allowed to return on stage. Hence, the club Nakhon Pathom already prepares for his return. For this purpose a new club crest has been introduced to public this week in a press conference. Not enough, with a new name any recollection of the past is tried to be erased.
As almost anyhow and everyone is United in Thailand, what lies closer than to call itself Nakhon Pathom United. And there is plenty of room for in Thailand's second Division. While in the TPL eight clubs with the
"United"
in the name bustling around, there are just two of in Division One. The boar in the old club badge had to make way for the "Phra Pathom Chedi", the landmark of the province and the town. But the good news, the new logo is absolutely snappy and without the usual animals like rabbits, fish or birds. Then the
"Since 2012"
is the only really logical consequence of the whole.
But let us dazzle back. Nakhon Pathom FC was founded in 1999 and till 2006 played in the
Pro-League
(under the roof of the SAT) and in the same year qualified for the Thai Premier League 2007. Together with Chonburi and Suphanburi Nakhon Pathom formed the group of clubs which did not came from Bangkok. Incidentally in 2009 an absolutely unknown Welshman called Michael Byrne, signed with Nakhon Pathom at that time. In the same year, but without Byrne (which moved to Chonburi mid season) Nakhon Pathom got relegated. Only one year later at the season end and during relegation play-off against Sisaket,
the scandal
happened which led to a two year ban of the club.
Subsequently the club went to court several times against the FA and his ban. Till this day it was not granted and the ban remains maintained up to the end. To integrate the club in 2013, there are five relegation places this season in contrast to usually four relegated teams. If the Association should stick by his decision with five relegated teams, one must admit a smart move.
But can the club really erase the disgrace from 2010 by changing crest and name? Even if not the same persons responsible in 2013, the name Nakhon Pathom will be linked for long with what happened in December 2010.