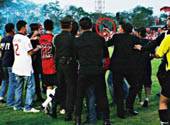 Thai Premier League Division 1 side Nakhon Pathom FC received a two-year ban today from all competitions under the roof of the Thai Football Association.
Last weekend's relegation match between Nakhon Pathom FC and Sisaket ended in violence. The stalemate severely dented Nakhon Pathom's hopes of sealing a TPL spot for next season. Main target of the fans and staff members from the home team was referee Apirak Onrak. Obviously they blamed him for bad refereeing and taking bribes. Apirak was slapped, kicked and hit by several punches. Even a gun was seen during the turmoil.
The ref tried to runaway and ended up in the arms of Sisaket supporters and they became the next target. They fled and were hunted. At least seven of them were injured, several cars were damaged. Apirak Onrak was injured as well and brought to hospital. Fortunately he wasn't hurt that much. For refereeing the match he received a 2000 Baht wage. Too less to risk his life.
All this happened last weekend, and already two days later the first meeting was held. Reports from the referee and match commissioner have been reviewed as well as video tapes from the media for more than three hours. As an outcome, Nakhon Pathom was punished with a 150.000 Baht fine. A second meeting being held a day later. The fine was confirmed and Nakhon Pathom player Thanakorn Kamkoma received an additional 10.000 Baht fine. Furthermore he is not allowed to play any match for the time being. The club itself was punished with a two-year ban from all FAT competitions. All players allowed to look for a new club.
There is still one more match to play in the relegation. However, in each case, Nakhon Pathom promoted or remain in Division 1, the respective league will consist of 17 teams for the next two years.
We started the year with the incident during the Kor Royal Cup final in February. Now we have to close the year with the incident from last weekend. Really sad.