Manuel Friedrich at SCG-Stadium
image: © thai-fussball.com
Thailand was Manuel Friedrich's professed goal. The place where the former German international intended to finish his career. But how life goes, sometimes things never turn out the way you expect. And so the 34-year-old could play Champions League in Europe next, rather than preparing himself for the new TPL season.
It was in spring when Manuel Friedrich announced his farewell to Bayer Leverkusen and the Bundesliga. At that time, he even rejected a new contract Bayer offered him. Instead he wanted to head to Asia to finish his career. On his short list: Thailand, China and Japan. Although we were glad to find the name of the "Land of Smile" on his list, we noticed it with a pinch of salt and some disbelieve. The more we were amazed to find him at SCG Stadium at the end of August when he was watching the game of Muang Thong against Bangkok United. We approached him after the game and he told us that he is here in private.
A short time later it became obvious that Thailand is his number one destination after he traveled to Bangkok for a second time within weeks. But this time in search for a job.
Two top clubs from the Thai Premier League stated their interest in his service. While one have let him know that he should look for a club in Germany until winter, virtually as a proof of his quality, Bangkok Glass FC at least asked him to trial with them. Though he was a little bit surprised that he needed to trial, with his vita enough as proof of his quality, Friedrich did not hesitate.
He trained with the side for two days and even appeared in a practice match. But despite of intensive talks with the persons responsible, he doesn't got a contract. BGFC coach Attaphol Buspakom rejected to sign him because he wasn't sure enough whether Friedrich would still have the necessary fire at the age of 34. On top of that, in view of the fact that the German want to finish his career in Asia. So therefore Friedrich had to depart unsuccessfully. But he doesn't gave up on his wish to play in Thailand.
In the following weeks he has not been short of offers from various sides. He refused an offer from Australia's A-League. And just recently Malaysian media reported he has taken part in a trial with Sarawak. However, this does not correspond with the truth. Nevertheless, also Sarawak offered him a contract meanwhile the defender kept itself fit in Germany.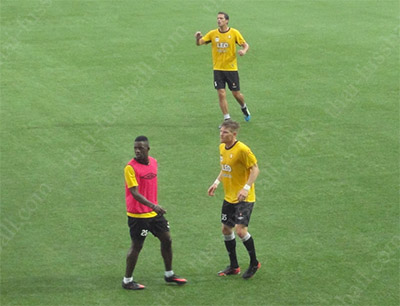 Friedrich on trial with BGFC
image: © thai-fussball.com
But instead of a phone call from Thailand, he received a call from injury plagued Borussia Dortmund. After the cruciate ligament injury of Neven Subotic the Champions League finalist run out of centre-backs. Friedrich and Dortmund coach Jurgen Klopp know each other from Mainz 05 when both played together and Klopp later became Friedrich's boss on the sideline. And with Manuel Friedrich as free agent, Dortmund would get a player eligible to play in any competition. UEFA Champions League in particular, though just after the winter break.
Following the call from Jurgen Klopp, the former Leverkusen player is on trial with Dortmund since last week. Or better, he was. Because Mats Hummels had to came off injured during Germany's international against England, and with Schmelzer another defender added to the injury list, Dortmund did its job properly and signed Friedrich till the end of the season.
Now, at the age of 34, Manuel Friedrich suddenly gets the opportunity to play Champions League again. But his first appearance in black-yellow might be on the coming weekend against giant Bayern Munich in the Bundesliga. Couple of weeks ago Friedrich played his practice match for Bangkok Glass FC in the same colours. Irony of fate?
Instead of the AFC Champions League with Muang Thong or the Thai Premier League with Bangkok Glass, now it will be the Bundesliga and Europe's elite competition for Manuel Friedrich. And when watching Dortmund in the Champions League on TV, Attaphol Buspakom might ask himself why he rejected the German. And Muang Thong might just feel misunderstood.
For Manuel Friedrich, his wish to play in Thailand could still come through. Next year. But only if he should not finish his career in summer 2014.