Lee Tuck in "old uniform"
© Tianchai Chaithip
Actually there a few players from the UK playing in Thailand now. No matter they are Scotts, English or Welsh. Most of them earn their money in the Thailand Premier League. Lee Tuck is the only foreign player from England playing in Thailand's second Division. At least that was one reason enough to talk with him about his goals and the Division One.
Lee came to Thailand in 2010 and his first club was Nakhon Pathom FC, the club which is now banned for two years from all competitions in Thailand. After Michael Aspin and Michael Byrne he become the third player from UK to play for the club. Since 2011 Lee Tuck is under contract with Samut Prakarn Customs United. Back in England mostly he played for clubs in the
Blue Square Conference.
thai-fussball.de:
Lee, thanks for having you. How do you doing?
Lee Tuck:
Hi Sven, I'm doing well thanks.
thai-fussball.de:
More or less Michael Byrne brought you to Thailand. Did you know him personally back from England?
I am not sure, but could it be you both met on the pitch while playing for different clubs in on of the Blue Square leagues?
Lee Tuck:
I know Michael through a friend who we both played football with (
Michael Aspin, red.
). That's how we met and he as become a good friend since then.
thai-fussball.de:
You played for Farsley, and were on loan to Guiseley. It appears to me that you played for the latter until end of 2009. Is it right?
Lee Tuck:
I started the season out on loan at Guiseley after a couple of games in to the season. But my loan was shortened to 5 or 6 weeks after scoring a few goals. The manager called me back up to play for Farsley Celtic.
thai-fussball.de:
So how did you get the idea to move away from England and try your luck abroad? Was it just because of the talks between you and Michael or any other things helping you with your decision?
Lee Tuck:
I spoke to Mike (
Byrne
) a few times on the phone and computer about coming to Thailand. I also looked up Thai football a few times on youtube and a few different Websites. Mike explained everything to me about the football there and also what goes on off the pitch. Like the food, the culture, the Thai people. Basically the way of life and he spoke well about the standard of Thai football. He said Thai people are very nice and the culture of Thailand is good. So all this brought up a big interest in me to come over and try a new way of life and come to play and learn football abroad.
thai-fussball.de:
As you arrived last year, and were in training for the first time how does it felt? Did anything match your expectations?
Lee Tuck:
When I first came to Thailand, I started training with Nakhon Pathom FC the second day I landed. I was happy, training and everything was fine. But the weather wow. I just came from England which was snowing and was so cold that I had 2 pairs of socks on in the house. To come to Thailand where I was running around in the hot sun mid-day which just took me by surprise. (laughing)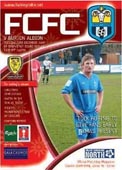 thai-fussball.de:
With Michael already here, was it more easy for you to settle in Thailand?
Lee Tuck:
Yea, I think it was easy because the Thai people at Nakhon Pathom FC are very helpful and nice. I also had a couple of good friends at the club which helped me with anything. My friend Mana, the goalkeeper at Nakhon Pathom was a big part of helping me settle in and I spoke to Michael a lot and he give me good advise. I was happy to be in Thailand and I was playing football everyday. So there was no problem.
thai-fussball.de:
Getting a bit serious now. I am sure you heard about what happened during the relegation match between Nakhon Pathom, your former club, and Sisaket. At the time when it happened, you already signed up with Customs and so didn't had to play that match.
Lee Tuck:
Even though I had left the club and I no longer wanted to carry on playing at Nakhon Pathom FC, I liked the club and the players and I wanted Nakhon Pathom FC to win the game and go to the Thai Premier League. I would also like to say THANK YOU to all people of the Nakhon Pathom FC FAN CLUB for their very good support. However, I don't want to go in to reasons why I didn't stay.
thai-fussball.de:
Did you just signed a one-year deal with Nakhon Pathom or how does it came you moved to Customs. Where there any other clubs interested in you?
Lee Tuck:
Yes I signed a 1 season contract, till 31st October 2010. After that I was a free player. A couple of different teams from the Thai Premier League were interested in signing me and I spoke to them and I spoke to Costums as well. After speaking to Customs United about the plans they have for the club and the way the are trying to go, I felt that they are the right team for me.
thai-fussball.de:
We have heard you been injured during the pre-season. How much of the pre-season preparation you missed?
Lee Tuck:
Yes I was very unlucky. I got my injury after a few days of the start of pre-season and I missed all the pre-season games and training. I was injured for 2 months, but I looked after my body by eating the right food, I did swimming and working on strength to recover my injury quicker. Now I am back playing. I missed the first game off the season but have played the last 2 games and feel in good form.
thai-fussball.de:
Physically you are very strong. Do you see this as advantage about the Thai Players, or does it even can turn out as a disadvantage playing against more manoeuvrable players?
Lee Tuck:
I do see it as a little advantage. I think Thai football would be a bigger standard in Asia too, if players were a little stronger. I think the standard of the football would be better and harder for players to play.
thai-fussball.de:
Three matches, two defeats. It's less than what Customs expected out of the first games. How you would rate the current situation and the first matches?
Lee Tuck:
Well we lost the first two games but if you watch the games and not just the score line, you will see that we played well in both games. I think we should got points out of the two games but we wasn't good enough in front of goal. That's football sometimes. You can be the better team on the day but if you don't score as many goals as the other team then you don't win. We also missing some players through injury which didn't help. We had our third game last weekend against Bangkok FC which we won 3-0. It gives us a good boost and hopefully we play the same next week against Thai Honda. I think the current situation with Custom is still as we plan. We want to get promotion this season to TPL.
thai-fussball.de:
When I met your friend Mika (
Chunuonsee, BEC-Tero
) last year, he was confident that Customs would be promoted at the end of 2010. Which we know, didn't happened. Do you have the same confidence now as he had that time?
Lee Tuck:
Yes I believe. If you don't believe then you lose before you even start. We can get promotion because we have a good team and Customs is a good club. Customs have been through this last season by coming very close to promotion which is always an advantage to us this season. Of course I know this season Division One is bigger and better than last season. More teams fighting for promotion, but its a long season and we will have to wait and see how things go.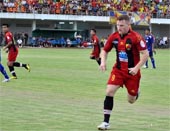 thai-fussball.de:
You are now in your second year here in Thailand and the second year in Division One. What is your personal conclusion about your first year.
Lee Tuck:
The first season everything was new to me. I need to get used to playing in the hot weather and learning to speak Thai language, the food ect. I enjoyed last year and had a good season but this year I know a lot more of Thailand after spending a year here and now I understand the way Thai football is played, so I'm hoping for a good season again. I want to score more goals than last season.
thai-fussball.de:
And what is your conclusion about the level in Division One? Did you see any improvement in the overall level compared to last year?
Lee Tuck:
It is early into the season to say but we have a lot more bigger clubs and bigger players come in to Division 1 this season. Bigger sponsors too and more foreign players who can sign. So i think it will be a stronger Division 1 this season.
thai-fussball.de:
Do you have any personal goals for the season?
Lee Tuck:
My personal goals this season is to try be the best player of every game I play and to try score more goals this season than last year.
thai-fussball.de:
What do you enjoy the most of playing football in Thailand?
Lee Tuck:
I love playing football in the sun everyday even though sometimes its hot...but it beats playing in the rain and cold (
laughing
) but no matter what weather as long as I can play football everyday, I'm happy.
thai-fussball.de:
Are you going to watch other Thai league matches, if you don't have to play for Customs?
Lee Tuck:
Yes I go watch Thai league games as much as I can if i have not got a game myself. I know I can watch Thai football on TV but I like to go to the stadiums and watch live football.
thai-fussball.de:
What are the things you like to do apart from playing football?
Lee Tuck:
I like to relax after training and watch a movie sometimes, or after a game go to Mikes home with Mika and Douglas Cobo (
Sriracha FC
) and we will have a BBQ. I like to play ping pong but I am the Farang champ and don't know anyone who can give me a game. Because I'm too good....hahah no im just joking im not the best but i enjoy playing.
thai-fussball.de:
What taste better English beer or Thai beer?
Lee Tuck:
English.
Thanks to Lee and all the best for him.