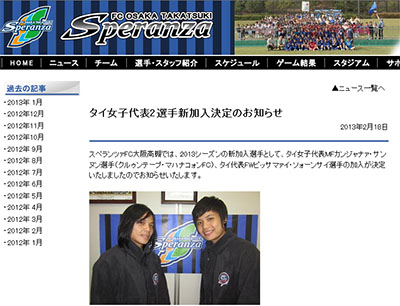 Kanjoren (le) und Pitsamai (ri)
On Monday, Japanese club Speranza FC announced the signing of two Thai internationals, Pitsami Sornsai and Kanjana Sungngoen. A surprise to many, even to those, which are fairly interested in Women's football.
Still on Sunday evening, and in a quite nebulous way, Pitsami Sornsai informed through her official Facebook page that she would make a start again on her aim. Her aim and dream that is to play abroad. Football with no doubt, is the passion of Thailand's current best female striker, football is what she is living for and she is highly motivated to take the next step in her career. Other than most of her male counterparts, she does not worry about leaving her "comfort zone" and now, besides Kanjana, she becomes the first woman from Thailand to sign a contract with a professional club abroad and to play in Japan's women''s elite league. Even several heavy injuries over the past two years could not detain her.
Japanese first division side Speranza FC on Monday officially announced the signing of Pitsamai and her national team colleague Kanjana on his webpage. First pictures of the arrival of the two in Japan soon appeared in the social networks with media representatives and camera crews welcoming both in Japan. Short time later we were able to reach Pitsamai in Japan. She confirmed us, that she will be under contract for her new club for the coming L. League season and is not just there for trial.
But this time hopefully with a "happy end". Since the 24-year-old is not in Japan for the first time. In spring 2012 she was on a 3-week trial with her new employer. Just recovered from a long time injury, Pitsamai had to abort her trial with a knee injury after a few days. As a consequence she had to pause for several months. Finally, after more than one year the new season of the
Thai Women's League
kicked off at the end of January 213. Freshly recovered, the forward moved from RBAC to Chonburi-Sripathum.
Now, in the country of the reigning world champion Japan, she will have the opportunity to compete against world class players. One of them will be her team mate Karina Maruyama. In 2011, Maruyama scored the winning goal against the hosts from Germany at the Women's World Cup and paved the way for
Nadeshiko
to advance to the semi-finals. But what Pitsamai is looking for in particular, is to play against her idol Homare Sawa, captain of Nadeshiko and Ballon d'Or award winner in 2011. But of course, whether it will happen and whether Pitsamai will be good enough to make it in the starting line-up of Speranza remains to be seen. In any case, nevertheless, Pitsamai can only benefit from the professionalism of the league.
And so her fellow country woman Kanjana Sungngoen can. The midfielder is 26 years of age and is known for a strong strike and to be fast. However, Kanjana has been signed without any trial for the L.League side. But according to Pitsamai, Speranza knew exactly who they are going to offer a contract. Like we have
reported
a few months ago, there were plans in place to scout several players in Thailand. Though whether this has something to with, is not to our knowledge.
Superantsua FC Osaka-Takatsuki, how the employer of both is called officially, was founded already in 1976 and belongs to Panasonic. If one like, the female counterpart of Gamba Osaka. The new season in Japan starts on 23 March and Speranza FC will have to take on 2009 champion Urawa Red Diamonds. For us, unfortunately, a few days too late. Since on 12 March, Muang Thong United is on to visit the male department of Urawa in the AFC Champions League.
However the adventure may turn out for both, a place in the history books of Thai women's football is assured.