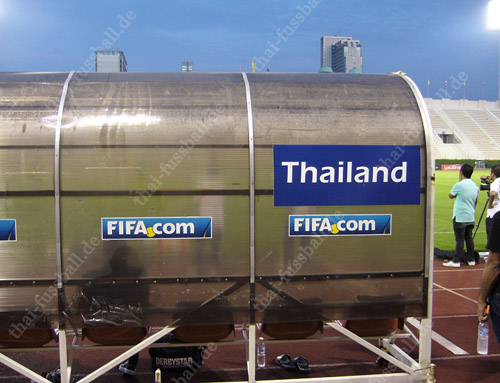 Image: © thai-fussball.com
For the 41st King's Cup, taking place from 15 to 21 January in Bangkok, Thailand announced his preliminary squad today. The squad for the three other participants are already certain. While Denmark and Norway sending a League XI, South Korea is going to send his U23.
While Winfried Schafer still stays on holiday, today Thailand announced his temporary squad for the traditional tournament. The squad is composed of 23 players who have been already named for the world cup qualifier against Australia in November. In addition, Schafer named 10 more players including two U19 internationals. Those are Narubadin Weerawatnodom and Adisak Klinkosum. Both played a successful qualification for the Asian Championship 2012 in November last year. Both obviously convinced the coaching duo Schafer/Surachai.
Thailand
Of course at first the overview about the 33 Thai players. The number surely to be cut down before the final announcement. Winfried Schafer is expected back in Thailand for 8 January, however all 33 nominated have to appear on Monday 9 January for a first meeting. And they are:
Goalkeeper:
Sivaruck Tedsungnoen (Buriram-PEA), Sinthaveechai Hathairattanakool (Chonburi), Kawin Thammasatchanan (Muang Thong)
Defender:
Niweat Siriwong (Pattaya), Cholratit Jantakam, Nattapong Samana, Suree Sukha (all Chonburi), Panupong Wongsa, Nattaphorn Phanrit (beide Muang Thong), Supachai Komsilp (Bangkok Glass), Thanasak Srisai (TOT SC)
Midfielder:
Adul Lahso (Chonburi), Phichitpong Cheuichieu, Datsakorn Thonglao, Adisak Klinkosum (all Muang Thong), Surat Sukha, Rangsan Viwatchaichok, Suchao Nuchnum (all Buriram-PEA), Jirawat Makarom, Sumanya Purisai (both Buriram FC), Narubadin Weerawatnodom (Police United)
Striker:
Pipob On-mo, Ekkaphan Inthasen (both Chonburi), Surachat Sareepim (Police United), Sompong Soleb, Suriya Domthaisong, Somjet Sattabut (all Buriram FC), Teerathep Winothai (BEC-Tero), Teerasil Dangda (Muang Thong), Kirati Keawsombat (Buriram-PEA), Sarawut Masuk (Chamchuree United), Chatree Chimtaley (Bangkok Glass)
Denmark
The Denmark XI squad at least contains nine players which earned a national cap already. With 19 caps, Jakob Poulsen from FC Midtjylland received most of them. The league team of titleholder Denmark consists of the following 24 players:
Goalkeeper:
Jesper Hansen (FC Nordsjælland), Jonas Lössl (FC Midtjylland)
Defender:
Andreas Bjelland, Patrick Mtiliga, Jores Okore (all FC Nordsjælland), Jesper Juelsgård Kristensen (FC Midtjylland), Lasse Nielsen (Aalborg BK)
Midfielder:
Dennis Flinta, Martin Ørnskov Nielsen (Silkeborg IF), Jakob Poulsen, Mads Albæk (both FC Midtjylland), Kasper Lorentzen, Lasse Rise (both Randers FC), Martin Spelmann (AC Horsens), Mikkel Beckmann, Søren Christensen (both FC Nordsjælland), Peter Nymann, Søren Rieks (both Esbjerg fB), Rasmus Falk (OB Odense)
Striker:
Emil Larsen (Lyngby BK), Nicklas Helenius (Aalborg BK), Simon Makienok Christoffersen (HB Køge), Tobias P. Mikkelsen (FC Nordsjælland)
South Korea
Do things in a big way seems to be the theme for South Korea. Albeit the Korean FA is sending the U-23 the 25-man team consists of eight players from Japans J-League. The elected team in detail:
Goalkeeper:
HA Kang-Jin (Seongnam Ilhwa), KIM Seung-Gyu (Ulsan Hyundai), LEE Beom-Young (Busan I'Park)
Defender:
YUN Suk-Young (Chunnam Dragons), KIM Young-Kwon (Omiya Ardija), HONG Jeong-Ho (Jeju United), OH Jae-Suk (Gangwon FC), JUNG Dong-Ho (Gainare Tottori), KIM Ki-Hee (Daegu FC), HWANG Do-Yeon (Daejon Cityzen), JANG Hyun-Soo (FC Tokyo)
Midfielder:
YOON Bitgaram, YUN Il-Lok (beide Gyeongnam FC), JUNG Woo-Young (Kyoto Sanga), HAN Guk-Young (Shonan Bellmare), PARK Jong-Woo (Busan I'Park), SEO Jung-Jin (Jeonbuk Hyundai), KIM Tae-Hwan (FC Seoul), BAEK Sung-Dong (Jubilo Iwata), CHO Young-Cheol (Albirex Niigata), KIM Bo-Kyung (Cerezo Osaka), KIM Min-Woo (Sagan Tosu)
Striker:
KIM Hyun-Sung (FC Seoul), KIM Dong-Sub (Gwangju FC), PARK Yong-Ji (Chungang University)
Norway
Although we do have the full squad list of Norway XI, we just have them on hand without any position apart from the goalkeepers. However, 8 players can call themselves international with at least earning one cap. Rune Almenning Jarstein in the goal received the most with 17. The following 22 players are nominated:
Rune Almenning Jarstein (Viking Stavanger), Espen Bugge Pettersen (Molde FK) - Mostafa Abdellaoue (Tromsø IL), Jo Inge Berget (Molde FK), Valon Berisha (Viking Stavanger), Simen Brenne (Odd Grenland), Magnus Wolff Eikrem (Molde FC), Tarik Elyounoussi (Fredrikstad FK), Vegard Forren (Molde FK), Steffen Hagen (Odd Grenland), Vegar Eggen Hedenstad (Stabæk IF), Markus Henriksen (Rosenborg Trondheim), Even Hovland (Sogndal IL), Ruben Yttergård Jenssen (Tromsø IL), Magnus Lekven (Odd Grenland), Tore Reginiussen, Espen Ruud (beide Odense BK), Harmeet Singh, Stefan Strandberg (beide Vålerenga IF), Alexander Toft Søderlund (Haugesund FK), Thomas Sørum (Helsingborg IF), Lars Christopher Vilsvik (Strømsgodset IF)