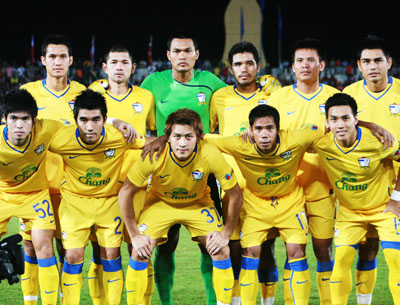 Thai Team from 2010
© Pongsakorn Tantajanya
Now they are certain. Fixtures as well as venue and participant for the 41st King's cup. Other than reported in October North Korea are not to take part.
For the last time the King's cup, which is held to honour his Majesty the King Bhumibol Adulyadej, took place was in December 2010. Nakhon Ratchasima hosted the tournament. Beside the home team a Denmark, Poland and Singapore selection played for honour that time. As same as in 2010 the Danes travel to Thailand and are able to defend the title. However, coach Morten Olsen is not to nominate a full national team. Instead he will select a squad with promising players from the Danish league. It could be become interesting to watch them, as we might see some elected later next year for the Euro 2012.
Already in 2010 we could players like Morten Rasmussen (now ex-Celtic Glasgow) and Robert Lewandowski (Borussia Dortmund). 8-time King's Cup winner South Korea and first timer Norway are to complete the starting field.
The tournament is going to be kicked from 15 to 21 January at Rajamangala Stadium in Bangkok. Value for money, as each match day is build up with two games. Denmark and Norway to open the competition on 15 January at 16:00 followed by the match between Thailand and South Korea at 19:00. The other rounds are on 18 and 21 January.
Thailand coach Winfried Schaefer would have preferred to play the cup in February, in preparation for the last World Cup qualifier against Oman on 29 February. As all participants had already accepted for the original schedule and presumably could not have entered February. Presumably Winnie are going to invite Anthony Ampaipitakwong (San Jose Earthquake) and Kittiphong Pluemjai (Brann Bergen) to test them. At least latter was already with the national team in November and currently at trial with Leicester City.