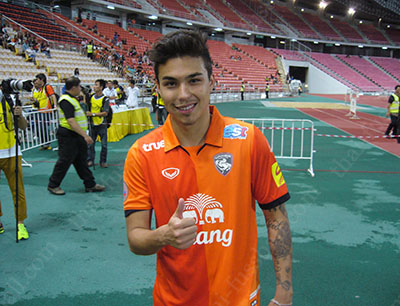 Charyl Chappuis (2014)
image: © thai-fussball.com
Thai roots, grown up in Europe, taught to play football abroad and making it into Thai national teams. In recent years, only Charyl Chappuis and Tristan Do made it. Sumethee Khokpho could be the next one.
To win players with migrant background for its own national team is a big issue these days in the world of modern football. Some federations pursue the search with big vehemence for players who have grown up abroad and could come into question to for the own national teams. Others care less or even cannot be bothered at all.
Thailand, or to be precise the Thai FA, falls into latter category. If it comes to Thai clubs of signing a player with Thai roots, they usually react fast and the sought-after player soon has his Thai pass just before you know it. Understandably. Since with a Thai passport the player does not fall under the foreign player rule. Ernesto Amantegui (Army United), Dennis Buschening (Navy FC), Joe Khambour (Khon Kaen United) and of course Tristan Do (BEC Tero Sasana) are just a few current examples.
With pleasure the FA and the national team coaches say thank you in such cases. Or not. Up to now and in recent years, only two player who have gown up abroad with
Thai blood
made it into Thai national teams. Charyl Chappuis and Tristan Do (U-23).
However, a proactive search for well qualified players in Europe or in America who could come into question to play for Thailand is not really carried out by the Thai FA. Only Steve Darby - when he still was assistant to Bryan Robson a few years ago did such an active search - and at that time, contacted U-17 world champion Chappui. Also Winfried Schäfer did some research on
Thai blood
abroad as far as we know.
Most recently two stories have hit headlines which show how little attention the Thai FA pays to this topic.
Sumethee Khokpho
Couple of weeks ago the name of the just 16-year-old Khokpho suddenly appeared on the list of the final 25 men squad for the AFF Championships in August/September this year. A Staff member with some contacts to Germany had drawn the attention to him.
The goalkeeper who is with Fortuna Düsseldorf since 2008 was a regular for his club during the under-17 Junioren-Bundesliga 2014/15. With the new season ahead he got promoted to Düsseldorf's under-19. In spring this year he was named "Best Goalkeeper" at an international tournament in Turkey.
Khokpho does not seem to be particularly big (an exact height is not given to us), however, he makes up for this with his jumping power. In addition his reflexes and his footballing skills are his trademarks. Of all Thai top goalkeepers, the latter attribute applies only to Chanin Sae-Eae (Chainat FC and Thai U-23) and since very recently, Sinthaweechai who gives a Manual Neuer Style Goalie in his Oliver Kahn years.
According to our information, however, Sumethee Khokpho will not be present and play at the AFF Championship. Although he is registered. The persons responsible for the Thai U-19 have called him up unseen. So without he has taken part in any training.
Anyway the 16-year-old has still plenty of time and years before he need to make a decision whether he wants to play for Germany or Thailand. But it is rather unlikely that he will play for Germany one day. Not because of him or his skills. On one hand, everyone interested in worlds football knows the high density of very good goalkeepers in Germany, and so it is very tough to make a breakthrough. Especially if one wants to make it to national team of Germany. On the other hand Khokpho attended a DFB trial in 2013 and probably fell through.
To fall through does not say he is isn't good enough. Thus for example there is a very talented female player with Thai roots playing for Wacker München II called Sasipa Latho. She owns great technical skills. Several times she was invited to DFB try-outs, but fell through because lacking physicality. Her dream is it to play for Thailand and she undertook several attempts to get heard by the women's national team. Unsuccessful so far.
Kler Heh
Differently than to the case of Khokpho, the persons responsible for the Thai national team got to know of the 18 year-old Kler Hey only from the press. His case or better his story is an absolutely interesting one. His name went public after the winger received a professional contract with English side Sheffield United.
Heh was born in a refuge camp to parents of ethnic Karen. Grown up there, in a nearly legal vacuum on the border to Myanmar and without a passport, he learned his skills on the streets of Thailand. Later his family managed to emigrate to Great Britain where he eventually entered the academy of Sheffield United.
When his story went public Kler Heh told the news agency Reuters that he would like to represent Thailand or Myanmar as captain. And so it was just a matter of time until Thai coach Kiatisuk Senamuang got wind of this story. Asked by the Thai media about Heh, Senamuang said that one would have to check the status of Heh carefully and in detail. But while the Thais where still at the stage of "carefully and in detail", Myanmar announced the young winger would give his debut for Thailand's neighbor on 7 September in a friendly against New Zealand.
One topic we haven't touched in this article is the naturalizing of players who are playing for more than five years in Thailand. Like this is the case in Vietnam or Indonesia. Simply because it doesn't seem to be a topic for the Thai FA.