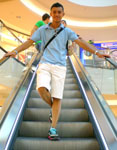 Joe Khambour
courtesy of Joe
A few month ago we featured an interview with the young Thai-German talent Joe Khambor and it kicked some fuss around his person. A Thai TV Channel, Football Siam, spent about 10 minutes of time just to talk about him and how he scored a goal on a You Tube clip. A few clubs from Thailand already showed some interest in him.
Nearly sex month later the young lad will head off to trial with Thai champion Muang Thong United. Instead of wearing gloves and knit cap, he may have to sweat in the heat of Thailand. Instead of spending Christmas with his family and friends back in Germany under a Christmas three he may look for a shadow under a palm three. All this just to make his way, somehow, to play football in and for Thailand.
thai-fussball.de:
Joe, it's already been a while since we talked to each other. Actually there are two main reason why we are here today. First one is, you are just a few days away from flying to Bangkok and start your trial with Muang Thong United.
Joe:
Yes thats true. On Thursday, 9th December, I will fly to Bangkok.
thai-fussball.de:
Are you nervous?
Joe:
To be honest, yes. I can hardly wait for.
thai-fussball.de:
How did it happen?
Joe:
A Thai football fan got in contact with me. He informed me that Robert Procureur has read my interview with thai-fussball.de and that he saw the you tube clip of me. Short after that Mr. Procureur got in contact with me.
thai-fussball.de:
For how long the trial will be and have you any clue what to expect?
Joe:
I will be in Bangkok until 10 January 2011. But I can't say what to expect. Maybe I will train with the first squad and probably I will play a youth tournament for Muang Thong.
thai-fussball.de:
And what do you expect from yourself?
Joe:
I hope that will settle quickly enough and able to impress them. What happen after that, is written in the stars.
thai-fussball.de:
As you are still visiting the school and its ongoing, how do manage this?
Joe:
I spoke to my school director and class teacher. We agreed that I will be back in time for the examinations. I will take my school books with me, and if there is some spare time I will have to learn for school.
thai-fussball.de:
The second reason why we are here, is that we do have to clear things up. After our initial interview the fuss around you was quite huge. Football Siam TV were talking 10 minutes about you while examining a you tube clip where you scored a goal. Not a bit too much for a 16 year old kid just playing football?
Joe:
puuuh..I was shocked a bit of course when I saw myself on that TV show.....but what shall I say....
thai-fussball.de:
One thing that obviously wasn't really came out clear during our interview was the issue with Hanover 96. It could give the impression that at this time point you still played for the U16 of Hanover. Which wasn't true, right?
Joe:
Thats true..A lot of people thought I would still play for them.
thai-fussball.de:
So until when you used to play for them and where you played at the time of our interview? (July 2010)?
Joe:
Until 31 July I was under valid contract with Hanover 96. From 31 January till 31 July 2010 I was on loan to TSV Havelse. Hanover did not renew my contract and I moved back to my old club SC Langenhagen (5fth league).
thai-fussball.de:
Now with SC Langenhagen, are you playing for the seniors or juniors? How is the season for you?
Joe:
The season goes very well. I still know a few of the lads and people within the club. On a regular base I play for their under-17. However, I had a few appearances in the under-19 squad and trained with the seniors from time to time.
thai-fussball.de:
What kind of things you still have to do until your departure? All suitcases are packed already?
Joe:
First of all I have to learn for school. Because on the day of my departure I have a mathematics test. But a few things like my football boots are already in the suitcase.
thai-fussball.de:
Well than, there nothing remains than to wish you a save trip and success during the trial. We would be glad to hear from you again in four weeks.
Joe:
Thanks and of course I will report.