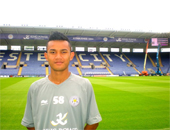 Joe at King Power Stadium
courtesy Joe Khmabor
When we "discovered" Joe Khambor about one year ago and invited him for a first interview, we did not know which reactions this would cause. Since then things have a changed a lot for Joe.
In December last year Joe was on trial with Muang Thong United, and even recently with Leicester City. It seems furthermore Thailand's National team could knock on it's door. Time for us to talk to Joe once again and to give us an update. We talked with him about his time with Muang Thong and Leicester, and we learned that Fish & Chips is nothing for Thais.
thai-fussball.de:
Hi Joe, it seems to become the rule we meet together on a regular base for an interview. Nice to have you again. How are you?
Joe:
Hello thai-fussball.de, hello Sven..... seems true. Thanks I am pretty fine, I still have some holidays left until school starts again, and I like to enjoy them as much as I can.
thai-fussball.de:
In December last year, when we briefly talked to each other last time, you where about to went off for trial with Muang Thong United. You were there for about 4 weeks.
Joe:
It's not right at all. Initially it was scheduled to train with MTU for four weeks. However, at the end it was 2-3 weeks. The remaining time I spent with Thailand's U23 Olympic Squad.
thai-fussball.de:
Yeah that's right, just remember that one. How were the times for you and how things turned out?
Joe:
All in all it was really a great time which I enjoyed very much. Being with Muangthong United, I have met a lot of people I admire, P' Koh Datsakorn Thonglao or P'Tong Kawin Thammasatchanan, which i just knew from the TV or as spectator.
thai-fussball.de:
... and your idol Leesaw?!
Joe:
Yes to meet my idol Leesaw and to play against him, was a very great feeling. Unfortunately, we have lost the game. However, after the game I could catch up a lot of praise and positive things from both coaches and even from Leesaw. Of course I have asked him for a picture and an autograph. During the 4 weeks I have learnt a lot and I have become familiar with the style of play in Thailand.
thai-fussball.de:
Why in the end things didn't turn out between you and Muang Thong?
Joe:
Things went pretty well for me. I was able to train with the pros during their preparation for the new season. Finally, I decided to reject the offer of a 3-year contract. Because at least I wanted to finish the current year of school here in Germany.
thai-fussball.de:
Well the school thing make sense. Nevertheless already in December you had an offer to trial with Leicester City. Finally after a long time and thanks to your new German Passport you did it. Since one week you are back in Germany.
Joe:
Exactly, I should have come to England already ahead of my trip to Thailand. At that time I only had the Thai passport what complicated the thing with the visa. Finally, 2 months ago I was naturalised and got my German citizenship. Now I have a dual citizenship and this enabled me to travel without any problems to the UK.
thai-fussball.de:
As we can see, you have survived English weather and food. Except Fish & Chips, what else have you eaten?
Joe:
On the subject of food I better make no comment. Predominantly I visited a Thai restaurant.
thai-fussball.de:
Have you at least try Fish & Chips?
Joe:
I tried....whether it was to my taste I don't want to say.
thai-fussball.de:
Well, luckily you are still not 18 and therefore you not came in temptation to test English beer. How did it run with the language for you, could you learn something?
Joe:
It ran quite well. I could make use of my school english. If there were problems at training, Mr. Sven-Göran Eriksson translated for me in to German. In general I had a lot of contact with Jeffrey Schlupp, born in Hamburg and playing for Germany U-20.
thai-fussball.de:
Were where you accommodated with?
Joe:
Properly I have lived with 18 other Academy/Reserves player in a semi-detached house. In comparison it was similar like that one of Harry Potter, small and narrow corridors.
thai-fussball.de:
You were with the Academy, however, you have trained with the professionals or how do we have to understand it?
Joe:
It was planned that I am with the Academy. However, I have trained with the reserve team from time to time and two times with the professionals.
thai-fussball.de:
And Eriksson speaks German? Should make him a candidate for the Bundesliga then. Which impression you have about him? It certainly does not happen every day being trained by such a coach?
Joe:
Yes that's right, I really was surprised when he welcomed me in German "Good morning Joe, I heard you are the trial player from Germany" I was speechless for the moment and just gave my hand to welcome him. *laughing* Of course I have never practised under such a coach. He take things very seriously but also with a snap of humour. It was very impressive to practise under him. He looks after every player and even can be addressed informally.
thai-fussball.de:
Eriksson was in Thailand to open the academy of Buriram-PEA. Did you had the opportunity to talk with him about that event or even Thailand?
Joe:
No. He knew from the president or a Thai employee that I originally come from Thailand. But unfortunately we have not talked about Thailand or the event.
thai-fussball.de:
What could you learn during two weeks for yourself?
Joe:
Pretty much a lot. I have got used to playing fast as thus in England is usual. I don't lack of fitness and perseverance at the moment. We had two training sessions every day and a 6 km cross-country run on time.
thai-fussball.de:
Who was the player you had the most common understanding during your time? Was it Schlupp?
Joe:
Exactly, with Jeffrey I had the best common understanding. I got his official player jersey after the match against Real Madrid. However, I have got on well with all the other academy players. I shared a room with another trial from Switzerland. Mobi Fehr currently is U17 international for the US and has played the U17 world championship. Unfortunately, his German wasn't pretty good, but he whipped my English into shap.
courtesy Joe Khmabor

thai-fussball.de:
thai-fussball.de:
How did you get the Leicester City jersey with your name on?
Joe:
This has been my player's jersey. One day before the game against Real Madrid I have trained with the professionals and on the game day myself and three more U18 players had been part of the team talk.
thai-fussball.de:
... and there you got the jersey?
Joe:
Yes and I felt so proud. It even hung in the dressing room. Surely I had no hopes to be in the line-up. Nevertheless it was a great gesture.
thai-fussball.de:
You were present at the game against Real Madrid, at least as a spectator and you got the opportunity to meet other big player's of our time. Khedira, Oezil. Were they gobsmacked about your German?
Joe:
Indeed. Oezil has been surprised, why I have appealed to him in German, just as Nuri Shahin but he could not play because of injury as he told me. Unfortunately, I have not spoken with Khedira.
thai-fussball.de:
You had the chance to appear at Emirates Stadium, was it a reserve game?
Joe:
Yes this was a warm up match against the Arsenal London reserve.
thai-fussball.de:
Have you played?
Joe:
I was substituted during the last 7 minutes.
thai-fussball.de:
Less time to create something and to prove yourself, but presumably enough to make a dream come through to play at the Emirates Stadium?
Joe:
I was able to make the best out of it and got a penalty. Indeed, with the game in the Emirates Stadium a dream came true.
thai-fussball.de:
7 minutes have virtually formed the end of your 2 weeks time. How does it go on now? You have an offer from the Leicester academy?
Joe:
Yes, we have had the game on Friday and on Saturday I departed to Hanover. In regards to the offer, there are a few things still to be clarified also with regards to accommodation.
thai-fussball.de:
It means you consider to accept the contract?
Joe:
I have to decide shortly before the 31 August. Whether I sign is written in the stars. The clubs chairman will have to return to England first and then he would like to discuss it with the Academy manager and my adviser.
thai-fussball.de:
At the beginning you said that it is just about where you will play next season, was it about Leicester or do you have other options?
Joe:
I have other options.
thai-fussball.de:
In Germany and on a higher level than now?
Joe:
Yes, fourth division teams like, e.g., Oldenburg, Havelse and, perhaps Switzerland and Sweden.
thai-fussball.de:
One of your big dream is to play for Thailand. Any progress?
Joe:
The Thai FA already contacted me recently and most probably I should travel to Thailand in October in preparation for U19 Asian championship qualifier in Chonburi where all Thai matches going to be played.
thai-fussball.de:
This would be nice.
Yours
truly
will be in Thailand around that time just because of the qualifier and I would be glad to to meet you there.
Joe:
As I said this would be a dream if I am present.
thai-fussball.de:
We all hope the best. Thank you for the interview and good luck on your decisions.