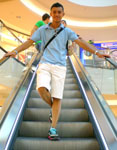 Joe Khambor
(c) Joe
thai-fussball.de recently got the chance to talk to Joe Khambor (อธิวัตร คำบ่อ). Joe was born in Thailand, and now he is with the U16 of Hannover 96, a German Bundesliga side. With such a qualification he normaly should be a candidat for a Thai youth squad, or even the DFB. In our exclusiv interview, Joe is going to tell us something about him. But of course, mainly football was our topic.
thai-fussball.de:
Joe, how old are you and where you are coming from?
Joe:
I am 16 years old, and I was born in Thailand.
thai-fussball.de:
From where are you in Thailand?
Joe:
I was born in Khon Kaen. My family is living at Ban Prasat. A small village near Buriram.
thai-fussball.de:
Since when you are living in Germany?
Joe:
I came to Germany, when I was six years old. So ten years ago.
thai-fussball.de:
Are your father coming from Germany, or how did you came over here?
Joe:
I've never met my real father. My parents divorced when I was 2 years old. My mother got to know a new man, which eventually become my stepfather. He comes from Hanover in Germany.
thai-fussball.de:
That means you are living in Hanover right now?
Joe:
That's right. Since I came to Germany, I used to life in Hanover.
thai-fussball.de:
Hanover is famous for it's straight German language, without any accent. Did that helped you in the beginning? Can you remember how it was for you?
Joe:
*laughing*, I have to agree. I think that kind of German language here, is much better than in Leipzig or Munich, where the accent is really totally different. But it wasn't hard for me. My first words in German I used to learn when I went to the Kindergarten and pre school. It was much easier for me to learn German together with the other kids, rather than from my stepfather.
thai-fussball.de:
Joe, of course the main reason why we are doing this interview is football. You are actually are playing football, so when did you start to play? Here in Germany or already in Thailand?
Joe:
I already started to play football when I was very young, that means in Thailand. My father gave me a football, right at the day of my birth. I am well known in the village of my family, as I started to play really early. Usually I played with the elder kids.
thai-fussball.de:
That means, the first time you joined a club was in Germany?
Joe:
Thats right.
thai-fussball.de:
Since 2009 you are under contract with Bundesliga side Hannover 96, playing for the U16 youth squad. Where did you play before?
Joe:
Before joining Hannover 96, I was with SC Langenhagen. I was one of the Topscorers in the U15 Regional League. Among Hannover a lot of clubs than stated their interest in me. I decided to move to H96, cause they where very keen to sign me.
thai-fussball.de:
Which position you are playing and how many goals you scored in that season with Langenhagen?
Joe:
That time mostly I was used as an offensive allrounder. I acted as winger or central midfielder. In twenty-two league matches, I scored 14 goals. I even managed to score a hattrick against the youth side from German Bundesliga club VfL Wolfsburg.
thai-fussball.de:
You have been the skipper from SC Langenhagen. Is it right?
Joe:
Yes, with the start of the season I was elected as skipper.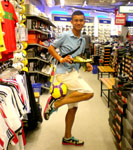 Playing with the ball
(c) Joe
thai-fussball.de:
Would you call yourself a leader? As somebody who likes to take responsibility?
Joe: Yes. The lads elected me not only because aof my performance. But rather due to my personality. I am open minded and I try to support my team mates off the pitch as well as on the pitch. Yes, I think you you can call me a leader. I am on the pitch to fight for the team, to win with the team. It's not important for me to find my name on the goalscoring sheet. The success of the whole team is the most important thing for me.
thai-fussball.de:
As we all know, Robert Enke deceased last year. Have that been an issue for the team and have you met him once?
Joe:
We've got informed about what happened, right after the training that day. We easily could see the tears in the eyes of our coaches. Moreover we all have been guest of honours during the obsequies at the AWD Arena.
thai-fussball.de:
But personally you never met Robert?
Joe:
Our ways have crossed from time to time. Sometimes he was watching the goalkeepers trainig at the youth academy. But we never have talked to each other. However, it was though for me to "say goodbye", and I had tears in my eyes during the obsequies.
thai-fussball.de:
Regarding the youth academy. How looks your daily routine in the academy and how do you combine this with school?
Joe:
I visit a school which is called as elite school of football. The school has a close relationship with Hannover 96. We used to have our lessons apart from the other classes. For example, instead of having a lesson in mathematics or German, we go on the pitch for training reasons. But we will have to make up these missed lesson later the day. A coach then brings us to the youth academy in the afternoon. At first we need to do our homework from school. If there is time, we like to play on the Playstation. Usually at four in the afternoon we are doing some weight training. Close to six, we are going to have team practice. Normally I am at home around 20:30.
thai-fussball.de:
Your contract with Hannover is going to be expire, as you told us already. How are your plans if you can't get a contract extension?
Joe:
There's no doubt that I will stay in Hanover. I like to bring my school to end. I can't say for which club I may play next. There are some offers, but I didn't made a decision yet. One Option would be to go back to my previous club, SC Langenhagen. Their senior squad isn't that bad. Actually they are playing in the Fifth League.
thai-fussball.de:
: What are your personal goals?
Joe:
First of all I would like to finish my school as said. If I do have my degree, all doors are open. What will happen than, the future will tell. My biggest wish is, to be a part of the AFC U19 Asian Championship squad. My goals are to become a professional player in Football, and to play for the senior Thai national squad.
thai-fussball.de:
Have you been in contact with the Thai FA already? Or have you been invited to a training course?
Joe:
I am in contact with the FA, yes. But I've never received an invitation so far.
thai-fussball.de:
That means your chances to get called up for the U19 are very small?!
Joe:
I have no clue.
thai-fussball.de:
You are 16 years old, why do you think you can cope with the other lads?
Joe:
I really like to demonstrate my skills, and I like to commend myself for the senior squad. The timing would be perfect.
thai-fussball.de:
What would you call your personal strength and weakness as a player? Which skills do you like to improve?
Joe:
I don't really like to talk about my strength and weakness. But I like to improve my speed and defence.
thai-fussball.de:
Why do you like to play for Thailand? Wouldn't be Germany an option for you? You have been with the DFB U15 already, right?
Joe:
I like to play for the country of my mother. And you are right. I was invited to some DFB U15 training courses. But I never played for Germany so far.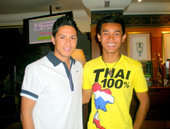 Peter Laeng and Joe
(c) Joe
thai-fussball.de:
You and me, we have something in common. We both name Peter Laeng as our friend. You have met him already. How does it came up?
Joe:
I was looking though the Internet, and I found an article about a player who became a national player for Thailand and that he is playing in Europe. I tried to get in contact with him and found him easily on Facebook. It was fortunate that I was in Bangkok the same time as he. So we exchanged our phone numbers. Later he invited me and my mother for dinner at the Radisson Hotel in Bangkok. He also presented me three VIP Tickets for the match against Jordan. Unfortunately he was injured that time. To meet him was pretty cool. I was really nervous, but we had a common understanding. Although I had problems to understand him, because of his German accent. *laughing*
thai-fussball.de:
I guess he used to speak Swiss-German.
Joe:
Yes, thats right.
thai-fussball.de:
You both are still in contact, and Peter is supporting you. In which meaning?
Joe:
Yes, if he is able to find some spare time, we like to talk to each other and we are going to exchange the latest news. He is trying to support me in all things, not only football related issue. I admire him really.
thai-fussball.de:
You are also follow the football in Thailand, the latest things which are going on there. How do you keep informed?
Joe:
Mainly due to thai-fussball.de or via Facebook.
thai-fussball.de:
Do you have a favourite club in Thailand?
Joe:
Not really, but I am interested in Bangkok Glass and Muang Thong.
thai-fussball.de:
Why those two clubs? I mean you have been born in Khon Kaen and you grew up next to Buriram?!
Joe:
I think these both clubs are the most famous one in Thailand. Maybe thats the reason. I can name a lot of players from those two clubs. Besides that, a lot of fans from those two clubs used to add me as friend on Facebook. An article about me appeared on the Bangkok Glass website already a few months ago.
thai-fussball.de:
Have you ever see a TPL match in Thailand so far?
Joe:
Unfortunately, not yet. However, If I am in Thailand next time, I like to watch some games.
thai-fussball.de:
Do you have any favourite club here in Germany?
Joe:
Sure I have. My favourite club in Germany is FC Schalke 04. I visited the Veltins Arena on several occasions. Of course I am also interested in Hannover 96, and if there is some spare time I like to go and watch them. But in the stadium I only sing the anthem of Schalke 04. *laughing*
thai-fussball.de:
Ok, I think we do need to have a separate chat about that Schalke 04 thing. Who is your favourite player and and do you have any player as role model?
Joe:
I don't have any favourite player. But Zinedine Zidane and David Beckham are my role models. Well of course, in the meantime Peter Laeng as well.
thai-fussball.de:
Beckham and Zidane? For which reasons? Do you like to disperse clouts and do you like Tattoos?
Joe:
*laughing* No, none of them. In my opinion Zidane was simply the best player in the world. I really like his playing style and I like to use his tricks on the pitch during a match. In regards to Beckham, he is simply a big model icon in terms of football. I like his ability on set pieces, and his technique on shots from distance.
thai-fussball.de:
Well than you should have one more role model now. Michael Byrne from Chonburi FC recently scored a goal from distance against BEC-Tero. Even Beckham would not be able to score such a goal.
Joe:
Maybe I would be able to score such a goal as well, if I would have this shoes.
thai-fussball.de:
What kind of shoes you are wear?
Joe:
Adidas Predator, the same model Zidane and Beckham used to wear.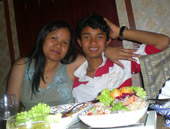 Joe and his Mother
(c) Joe
thai-fussball.de:
: Your mother is busy with cooking Thai food for you. Are there any German food you may like?
Joe:
*laughing*, yes sure I prefer the Thai cuisine but from time to time I like to have my Schnitzel.
thai-fussball.de:
With chips or potatoes?
Joe:
I prefer to have my Schnitzel with fried potatoes, mushrooms and cream sauce.
thai-fussball.de:
Wow, thats really German. I like in the same way. However, a friend of mine used to close his interviews with a questions in regards to what sort of beer is preferred. Of course in your case, I do have to amend it. So, M-150 or Red Bull?
Joe:
M-150 isn't bad. But I prefer Red Bull. :-)
thai-fussball.de:
I see, you are in Germany for too long already. Is there anything you like to add at the end?
Joe: Seems to be true. Well, I hope that a few people are still keeping an on me. That they are able to see me playing for Thailand in a few years from now.
thai-fussball.de:
Joe, thank you very very much for the interview and the time you took.
Joe:
No problem, you are welcome.
Below you can find two clips from Joe, where he is showing his abilities. On the frst Clip he scores the goal, and he is having an assist in the second clip.
| | |
| --- | --- |
| | |
| Joe in action at 4:58 | Joe in action at 6:38 |
Subsequent entry, 27 July 2010:
thai-fussball.de and Joe Khambor like to state that Joe was under valid contract with Hannover 96 youth side until the end of 31 June 2010. For the second leg of the seaosn 2009/10 he was playing for TSV Havelse. Furthermore, Joe never earned a cap for any DFB youth side. We are sorry if caused some confusion.

all pictures are courtesy of Joe Khambor and have been provided exclusivly for thai-fussball.de