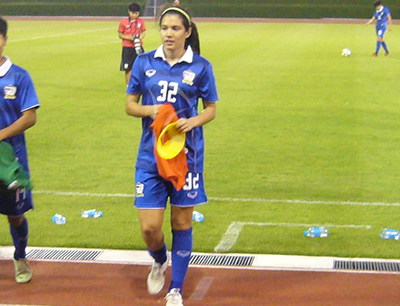 Irravadee Makris
image: © thai-fussball.com
Irravadee Makris is a new name to the Thai women's national team and she made her debut during the AFF Championship in May. Two days before the national team is heading to Canada for the World Cup, we could talk to the Thai-American.
WIth all the players of the national team being busy these days it took as while to arrange the interview with the 23-year old Thai-American. But eventuelly it happened. And while she was on her way from a photo shooting to the training we could talk to her on the team, the coming World Cup, the four weeks camp in Holland and a lot more.
thai-fussball:
First of all, congratulation on winning the AFF Championship. I think you played 30 minutes during the tournament [vs Australia U-20; ed.]. Was it your first match for Thailand?
Irravdee:
Thank you and it was my very first international game. It was kind of scary.
thai-fussball:
Really? Was it?
Irravdee:
When I get on the field I was not nervous, but before I was freaking out a little bit.
thai-fussball:
I've watched the game and I thought you did pretty well. Especially as I guess you know how to deal with the physicality of the Australian players as you are familiar with such players from your time in America.
Irravdee:
Yeah. I thought I did quite okay for my very first game.
thai-fussball:
Before we go ahead, could you please introduce yourself?
Irravdee:
I was born and raised in America. But my mom who is Thai, made a point to teach me Thai. To make sure I know her culture as well. I am fortunate enough to where my parents both agreed on that aspect. And so I grew up in America and Thailand. My dad was sending my mom, me and my sister to Thailand every summer in between school year. So I know my Thai family very well and my American family. I have embraced both cultures my entire life.
And then I started playing soccer when I was about four years old. In America women's soccer is a very big thing and so I've been playing pretty much my entire life.
"We have learned a lot from her and that is why we were able to improve" - on Hope Powell
thai-fussball:
And you are back now in Thailand since when?
Irravdee:
I came back to Thailand about a year ago. So last June I came hear to teach English after I finished College. And than five months into my contract the women's national team opened up trials and I figured out I will give it a shot. And now here I am.
thai-fussball:
Let's talk about the trip to Holland. I followed it very closely and have been to the game in Almelo. During the four weeks it was snowing, it was raining and it was very cold. So how was it for the players and how long took it to adapt to the climate and the conditions?
Irravdee:
I am from the south of America, and it was cold for me too. But I am used to it at least. But the problem for us was the jet-lag and the cold. It doesn't get anywhere below ten degrees Celsius in Thailand. I think in Chiang Mai maybe. So it took us a little bit to adapt and I think unfortunately for us, having our very first game against the Holland national team was probably a disadvantage for us.
We haven't really ever seen the European style of play and we had to face the cold and it was rainy and even I felt cold too. Just a situation we have never been into.
And so for the other players I think it was a little bit more difficult. But as the four weeks went on we got more accustomed to it. And in our last game when it actually snowed and hailed we managed to win 2-1 [vs SGS Essen; ed.]. When the time went on we adapted well and adjusted our style of play.
thai-fussball:
People who were at the game told me Thailand was the better side. Especially in the second half with the hailstorm. Certainly a good way to end the camp with a win.
Irravdee:
We had some troubles scoring in that game. But I think it was a good confidence booster for us. That we can beat European sides and that we can compete.
thai-fussball:
Hope Powell was at the camp in Holland as mentor for Thailand send by FIFA. How was her reception and what were your feelings. You could talk to her in English while the other players are not that good in English.
Irravdee:
For me it was great having next to me who is coach speaking in English. I loved it. But Hope has came to Thailand before. Before I was in the team I think she came here last October. In Holland she has spent a lot more time with the team at practices and training. She gave us some better strategies. She is the old national team head coach to the England side and so she has seen pretty much all the teams we have to compete against.
At first it was little bit difficult because of the language barrier. But eventually it's the universal style, and football is a language that everybody understands. We have learned a lot from her and that is why we were able to improve so much over the course of the four weeks from everything she taught us.
thai-fussball:
So do you have the feeling the Thai coaches learned something from Hope Powell and carried it over in to their work?
Irravdee:
I think some of the things she taught us we are still using. But there will be a difference in how we played those games compared to how we are maybe playing there. When we are playing in Southeast Asia, like at the AFF Championship, we are more of an attacking force, putting on pressure at the other team. While at the World Cup we maybe sit back a bit more and try to get control of the game from the back rather than going forward all the time.
thai-fussball:
Normally the coach let you play a 4-3-3. But to me it looks like we can expect a 4-5-1 during the World Cup. At least for the games against Germany and Norway. Maybe not against Ivory Coast.
Irravdee:
That is what I think too. Ivory Coast is a game that we really really want to win to show that we really can compete at that level internationally. It's the game that is relatively most important to us. Playing with Norway and Germany we realized that they there are very good teams. So the goal is to play as best as we can and to try to play what we are still learning with a defensive shape. And maybe we have Kanjana [Sungngoen; ed.] get loose and we get a goal from her. Anything can happens at a World Cup.
thai-fussball:
Within the team, have you already talked about the Ivory Coast? And what do the coaches know about them?
Irravdee:
We have not talked much about them actually. The problem is, it is pretty hard to find anything on them. I've been searching the internet for videos in English and in French and I got very little on that team. From what I can tell from the video I have seen is that they are a very aggressive and fast-paced team. But I think if we can hold our own and play the game we are practicing and play as a unit, we will be okay.
"...the idea for the game against Germany is to keep our composure...."thai-fussball:
Any thoughts on Germany?
Irravdee:
I think the main thing is to keep the ball on the ground as much as possible. Because obviously we will not win any heading game against them. But of course they are also really good with their feet. So I think the idea for the game against Germany is to keep our composure and do not freak out whatever happens.
thai-fussball:
And maybe you are lucky because it is the final group stage game and Silvia Neid is making some changes and rest some key players.
Irravdee:
That is what I assuming them to do. Depending on what happens with Norway, they probably do not worry about us too much and they say we will rest our starters for the next round.
thai-fussball:
The team is in the camp now for a very long time. For almost two years with some breaks. From what they are earn a living? Is there some kind of daily allowance you get form the Thai FA?
Irravdee:
We actually get a monthly salary. Players who are with the team since a while make about 15.000 Baht a month [~ USD 450; ed.] and newer players like me get 12.000 a month.
thai-fussball:
And this money comes from the Thai FA right?
Irravdee:
Yes.
thai-fussball:
Are the players disappointed that there is no competitive league in Thailand?
Irravdee:
Being a soccer player, being any kind of a competitive athlete, you always want to play you always want to be in a competitive environment. We can't always be in the team camp. You go crazy. So everyone likes to be able play all the time and to keep your skill-level up. It's always nice to compete.
They want to have a league and it's been talked about for years and years. And they talk about bringing one in after the World Cup. Maybe. Its a lot of talking, but nothing actually ever happens.
thai-fussball:
You have difficulties to find artificial pitches in Bangkok to prepare for the World Cup. For 95% of the time you train at the Bangkok Glass Stadium. Although the pitch at Nong Chork funded by FIFA is finally ready, you have trained there only one time. So why do you still keep practicing at the Stadium of Bangkok Glass?
Irravdee:
Honestly I think it is just convenience wise. The dormitories at Nong Chork are not ready. There was talk about staying at the Sports Authority and than driving up there to practice because they have spent a lot of money to make this field for us. But it just would not be practicable for us I guess. And the Sports Authority is also full with athletes right now because of the SEA Games coming up.
And so for us there are dormitories pretty close to the Stadium of Bangkok Glass that national teams can use. And staying there means we only drive about 15-20 minutes to practice instead of a hour. Especially with Bangkok's traffic it just do not work out for us. And there are so many different places where we have to be outside of practice. Practicable wise it is not the best place for us to go. Not really acceptable.
Warming up
image: © thai-fussball.com
thai-fussball:
With the kick off to the World Cup approaching, what is the focus in training right now?
Irravdee:
Perfecting our defensive game, working together as a team and how we have to move together. We watch a lot of films on Germany and Norway. To see what their strengths are and obviously they have a lot of them. It is not the time to work on everything. Just work on little tings like free-kicks, corner-kicks and how to defend.
thai-fussball:
How do you feel about the fitness training?
Irravdee:
When I first came to the camp there was a lot of running, track workouts, long runs. All that stuff. Running a lot right now is not the best of ideas as we do need to save lives and be prepared for that first game. So right now there is a little bit of running, just working on the field. Anything that is not to strenuous. I think the last couple of days here is not too hard.
thai-fussball:
We are talking on the day which marks the deadline to submit the final squad to FIFA. But you still do not know who will go to Canada on Wednesday. Is that right?
Irravdee:
Yeap.
thai-fussball:
As said earlier you played only for 30 minutes while all the other players got more playing time or appearances in friendlies. What are your feelings? Will you be part of the squad and if you not, how disappointed will you be?
Irravdee:
I will be pretty disappointed if I do not make it. At first the World Cup is just like a pipe dream. I was coming into the team five months ago, Was excited on going to Holland, than going to Vietnam. But I have been set back by couple of injuries. So I would understand the decision making on that. If I do not go. The coach actually told us that she will inform us tomorrow. My hopes are high and I have a bit of an expectation to be going.
Off the pitch, I think I can bring a lot to the team. Especially with the World Cup being in Canada, a English speaking country. But obviously I should be there for the soccer. But I hope what the coach sees me do and what I am able to play is enough to convenience her to let me go. Whatever happens, happens. And I will be in Canada either as a player or as a fan in the stands.
thai-fussball:
Who is your favorite non Thai player? Any role model? Maybe Abby Wambach?
Irravdee:
I have to say I really like Carli Lloyd. She is one of those players who doesn't always stand on the field but she always working really hard, is always constantly moving and she gives her all in every game.
thai-fussball:
Final question. Who will be the next World Cup Champion?
Irravdee:
I do not know. I have heard there is a lot of talk about France being favorite. They have not won anything yet, but are some kind of underdogs and nobody expecting much of them like from other teams. And they have beat the US for the first time this year. I think they are really strong in playing like a team.