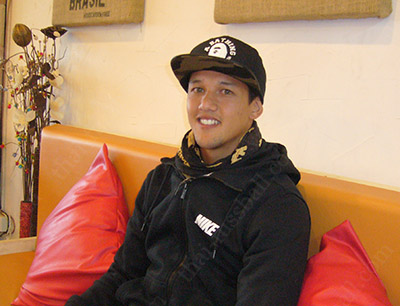 Irfan Bachdim
image: © thai-fussball.com
Chonburi FC and Sriracha FC. Those were the stations of Irfan Bachdim in 2013. In October we met the Indonesian international for a detailed interview.
In 2013 and for the first time in his career, Irfan Bachdim played in Thailand. In our
first part of the interview
we talked about the early years of his career and how he came to Thailand. Today, in the second part, we primarily talk about Sriracha FC. He compares Thailand and Indonesia as well as his coaches for us. He speaks of lacking concentration and explains why football players must carry earphones of a certain brand. A small warning to the reader: this interview drifts off into the realm of tabloids, but is still interesting nonetheless.
thai-fussball.com:
Sriracha Coach Daeng, year in year out is developing young players and has to start from scratch after losing players to other teams. What do you think about his work, especially with young players?
Irfan:
I think Coach Daeng is a good coach. He doesn't have the best squad in the league. But what he achieves with the players and the beliefe he puts in the players, especially to the young players, is very positive. I believe that Coach Daeng can achieve a lot in future. He is still a young coach and when he becomes more experienced, he will become a bigger and better coach.
Though, he could be a bit stricter. I like coaches who know: he is here and the players are here [opens his hands, ed]. I have think that he is too nice sometimes and the players come to close to his rank. Of course that's a good thing in one way, but at the same time, can also be negative. Sometimes I think a bit of an "old school heavy hand" will help to get more out of the players. I hope he can produce more talents in the future. That's what I like the most: Coaches who believe in talents and are able to create them.
thai-fussball.com:
Do you like the way he want to see football being played? You are able to play on artificial turf in Sriracha, which is advantage for a quick passing game. Is this something you prefer?
Irfan:
Sure it is something I prefer. Due my height it is not my way to play physical. So I like quick passing and movements. Unfortunately the team lacks of confidence sometimes against bigger teams. And then we play long balls while we are good on the ground. In training we can do it, but against PTT or Bangkok FC we played too many long balls.
If we keep playing on the ground, it's the best game for us. Because we don't have tall players other than, Boskovic, and Diego in the back of course, but they are the only one. We have players who are fast, with good dribbling skills and the ability to press the opponent. But it's up to the coach to give the players confidence to play like this.
"Everybody was scared of him and that's why everybody worked so hard." - on Alfred Riedl
thai-fussball.com:
You have played Thai Premier League and now Division One. If you compare both, where is the difference?
Irfan:
Division One is more physical and more long balls are played from what I have seen so far. But it's just a split second slower than the TPL. Especially Chonburi is really a passing team. For me they are doing too little of what they are capable of.
thai-fussball.com:
Why would Simon Mcmenemy be the perfect coach for Chonburi?
Irfan:
Why? I like coaches who believe in talents and who are efficient of letting football be played how football should be played. Positioning, passing and movements. To know when to speed up and when to slow down. And when I saw what he did with the Philippines and what he did with the team in Bandung (Pelita Bandung Raya), with a lot of young players as well, that's just great.
thai-fussball.com:
You had an Indonesian-German coach, an Austrian coach with Alfred Riedl and two coaches from Thailand. How would you compare them and who of them are the better coaches and why.
Irfan:
Difficult and hard to say. Alfred Riedl and Timo share the first place for me. Coach Timo, because of his beliefe in me and for getting the best out of the players he had. He made me do things I didn't even think I could do. He put so much beliefe in me...he almost gave you wing.
And Alfred Riedl's strengths are in training session, tactical training and game plan. But to be with a coach as him, you need to be strong. Riedl was up here and the players where all the way down. Not even near him. And everybody was scared of him and that's why everybody worked so hard. And I think, if I didn't had Coach Timo in the beginning, who gave me so much confidence, it would have been more difficult for me to adopt to a coach as Alfred iedl. So it would be not fair to put one above the other and I am thankful to both for the things they have done for me.
Between Coach Daeng and Haeng. For me Daeng is the better coach because of the training sessions. I never was able to break the ice with Haeng.
thai-fussball.com:
By the way, did Haeng talk to you and explained why you are not playing?
Irfan:
No.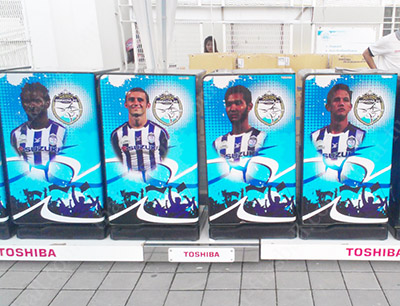 Fridge with the likness of Irfan
image: © thai-fussball.com
thai-fussball.com:
If I remember correctly, Timo Scheunemann said about you, that you can perform if you only could stay focused. Would you agree with him and do you see it as something you have to work on?
Irfan:
I agree with him 100 percent. If I just had stayed focused at the age of 16, I might not be playing at Sriracha now. I am too much of a family man. At that age I really couldn't make the decision what is the best for me. So I preferred to hang out with my friends till late in the night instead of going to bed early while having training the next day. And I think that was my biggest mistake in my younger years. Even now I feel that I lose focus sometimes, because of my love for the people I love - is just too big. Espacially, for my daughter, Jennifer. It hurts me to leave them for a month. But it's also my job. And it is what I have to work on. To stay focused.
thai-fussball.com:
Where is the difference between Thai Football and Indonesian Football?
Irfan:
In quality of the players there is not much of a difference. But in terms of management and when it comes to being a professional football club, Thailand is much more professional and advanced than Indonesia. Look at how many sponsors Chonburi has and look at the bigger clubs in Indonesia - they almost have none.
thai-fussball.com:
And the quality of play?
Irfan:
Here (Thailand) it's more tactical. Due to foreign coaches there is more influence from outside.
thai-fussball.com:
Let us tackle something completely different. Can you tell us how to date a model?
Irfan:
I don't know [laughs]. I met Jenny in Indonesia around the time of the Charity game. How to date a model? I don't really know what I did. I didn't something special. It just happened.
thai-fussball.com:
Jennifer is of Indonesian-Chinese decent, born in Germany. But you had to marry in Germany. Why was that?
Irfan:
Because the law in Indonesia says, if you want to marry in Indonesia you must be of same religion. I grew up as a Muslim. She grew up as Christian. To marry in Indonesia we would have had to become of the same religion. I would have had to become Christian what I don't feel like I am. Or she would have had to become Muslim. What she feels she isn't. That's why we married in Germany.
thai-fussball.com:
Since you and Jennifer became a couple, you both became celebrities in Indonesia. It appears you are some kind of David and Victoria Beckham there. Of course you are a football player, but now suddenly drawn into the focus of the media.
Irfan:
At first it was very strange. At the beginning pictures were taken of me, and I asked: Why? I am just a normal guy, like everybody else. At the moment I was together with Jennifer, and they knew I am Indonesian and Jennifer was also modeling in Germany, I think that's when everything started really to get hyped up. Jennifer is a good-looking woman, and I was an upcoming football player in Indonesia. And football players in Indonesia are almost heroes. At that time nobody from the national team had a girl who was on TV as much as her. That's why I think everything started to get a bit crazy. In my opinion a little too crazy.
"I love the Kartoffelsalat Jenny makes."
thai-fussball.com:
You also have a lot of marketing contracts and you appear in some commercials. I guess that's a welcome additional income.
Irfan:
Like I said, everything started with the national team. I was together with Jennifer and knew I would have a future with her. So it is always welcome to have things like this. All these brands have something to do with my personality. I could have taken more money with a sausage company but what does a footballer have to do with a sausage campaign.
thai-fussball.com:
Do you miss Frikandel?
Irfan:
Oh yes. And I think Jenni also...
thai-fussball.com:
....but she is German...
Irfan:
...yeah she is German. But I brought her to Holland and introduced her to the Frikandel and sometimes she tells me how she misses them.
thai-fussball.com:
Have you been to Germany only for your wedding and is there any German food you enjoyed?
Irfan:
No, we were in Germany also for holidays and I love the Kartoffelsalat
[potato salad; ed.]
Jenny makes. Spätzle and Sauerkraut with a good sausage I like too.
thai-fussball.com:
You prefer the Kartoffelsalat with vinegar or mayonaise?
Irfan:
With vinegar.
thai-fussball.com:
Is Jenny a good cook?
Irfan:
Yes she is. And thanks to her I eat well and healthy. I know myself and if I was still single I would eat at a Pizza Company most of the time.
thai-fussball.com:
Last question. 2034. Indonesia is hosting the World Cup and is playing the opening game against the Netherlands. You are in the stadium with your family. Who will win the game?
Irfan:
That's too far in the future. But I hope Indonesia will win this game. Because I am just to proud to be Indonesian although I grew up in Holland. And of course it was always my dream to play for Indonesia and see Indonesia grow. So I just hope for the best.
thai-fussball.com:
Irfan, thank you very much for your time.

Thanks to Felix Mendoza for editing the text.