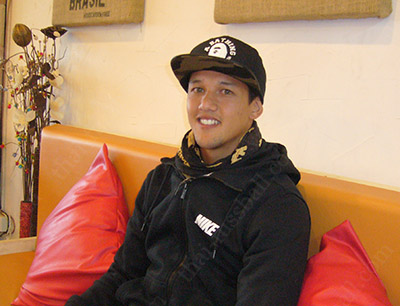 Irfan Bachdim
image: © thai-fussball.com
Chonburi FC and Sriracha FC. Those were the stations of Irfan Bachdim in 2013. In October we met the Indonesian international for a detailed interview.
25 years ago Irfan Bachdim was born in the capital of Holland as a son of a Indonesian father and a Dutch mother. Having grown up in the contemplative Mijdrecht, today he is a Indonesian international and is conisdered as star in South-East Asia and espacially in Indonesia. His marriage with model Jennifer Kurniawan also contributes to the latter. And yet he is absolutely down-to-earth and has remained quite normal. In 2013, the easily to approachable star, moved to the Thai Premier League where he played for Chonburi FC during the first half of the season. Halfway through the season he joined Chonburi's small brother Sriracha FC in Division One. Maybe not entirely by choice. He did his part to keep the side in the league with his - and the clubs last goal of the season on the very last matchday.
According to his own statement, Irfan stopped giving interviews to the Indonesian press. Hence, we are very happy and proud that he sat down with us for this exclusive talk. In our two-part interview we are going to talk about his still rather young career, his year in Thailand, his coaches and of course his wife. Whom he had married in Germany and spoils him with German Kartoffelsalat.
thai-fussball.com:
You started your football career at Ajax Amsterdam and later you were in the youth of FC Utrecht. How would you describe the difference between the two youth academies?
Irfan:
The goal is the same. To prepare the players to join the first team of course. But Ajax is much further than FC Utrecht is. Ajax is also much more professional, more business like. Utrecht is more about having fun, enjoying the Sports. Utrecht for me, was like a family.
I started at Ajax at the age of 10 and I couldn't say coach or trainer. It always was Mister, and everything was very strict. For example, if we played a game, and your shirt was out of your shorts and you didn't put it back in, the coach would substitute you. So Ajax is not only a football club. It is also about how to educate and raise kids. And that's what you got to see if you came to a tournament.
Your eyes fell direct on them: Hey, Ajax arrived. Ajax was Ajax. They were dressed up and everybody saw it. The Utrecht team was having fun with everybody running around. One walked here and one walked there. Ajax wasn't like that. The whole team was always walking around together. No one was seperate. They simply were the eyecatcher and everybody knew when Ajax was coming. That's the big difference.
thai-fussball.com:
But for young players it isn't so easy if fun is taken away off the game.
Irfan:
Yeah of course. Sure at Ajax they still try to have fun on the pitch. But as said, off the pitch - everything was very strict. I have seen guys kicked out of Ajax academy and they were much better than I. But they couldn't handle the process Ajax was working with. I read the book of Zlatan (Ibrahimovic), and his time at Barcelona. It is similar to what I remember from Ajax. You really need to want to do it. Zlatan is a ghetto kid and he never would have fit into such a kind of system. I have seen such good players end nowhere, just because they didn't have that mentality. But if you want to play at Ajax, you need to have it.
"So I didn't go to Indonesia with the intention to stay. I rather wanted to go back to Holland."
thai-fussball.com:
A few years later your career in the Netherlands seemed to stuck at some point and you moved to Indonesia.
Irfan:
When I was 17 I already received a call up for the under-23 of Indonesia. At the time the coach was a Dutchman
[Foppe de Haan; ed.]
. Indonesia was qualified for the Asian Games in Qatar. Two or three weeks before we had to leave for Qatar I got injured at my club Utrecht and so I couldn't join the team for the tournament.
Later, I was playing for the first team of FC Utrecht, with Willem van Hanegem as coach. Utrecht changed the coach and the new one relied more on experienced senior players while van Hanegem relied on young talents. So Utrecht didn't renew my contract and I decided to go one step down and to play for HFC Harlem in the Jupiler League. I made every game. But the club had financial problems and in the end went bankrupt
[2010; ed.]
.
Then I received an invitation from people in Indonesia for some charity games there. But I didn't really take it seriously because it came via Facebook. But they also sent it to my parents on Facebook and they replied. My Dad talked to me and said: "This is just fun. See it as a holiday. You can play some games and who know what is going to happen." So I didn't go to Indonesia with the intention to stay. I rather wanted to go back to Holland. However, the first charity game I played was with players from Indonesia first League. I didn't know the coach but he puts me in as a striker and I said: Well in my whole life I had never played striker. But I played a good game and scored two goals. The first game was in Malang and there has been a coach from the local club in Malang. He is born in Indonesia but he...
thai-fussball.com:
..Timo....
Irfan:
...yes. With German parents. He was watching the game and after he came straight to the Hotel and invited me to play for Persema Malang. I was willing to take this step and signed for one year. Everything went very well and I enjoyed playing football. Coach Timo always said to the media and at press conferences: "Irfan is ready to play for the national team," - and that he doesn't understand why I wasn't called up yet.
At that time, Alfred Riedl was the national coach and it was the year of the AFF Suzuki Cup in Indonesia. There were selections going on for the whole season and I was never called up. But for the last selection before making the final team for the AFF Cup, I was. Than, I played two good friendly matches and I was in the team.
In Indonesia Bambang Pamungkas and Christian Gonzales are very famous strikers, and they were the two strikers for the team. I was like, ok that's nice for me, it's a good experience. I will probably sit on the bench but I will do my best and that's it. For the first game against Malaysia, which is like Holland against Germany, Riedl put me in as a starter and I scored the last goal of the game, which we won 5-1. And that was the moment everything started and I became well known in Indonesia.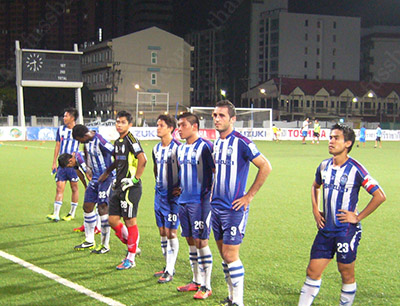 Irfan Bachdim with Sriracha 2013
image: © thai-fussball.com:
thai-fussball.com:
We all know the state of Indonesian football. I guess it was the reason you left and looked for a new adventure. But how did your move to Thailand came about?
Irfan:
For seven month I had no salary. I was just getting married, and about to become a father. And seven months without salary is just too long. I also lost my trust in the management. I knew that Thailand is on the rise and so I said why not give it a try. First I went to BEC Tero for a trial but they didn't offer me a contract. But I went there, during a hard time, with my grandma just having passed away. I would have to stay longer, but I left early because I had to go back to Holland of course. After I came back to Thailand I trialed with Chonburi and my overall feeling, and everything was very good.
thai-fussball.com:
Your stint with Chonburi lasted only a few months. During that time you were in and out. It was not only because of injury, I guess.
Irfan:
I had some injury. The first game I played for Chonburi was against BEC Tero and then we played Army. After that I went to the national team and returned with a hamstring injury. I missed the big game against Muang Thong at home, and four other games. Afterwards, I came off the bench, then I started and then I was not in the selection at all. I had the feeling the coach didn't really trust me anymore. Not given a fair chance to play a whole game, my performance suffered and so did my joy in football. So I lost a bit of trust from the coach in me and in myself. If it's start messing with your head, you won't perform well anymore. And that is exactly what happened. But to be honest you can't blame everything on the coach.
"From the first moment I came to Sriracha for the training, everything was nice."
thai-fussball.com:
Your loan move from Chonburi FC to Sriracha FC was, let's say, more or less, a forced one. Please explain from your point of view and as much as you can, how the move came about.
Irfan:
For me it was strange because I already saw players like Quero and Assumpção coming in. And I started wondering about what will happen. Cunha was still injured at that moment. I even went to Malaysia with Chonburi to play the friendly game. It was on the last two days of the transfer window and Chonburi told me that I could leave.
All clubs I ask in the Thai Premier League were full. And Chonburi told me "We already registered you with Sriracha". And I was like: How can you register somebody, while he is not even knowing where he is going. I was a bit stubborn and thought "Nah I am not going to do this".
thai-fussball.com:
And I assume you didn't even know anything about the club.
Irfan:
No. I only knew it is the brother club of Chonburi. It's a bit of pride of course and a bit of stubbornness and so I didn't want to look into Sriracha. And Sriracha was ranked 16 at that time if I am not mistaken. So I said to myself I will just train with Chonburi and that's it. But Chonburi asked me, whether I wouldn't have a look at Sriracha, go there and see what I think of it.
Then I went to watch a game and I met the guys. I didn't have any other choice, of course. But after meeting the guys I just said ok, why not give it a try and we will see what will happen. From the first moment I came to Sriracha for the training, everything was nice. The management for me was even more kind to me than in Chonburi. In Chonburi I felt a little like I was bit not appreciated. And here I was welcomed. And for a player I think this is very important.
thai-fussball.com:
When you said you didn't feel appreciated in Chonburi - you represent Nike in Indonesia and Chonburi is the only representative of Nike in Thailand. Do you think Chonburi signed you for some marketing reasons?
Irfan:
I don't look at that stuff. Because I still have the think that I have the quality to be a starter at Chonburi. But I cannot look inside the mind of the management of course and know what they are thinking. What I said in the beginning, they were welcoming to me in the beginning and after a while when I didn't play anymore they treated me like I was nothing.
In
the second part of our interview
we speak about Sriracha FC, Irfan compares his coaches. Talks about concentration and his wife Jennifer.

Thanks to Felix Mendoza for editing the text.