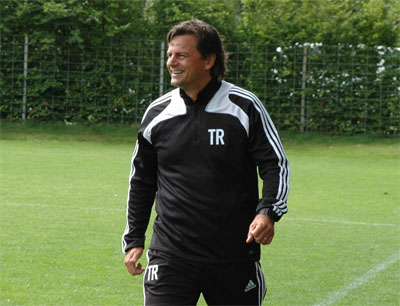 Falko Götz
cc-by-sa 3.0/de Delfonso
South-East Asia's biggest tournament, the biennial AFF Suzuki Cup, will kick off this weekend. In a series of interviews with coaches and people, over the next weeks, we would like to reflect and putting a spot on the participating nations.
For the following interview with talked to the German Falko Gotz, who succeeded Henrique Calisto last year June as head coach of the Vietnamese U-23 and senior side. He was dismissed by the Vietnamese FA just a few months later in December 2011. However, it marked Gotz' first coaching position away from Germany, and he led the U-23 to a fourth place at the SEA-Games 2011. Here is what he is having to tell us about his job in Vietnam, the players, and the league.
thai-fussball.com:
How much fun did you have with your work in Vietnam?
Falko Gotz:
In Vietnam everything was new for me: the mentality, the country, the subject. Although I have been in Vietnam before, I had never dealt with Vietnamese people over such a long period. I had to reinvent myself as a coach. Something I had to do, which I hadn't done for a long time, was to improvise. There you notice immediately what excellent working conditions one has in Germany. And I must tell the whole truth, I had a lot of fun because I think that we had a very successful time with the national team, which you can tell from the FIFA world rankings, but also with the under 23s.
thai-fussball.com:
In the former GDR, you left a communist country, and yet you returned to one last year. How does this explain itself?
Falko Gotz:
Today's Vietnam can in no manner can be compared to the system of the former GDR at that time. I think that there is a big difference. Just look at the the economic system. Sure there is a communist party and you have a very strong regime. But Vietnam has a five-year plan in a capitalistic pattern. The supply situation is another. There is nothing one can't get there.
Nevertheless, we shouldn't neglect the fact that everything is ruled by the communist party and that the governmental system is absolutely not to be compared with ours in the West. We have also noticed this in football. Whenever we needed something, we had to ask for it from the Ministry of Sport and Culture. Then employees of the Ministry came, and they decided to grant the request or not. For example, it was to be decided whether we could prepare in a sports school of the Vietnamese FA or at a hotel, with substantially better conditions, for games or tournaments. In that situation, our budget was controlled and determined by the government. But in my case nobody ever stuck his oar into my job, and the things which I demanded were mostly fulfilled.
thai-fussball.com:
What gave you the idea to coach in Vietnam? It is not really obvious for a coach who shortly before was working in the Bundesliga. How have you informed yourself about football in Vietnam and what perceptions did you have?
Falko Gotz:
The preparation for this job was difficult. There were only few ways to get information about structures, concepts or performance strength of Vietnamese football. There is an FA homepage which is in Vietnamese and English. There I tried to read up on the subject and I tried to investigate everything I could find on the Internet.
As for the job itself, I came because the federation wanted to sign a German football coach and my adviser has very good contacts in Vietnam. Some years ago I went to Vietnam with a German oldies selection and since then I liked the country very much. And as I was interested not only in the football of Vietnam but also the country, the people, history and culture, I said to myself: I will do the job. Even if it becomes an adventure. And honestly I must say my adventurousness was amply rewarded in every respect.
"Patience is not a strength of the Vietnamese"
thai-fussball.com:
Were you surprised by your dismissal? At least, one could argue though the objective with the U-23s was not reached, the results with the national team were in order?
Falko Gotz:
A big problem in Vietnam is expectation. During interviews I tried to make it clear that I had problems with the slightly unreasonably high objectives of the fans, the officials and the media. To get something going in Vietnam in the long run, it needs a more serious reorganisation of structures and a longer-term plan of firm concepts. In spite of short-term success, patience is not a strength of the Vietnamese.
Of course, I would also like to have won a medal at the SEA-Games. But one must tell the whole truth, and there I am a fair sportsman: the Indonesians and Malays were stronger than the Vietnamese team. Though we shouldn't have lost the bronze medal match against Myanmar, but some players were lacking concentration and motivation. In our very young team it was easy to see that the disappointment about not making it to the final was tremendous. After that, the frustration was big in Vietnam and, unfortunately, some showed a lack of fairness and judiciousness.
thai-fussball.com:
Were you surprised at how many spectators were at the semi-final against Indonesia? This only was a regional U-23 tournament and the stadium (capacity 88,000) was almost sold out?
Falko Gotz:
What I learned first is that the SEA-Games are not only a regional tournament; more than that it is the most prestigious tournament in South East Asia. My personal impression was that the Vietnamese put this tournament on top of the Football World Cup or Olympic Games because they play no role in these events.
We stayed directly beside the stadium and watched all games of the Indonesians. With every game there, more spectators came to the games. Our games of the qualifying round were not well attended and, hence, I was glad that we could enjoy the great setting at the semi-final. But then of course one also saw that some players were not used to this at all. Besides, I had four U-19 players, and their heart was in their boots. But they must make use of this experience. They can still play in the SEA-Games twice more. Then they should be prepared in any case for such an atmosphere.
thai-fussball.com:
Some years ago the Vietnamese V-League was dubbed as the top-league in the region. While in recent years the league developed in negative way and image, the national team is the opposite and paints a positive picture. How do you see this?
Falko Gotz:
It is surely not a good situation that the same owner is allowed to own several clubs. Unfortunately, there are almost private owners exclusively in the league owning the clubs. It opens doors for manipulations of course. Another problem is the "gambling" that has a big tradition in Asia. But it also produces scandals over and over again in Vietnam. Whether it concerns the referee or player, or also presidents, it certainly does not contribute to a good reputation for the league. All that provides a negative connotation.
thai-fussball.com:
Apart from possible manipulations, what can you tell us about the quality of the V-League?
Falko Gotz:
I think, in any case, that the Vietnamese players do have quality. They are agile, manoeuvrable, technically strong and do have a good physical constitution. Sometimes they are guilty of over-playing when in possession and not enough goal-oriented. It is also obstructive that many foreign players take key positions within the team. For example, the positions of the central defenders and centre forwards are taken up by foreign players at almost all clubs.
This means that they have contracted the habit to operate with long balls a lot; to move up and then put the opposing goal under pressure. When the players came to the national team camp, we had to change this style of play over and over again because we did not have these physicality of the foreign players. With the national team we wanted to work out the qualities of the Vietnamese players and coached a lot of combination play: short passes and shots at goal after back passes or low crosses. We always had to readjust. So a big compliment again for how the players in the training units have gone along with it, and that we were rather successful with it within a short period of time.
thai-fussball.com:
How was the cooperation between you and the club coaches?
Falko Gotz:
I was on the move almost every weekend to have a look at two to three games, and I would regularly talk to the coaches after the game. But only briefly as it was just possible via the interpreter. But we never had a proper meeting and exchanged views and thoughts. It was not practicable in the shortness of time.
"I believe, he could play 2nd Bundesliga in Germany" - Gotz on Le Cong Vin
thai-fussball.com:
With TSV 1860 Munich you had already coached an Asian player in Jiayi Shao. Did that help you in Vietnam?
Falko Gotz:
It helped absolutely, but the mentality of the Chinese and Vietnamese still differs a little bit. But the Chinese are more self-controlled, while the Vietnameses are more self-opinionated.
thai-fussball.com:
Le Cong Vinh is the showpiece footballer of Vietnam. How do you look back on him?
Falko Gotz:
He was our most dangerous player. In terms of talent certainly one of the most gifted in Vietnam. He has played centre forward in the national team but for his club, unfortunately, at left midfield. He simply knows where the goal is and I think that he is a player of international standard. I believe, he could play 2nd Bundesliga in Germany because he is also in physically good condition. He is big, strong and has a very good kick. His corner kicks and free kicks were excellent; off the ball he was always very dangerous in the box. But he is certainly not the only good Vietnamese player. We had some wonderful talents in the under-23s which, with sober mind and good leadership, have good prospects.
thai-fussball.com:
How would you rate the stadiums in Vietnam? Are there decent venues available or more run down places?
Falko Gotz:
At Ho Chi Minh City and Hanoi there are two modern venues in which we played with the national team. But of course there are still a lot of old sport grounds with poor hygienic conditions which are certainly in need of improvement.
thai-fussball.com:
How did your dismissal come about? You mentioned once it was a political decision and that you, literally, found your discharge papers under the Christmas tree in Berlin?
Falko Gotz:
Three weeks after the SEA-Games we had an analysis, with the whole coaching advisory board and the top of the federation. There, every side has explained its points. They agreed with me in all points of my critical analysis, promised help and improvement in most points and sent me away then on an agreed vacation. Three weeks later I was in Germany, and shortly before Christmas a Vietnamese journalist called me and told me then: "Now, nevertheless, the federation has decided to dismiss you." The fact in itself and also the manner certainly have disappointed me.
thai-fussball.com:
Is the subject of foreign countries and Asia now ended for you? Do you say it was an important experience, but it I don't need to have it anymore, or can you imagine doing this again?
Falko Gotz:
I like South-East Asia very much and I do not exclude working there again. Now I know what to expect. On the fringes of the SEA Games I could speak with many of my colleagues, and now I also have quite a different level of education about the coaching job in Asia. In any case, I do fancy a return.. But on the other hand, I could imagine myself, of course, also working again in Europe.