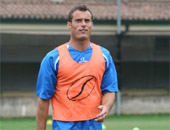 Jay Lee Harris
Jay Lee Harris is BB-CU's new signing. During the first half of the season he was under contract with Thai Port FC but haven't seen any action on the pitch since he joined
Tarua
. This was reason enough for us, to talk to him.
With not any minute of play in official league matches and therefore not on the radar for most football fans in Thailand, we found it interesting to talk to such a player. Meanwhile Jay Harris put the pen to paper for Division One side BB-CU, coached by Kitaisak Senamuang. Jay Harris is born and bread Millwall, why one of his dreams is to play for the English side. His footballing career started at the academies of Millwall, West Ham and Charlton. After playing for several clubs in Europe, including Dunaújváros FC where he met Dave Simpson (former Chonburi FC), he finally arrived at Thai Port FC.
thai-fussball.de:
Let us first talk about your new club, BB-CU. Have you ever talked or met with Kiatisuk (Zico) before you signed with BBCU and have you been aware about him and what he means for Thai football?
Jay Harris:
I had the pleasure of meeting Zico briefly earlier in the season and was well aware of his status within Thai football. His record is phenomenal and if you looked at him now you would think he could still play.
thai-fussball.de:
Are you then looking forward to work him together?
Jay Harris:
I have only been with the team a few days, but in that short amount of time I am very impressed with the whole club and especially Zico. There are clear objectives in training with it being serious, but enjoyable. Everyone has been welcoming from the owner to Zico and to the players. BBCU has had an excellent first half of season, I am happy to join a club with a vision and goals. We have a great atmosphere within the camp and I am very excited about the future ahead with the club. Zico has a clear idea where he wants to take the club and very happy he sees me as someone who can help the team.
thai-fussball.de:
So what are your expectations with the new club? Do you see it as a step down to go and play in Division One?
Jay Harris:
My expectations of BBCU along with everyone else at the club is the same, to gain promotion and stay in the TPL. Not only do we want to get promoted, but being promoted in first place is the ultimate goal. Obviously the first division is lower than the TPL, but I do not see BBCU as a step down at all. They are a good team and can compete with the teams in the TPL. Zico is a genuine man and great coach and BBCU have a very bright future and I'm happy to be here and look forward to being a part of their future success.
thai-fussball.de:
Over the past weeks there were some rumours within the Thai Port community you have been back to England. So could you clear this one up for us?
Jay Harris:
It only takes one person to say something to another. I have not been back in England although the thought was appealing! I told people when I cancelled the contract that I like to stay in Thailand, Asia or even returning to Europe. Guess they ran with the latter.
thai-fussball.de:
So you cancelled the contract? It appeared to us the club terminated the contract.
Jay Harris:
I asked to cancel the contract late last month and nothing was done, but I was heard.
thai-fussball.de:
What was the reason for you to terminate the agreement?
Jay Harris:
When Sasom (Poprasert) left I entertained the idea that things might be different with him gone, but it wasn't. I had some meetings and it was agreed by both parties to cancel contract. I felt not being given the respect and opportunity that I deserve.
thai-fussball.de:
You never been registered with the league since you joined the club. I heard problems with documents were the reason?
Jay Harris:
That's right, I was playing in all the pre-season games and then season come and I'm not registered. In all honesty I don't know what the reason was, getting answers was impossible. So I didn't play in league for anyone to know.
thai-fussball.de:
As no one have seen you in action, and therefore just know little about you, your career started promising. You been to youth academy's of Millwall and West Ham.
Jay Harris:
I spent time at 3 different youth academy's as a teenager, all were quality.
thai-fussball.de:
West Ham academy with Tony Carr probably the most famous one from those ....
Jay Harris:
....West Ham is one of best in England and it was great to spend time there. It is great football club with local roots and the academy has a family feel.
thai-fussball.de:
Any big names of today you came across during your time?
Jay Harris:
The class above me had an amazing turnout with Frank Lampard, Rio Ferdinand, Paul Carrick, Joe Cole among others, but these being most notable. I think that's one of the most famous class in West Ham history from Youth to Pro.
thai-fussball.de:
Probably yes, very impressive indeed.
Jay Harris:
We obviously played against them sometimes and that was always fun.
thai-fussball.de:
Really? I can't imagine that its fun to play against them. At least not nowadays.
Jay Harris:
Well when you are 15 years old and playing against the likes of them, who are touted to be pro and already got names in football it was a great experience. A challenge we all enjoyed. At present time it would be amazing, don't think that's ever going to happen though.
thai-fussball.de:
Things turned out different for you than for the previous mentioned ones. Your first pro club was Gillingham, followed by Lincoln. Even though you played on a regular base for both, you made a surprising move. Tooting and Mitcham is a non league club how does it came?
Jay Harris:
Things certainly did, that's football in a nutshell. I fractured my foot when I was young and that hurt me not only because of injury. Also because I didn't take rehabilitation seriously enough and it took longer than expected. I had a few issues with the manager, football is like any job. Having an environment where you are happy in to and you can be productive is vital. I could have been more serious about football when I was younger and that's what I would say hindered me the most, in my early pro career I mean. When I was young I had issues with authority, didn't like being told what to do, as long I was happy and enjoying myself it didn't matter. But if I wasn't happy or didn't like the person in charge it showed. I have learned as I've got older, that football is like any job and that I just have to put my head down and get on with it.
thai-fussball.de:
Of course. So what kind of experience it was for you to play for such a club like Tooting?
Jay Harris:
They are a good club who had recently moved to a new stadium so had good facilities. It was certainly a change , but enjoyed my time there.
thai-fussball.de:
After you had several stint's all over Europe (Hungary and Scandinavia mostly), what was the reason for you to become a nomad around Europe and what kind of experiences you made?
Jay Harris:
For me it was about something different and new, I tend to get bored and want a change. The opportunity was there and I couldn't turn it down. I guess it's because I have never found a home, somewhere. So I move on in search of that. The one thing we always carry with us in life is our experiences and I love meeting new people, seeing different places. I had some good times and some hard times but all is something I will never forget The funny thing is that the most I happy I have ever been was with Enköpings SK. Poor level and poor money, but coach, club, location, life, friends was definitely a good time. Shame they played in a better league. Because I would have more than likely played many years there.
thai-fussball.de:
How did you end up with Thai Port?
Jay Harris:
I have played with Dave Simpson and he is a good friend of mine. When he came to Thailand he recommended me to the contact here and he asked me to come. Being me, I thought why not.
thai-fussball.de:
Dave Simpson, he was at Chonburi that time right?
Jay Harris:
Yes.
thai-fussball.de:
Are you still in contact with him? Do you know where he is now?
Jay Harris:
I am still in contact with him and I do know where he is! Dave is doing well, I talk to him often because as I said were good friends.
thai-fussball.de:
Back to Thai Port. You started your youth career at Millwall, as we said. Anytime when its comes to comparison, always Millwall = Thai Port comes up in my mind. What do you think?
Jay Harris:
It is hard to compare the two. I know Thai Port is the working class club and that's certainly something the two have in common.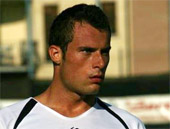 thai-fussball.de:
A lion in the badge, both are located in the docks, passionate fan...
Jay Harris:
There is certainly similarity in attitude of fans when it comes to the weekend, the club is something that represents them and neighbourhood and both are very passionate about the club.
thai-fussball.de:
At the beginning you talked about Sasom. He now has left the club and Thongchai Sukkokee become in charge. Did you got the opportunity to train under latter and what's your opinion about him?
Jay Harris:
Yes, Sasom was the one of signed me. From the small amount of time I spent at the club with the new coach, he is very involved, hands on and seems like a good man along with coach that knows what kind of style he want's and how he want's his players to be.
thai-fussball.de:
From your former team mates at Port, which Player you would highly rate?
Jay Harris:
Mario (da Silava) understands the game, he has played professional many years while also being a nice guy. Steven is another obviously, he knows what hes doing and is a consummate professional and good player. Pepe (Kiatjarern Ruangparn) is a grafter and always works for team.
thai-fussball.de:
Considering you haven't seen any action on the pitch, what do you enjoyed the most so far in Thailand?
Jay Harris:
The cheap food, I love to eat and it's a highlight in my day. Its very much like the West in terms on what's on offer. Yes you have the poor, but Bangkok is so developed that everything you can get/do in the West you can do here.
thai-fussball.de:
Did you learn a few words of Thai apart the common base phrases?
Jay Harris:
I'm afraid not. I'm not the greatest with languages. Although if I stay in Thailand I'll definitely learn some more as respectful and nice to be able to translate with the the Thai players even just basics.
thai-fussball.de:
So how things work out on the pitch? Usually it's said football is international and you not necessarily need to speak the local language. Commands are in English from team mates or do you have to become familiar with Thai phrases used on the pitch?
Jay Harris:
Thai people are not so versed in English as foreigners aren't in Thai. So it can cause problems although football is universal talking it can be a fundamental part of it misunderstanding happen with the language barrier in certain situations. It is important that team mates can talk and communicate with each other for basic commands.
thai-fussball.de:
Have you been able to make any new friends so far? Are you connected to all those other players from UK, like Michael Byrne, Mika, Chris Brandon and so on?
Jay Harris:
I am not the kind of person to reach out and try to make friends. If I meet someone then that's cool. I'll stay in touch and so on but not trying to get in contact with someone just because there English. Playing her, I have met Michael Byrne, seems like a nice guy. I am good friends with Steven (Robb). I am around or was around him everyday and got along well, that for me is how I'll make friends by being around them.
thai-fussball.de:
At the end a question which is, asked many times. Although I would like to raise just for the books. How would you rate Thai football from what you have see, and do you think there might be a Thai player could make his way to Europe in the near future or to an academy.
Jay Harris:
They definitely got the fan base which is great. Without that nothing can happen because at the end of the day its a business. There are many levels of professional levels in Europe. But if were talking about highest level I don't think so. Not at this time. In the future it is a possibility. You only have to look at places like Japan and China whose leagues have been around a lot longer and only a few players have made it across. It will take some time, but I got no doubt it will happen at some point.
thai-fussball.de:
I think you can't finish an interview better than that!! Thank you very much Jay.