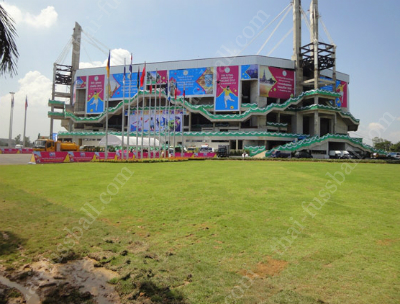 Futsal Arena as of 30 October
image: © thai-fussball.com
Confidence everywhere. With the BMA, the local organisation committee and the construction workers to get the Bangkok Futsal Arena approved for at least six games. But after a final inspection by FIFA and a decision made this Tuesday, it is "Game Over" for the expensive venue.
After a successful parquet flooring and a security test with 650 people, Bangkok Metropolitan Administration (BMA) was confident and hopeful on Monday that the arena would receive green light from FIFA to host some games of the knock-out stage including the Final. Several issues had to be fixed and to put in place like a submission of an emergency evacuation plan, the provision of an insurance policy to cover all risks, and the finalisation of a CCTV security system.
But all efforts were not enough with the world governing body of football, putting a stop to all hopes a short time later. The FIFA Futsal committee decided that the venue is not sufficiently ready, especially for security reasons, to host any game in the course of of the event.
The reasons given by FIFA in an official statement reads as follows: "The safety of spectators, teams and all other visitors to the stadium are of paramount importance. FIFA and the Local Organising Committee therefore concluded that such a fundamental issue, as well as the functionality of core services and facilities, cannot be compromised."
Quarter-finals are now moved to Nimibutr-Stadium (next to MBK) and Hua Mark Indoor Arena. With latter staging the Semi-finals and the Final on 18 November. All tickets bought in advance remain valid. Further information on the ticketing to be expected soon from the FIFA.
No matter on Whom or What to put the blame at the end. Internationally, the out for the 1.3 Billion Baht building, means an absolute disaster for Thailand. One just feel sorry for the workers which have put so much efforts into the completion of the venue, working 24/7 all day long. With pleasure and with a proud-swollen breast they certainly would have looked at the done work with the big final taking place at the Arena on 18 November.
With the fail of the only venue which had to be build for the Futsal World Cup, Thailand's chance to stage once more a FIFA tournament in close future might also have sunk to zero. The national football training centre in Nong Chok, which was funded with money from FIFA and is located in the same area as the yet to be completed Arena, is hardly in use for its purpose. The Thai FA still resides in the heart of Bangkok while in some parts of the training centre the ceiling start to crumble and water is dropping inside. (More on this last subject in a separate report).
We just can hope the Arena will not have to face a similar fate.