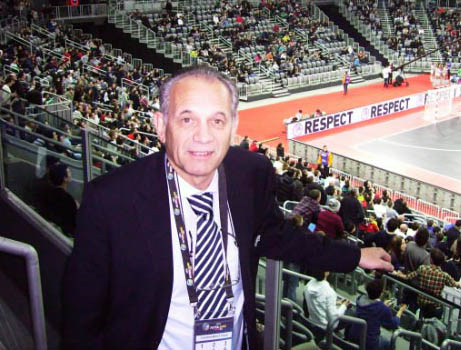 Futsal coach Vic Hermans
image: courtesy Vic Hermans
Dutchman Vic Hermans is Thailand's new Futsal head coach. He follows Jose Mendez and his job will be to prepare Thailand for the FIFA™ Futsal World Championships in November.
When it comes to Futsal, fans in Thailand are quite spoilt. Because differently to the footballing counterpart, the Futsal National team is considered one of the best in the world. Achieved by "Mr. Futsal" Adisak Benjasiriwan in close collaboration with Vic Hermans predecessor Jose Mendez. Adisak, got shown the door by the federation last year, and just a few weeks later Pulpis stepped down from his charge. In search for a successor the Thai FA made a find in Vic Hermans who last was responsible for Malta, at current stage ranking 99 in the world.
At first sight, forehead wrinkles everywhere. However, after a closer look on him, we had to find out that the 59-year-old is a stated expert and instructor. Without doubt his biggest success was to win the AFC Asian Championship in 2001 with Iran. This month he was at the Futsal European Championship as a technical observer for UEFA. Vic even played football, by the way, among others for MVV Maastricht.
thai-fussball.com:
Thailand's search for a new Futsal coach has lasted almost half of a year. When you were approached by the Thai FA and how did the contact come about?
Vic Hermans:
There was a first contact in September of last year already. I got contacted by FIFA™ and Mr. Worawi. But everything delayed due to flood in Thailand.
thai-fussball.com:
Have you been in to any relation with Thai-Futsal before?
Vic Hermans:
I played several times with Holland against Thailand. My last game was in 2009 and I have that DVD with me.
thai-fussball.com:
Have you already seen games of the Thai Futsal league and can you judge quality and players?
Vic Hermans:
Yes I saw some games on the internet. But that is not the same. Of course I know that Thai Futsal players have the quality to compete with other nations.
thai-fussball.com:
Any plans to pick one of the current interim trainers as your assistant, especially when it comes to select players?
Vic Hermans:
I learned in the past that the most important thing is, to have an assistant who knows the players, culture and the aspect of the game. Like it was with Mr. Shams who was my assistant in Iran. I hope to be able to work on a comparable base in Thailand.
thai-fussball.com:
Malta, currently raking 99 in the world, has been the last team you have you been in charge of. Thailand ranks 12. Where do you see the most important differences in you work as coach, if you take over a team which stands so much further on top?
Vic Hermans:
After coaching Iran in 2001 and Holland till 2009, I wanted to take this challenge. That time Malta had nothing, not even won a single game. There was no education etc. etc. So I was setting up basic Futsal courses, now 40 coaches have already their certificate, and last year Malta won twice and draw one time. I tried to set up license for the clubs, but the new FA president do not want Futsal growing.
thai-fussball.com:
Just recently you have followed the European Championship as technical observer. Have you seen new trends concerning technique and tactics? What are in your opinion the most important trends?
Vic Hermans:
The speed and physical strength from individual players are becoming more and more important. Then set pieces and the 5 against 4 situation in the game. Other things are the same.
thai-fussball.com:
Former Thai coach, Jose Mendez, also influenced the development of women's Futsal in Thailand. Will this also be a part of your job?
Vic Hermans
image: courtesy Hermans
Vic Hermans:
As UEFA and FIFA instructor this, for me is a task indeed, but do not forget that we have the World Championship in Thailand later this year. Our first target is to reach the knock-out stage for the first time and maybe more. Then, after this tournament I will try to set up, like as what I did every were. Course for coaches and futsal on schools, for girls and boys.
thai-fussball.com:
Mendez was targeting the same, surviving the group stage. How realistically do you rate this?
Vic Hermans:
I hope that this happens. But I can tell you that we need a lot to do before this. This year it will be the first time that 24 teams participate the World championship. Let us make the next round happen than we will see. But it will be important to play against most different nations before the tournament to get familiar with the different style of play.
thai-fussball.com:
Where do you see your major task on further progress of the Thai national team?
Vic Hermans:
First I want to know what the players thinking. I need a team who believes that we can beat everybody. The AFC Asian Championship in May are a good test, so that by then we should know where we are at that moment and what are the next steps we have to take.
thai-fussball.com:
Do you already have an idea how do you like to prepare the team for the World Cup?
Vic Hermans:
No. First I want to speak with the responsible people about the competition and the possibility when and how much training sessions and games we can have.
thai-fussball.com:
Current domestic season ends in March and the new season may not start before autumn. Do you rate this as disadvantage or advantage?
Vic Hermans:
No, that is very good for the preparation of the national team.
thai-fussball.com:
You espouse that football and Futsal clubs need to be linked stronger to guarantee a further progress in both kind of sports. Rudimentarily this is the case in Thailand, as for example with Thai Port or RBAC. Did you already talked with the FA on how this can be improved further?
Vic Hermans:
We have not talked about that yet. First I want to know the overall situation and which kind of problems are there.
thai-fussball.com:
You have written several books which concern technique and tactics training. Among other things, you have written such a book by order of the German Football Association. Are there similar plans for coaches in Thailand, so to speak in Thai? And are there any plans on continuing education courses for the club trainers in Thailand?
Vic Hermans:
I think when we start with Futsal courses in Thailand that it is important that we have a translation into Thai. When we have the possibility that we can provide coaches with new technique and tactics in their own language, this will be have positive impact on the development of Futsal in Thailand.
thai-fussball.com:
Successfully, you have already coached the Futsal national team of Iran. Where do they see the differences between the Futsal in Asia, Europe and the rest of the world?
Vic Hermans:
I think that my time in Hong Kong and Malaysia were nearly even more important than my time in Iran. Above all because of the culture. The game and the game mentality in comparison to Europe and South America is completely different. If we get to think that we can defeat every opponent, then we are ready.
We did this interview with Vic right before his he was leaving for Thailand

* If you are interested to publish the whole interview or a part of it, for Print or online media, please ask for permission via: info [at] thai-fussball.com. Many thanks for your understanding.*

autor: esgede
editor: lokomotive