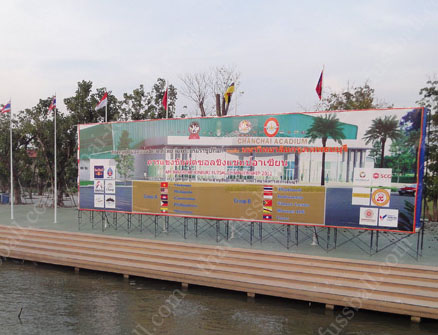 The first tournament under new national team coach Victor Hermans could successfully completed. In commanding manner Thailand won the AFF Futsal Championship and now set course for the Asian championship.
At the end of April the AFF Futsal championship took place in Bangkok and Thailand won the tournament in style.
Vietnam could be beaten with 9-4
in the final after the Thais passed Malaysia in the semis. At the same time the dominant role in Southeast Asia could be reinforced. Except in 2010, where the Thais did not take part the tournament, no other nation lifted the AFF Futsal trophy.
Towards the end of the tournament in April, head coach Hermans told us that he would have had preferred to sent a U-21 rather than a full national side. Though an under-21 team is still in progress. However, after the tournament he stressed that there is still plenty of work to do till the world cup in November and his 11 by far is not ready yet for the big stage.
However, there is no room to breathe for the Futsal team as next a training camp is on the schedule. Hermans men are pulled together at Surat Thani till 12 May to prepare for the upcoming Asian Futsal Championhip. After returning to Bangkok two warm-ups against Australia is on the plan. The first one will be played on 18 May in Suphanburi, while second is held on 20 May at the Thai-Japanese-Youth-Center.
Just three days later, on 23 May, the team is due to depart to the Emirates where the continental championship will be held from 25 May to 1 June.
Beside the home team, Thailand faces Turkmenistan and Kyrgyzstan in group A. For all participating nations, except Thailand, it's about who will qualify for the World Cup in November this year. Hence the Asian Champion can be played almost without pressure and it may be a good opportunity for the Dutchman Hermans, to work on his 11, doing further fine tuning and preparing his side for the World Cup.
Though the dates are all fixed for the big tournament end of this year, however, the draw only takes place in the evening of 24 August in Bangkok. In the same evening Thailand will play a first out of two warm-up games against the worlds number one, Spain. On 26 August the second match takes place in Nakhon Ratchasima.
Above all, latter meeting, but also the matches against Australia of course should serve to heat up the atmosphere for the world championship.
Certainly no bad idea, taken the fact in consideration that up to now, SAT, FAT and TAT virtually did nothing to draw attention for the big event.