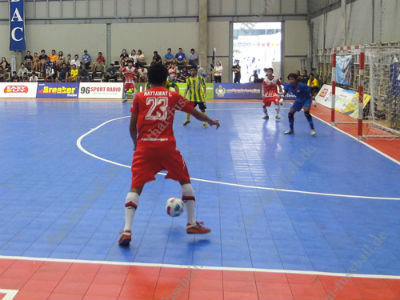 Tobacco v Pattaya
image: © thai-fussball.com
Thailand's 5th futsal league season has end and saw GH Bank RBAC successfully retaining the tile and, moreover, winning the double. But the leagues future is in doubt.
The end of the national championship marked the end of a rather chaotically run season. In contrast to the football leagues, it was not about league management, which during last 2 years was in the hands of USM (Universal Sports Management). At first the start had to be postponed several months, because one major sponsor was affected by the earthquake in Japan and thereby money was blocked. Afterwards the flood in Thailand hit two of the main venues and causing several match days to be shifted.
As already mentioned, RBAC retained the title. Newbie Lampang United came second and Thai Port finished third, displacing Surat Thani over the goal margin. Besides, Surat Thani lead the table for a while and temporarily soar itself favorite to win the league. One reason for the good performances of Surat Thani and Lampang may lay in the fact both sides played their home games at home, while other teams had to share the hall at respective venue. Moreover, Lampang and Surat Thani currently work most professionally, beside RBAC of course.
Single match days in Bangkok, on an average, were pursued by 300-400 spectators. Very few considering spectators were spread on 3-4 games a day. Partly Surat Thani could attract even around 3000 spectators on their own home soil. Though benefiting from the local football team if it was playing the same day. Another newbie, Pattaya never was in danger of relegation and finished seven.
Against it, it was not enough for two other promoted sides, Suphanburi and Tobacco. Latter tried to cause a decision at the table to stay in the league. However, the sports tribunal judged the fact that Surat Thani fielded two players with the same number on the field the same time as not enough to rule it in favor of Tobacco.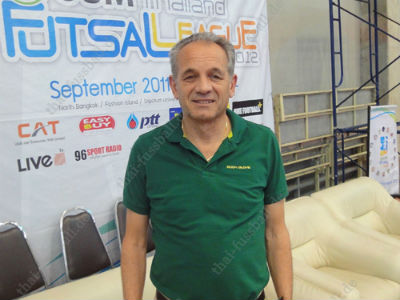 Vic Hermans
image: © thai-fussball.com
With 44 goals Brazilian Renato Gomez Miranda (RBAC) has become the league top scorer and by a slim margin of one goal missed Michael Ferreira de Sousa's record from 2006/07 which he at that time scored for I am Sport. Meanwhile such glorious days are gone for the now destitute I am Sport Club. He finished bottom of the table with only four points from 30 games.
After the championship ceremony we took the opportunity and talked with Victor Hermans, Thailand's new national coach. During May and in his role as AFC Futsal commissioner he will hold education courses for Thai Futsal coaches in Surat Thani.
Moreover, he betrayed us, according to the Thai FA the new season should start only in December, so after the Futsal WC to spare the players. He intervened, because above all his boys need game practice. And that was one reason, initially, the new season was scheduled to begin in June. Indeed currently the big question arises as to whether the hosting nation of the Futsal world championship 2012, in generally will see a domestic league in future.
Thai Futsal League about to fold?
Some weeks ago Organizer USM unexpectedly informed about its intention to withdraw from the Futsal business. Over the past two years a deficit of more than 15 million Baht was made. Besides, everything started quite well.
A new website came into being, which even was maintained regularly. The league has been increased to 16 teams, the FA cup was introduced and in 2011 Regional Championships were held together in collaboration with telecommunication giant CAT for the first time. Subsequently promotional play-offs were introduced, like with the AIS Regional Leagues in Thai football.
In addition, for next season all teams were urged to look for own home venues. Though comfortable match days for spectators with 3-4 games per day would disappear, for the clubs in the long run it would be by far the better option. They could establish a local fan base and generate own income from ticket sales, merchandising and sponsoring money. In the past all clubs had to share the income if all games played at the same venue. Thereby clubs would be forced to act to be more proactive which again could lead to a stronger competition. For the sponsors, they were very happy with the representation in the media and all stressed that they would like to remain active with pleasure.
All in all, the plans which USM has compiled, looked promising and could have been a solid foundation for the future of the Thai-Futsal. Not least the national team benefited quite strongly from what have put into reforms over the past two years. A generation change with at least six internationals sorted out has took place almost unnoticed.
Now USM has handed over all his documents and plans for continuation of the league to the Thai FA. Its on Worawi and the association now whether Futsal in Thailand has a future. If one consider that for the world championship a new venue worth 1.3 billion Baht is built for from public money, it should be possible to give Futsal a perspective in general, not only short before the world championship.