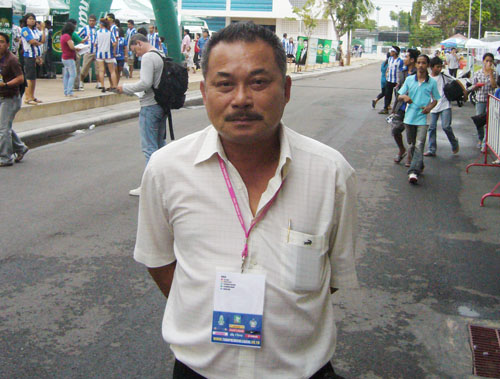 Pichet Munkong -
one of the candidates
© thai-fussball.de
This Friday, Thailand football association takes on his second try to succeed governing body election. The first one in May ended in disaster. In the meantime four candidates are to run for president.
The first attempt to elect a new governing body of Thailand football association, on 6 May 2011, failed thoroughly. One of the reasons given officially where that some people eligible to vote, didn't carry a valid ID card with them. Other eligible persons registered them self twice for voting. Nevertheless, on the quiet, it was whispered that Worawi Makudi did not want to endanger his reelection. Suddenly at the day of the election a new candidate for the presidents seat appeared. However, with the election now to be held this Friday, all things should get better and become even more transparent. All eligible body to vote were checked in advance, whether they do have the right to vote. Total eligable votes are 170 with 19 from the current board. 3 clubs were not admitted. Besides, observers of FIFA, AFC and SAT are present.
All together there are four candidates running for the presidents seat. At least three of them seem to have the same programme. As long as you like to call it a programme of course.

The first candidate we like to spot on is Pichet Munkong, president of Thai port FC. In case of his choice he bragged, to dismiss Bryan Robson first and instal a Thai coach for the national side. Regarding concerns to dismiss Robson, as everybody knows, there is no need anymore. In case Thailand U23 would fail to win the SEA-Games in November this year, he already offered his resignation. Otherwise he wants to do everything to bring forward the development of Thai football and guide the national side back to old glory. About one week after the first electoral attempt, we met Pichet. He already put away the election, as he see no chances to get on the seat as he admitted. He only would be able to get approx. 30-40 votes.

Candidate number 2 stepped in at the end of May. It's Kasiti Kamalanavin. Khun Kasiti is known as a television anchorman in Thailand and was an adviser of the Minister for Sport Suwit Yodmanee. Well there seem no other relation to the sport then this. But the arguments he made sound fair enough. More fairness, all clubs should be treated same, no biased decision. The management of the federation lack's of transparency and the fans call for change. According to his own statements he could get about 10 votes.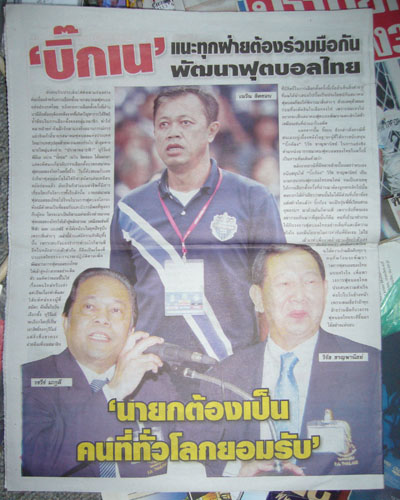 Siam Keela, 16 May 2011
Candidate number 3, which suddenly appeared on the day of the election on 6 May 211, is Virach Chanpanich. Khun Virach was team manager of the Thai national team in the past. He claims that under his management Thailand climbed up to number 43 in the world. Virach Chanpanich went to school together with Buriram-PEA / Buriram FC boss Newin Chidchob. Siam Keela from 16 May 2011 even reported that Newin will support his school buddy.
This brings us to candidate number 4. Worawi Makudi being at office for the past 4 years and of course would like remain in power for two more years.
His times after the called off election at the beginning of May, have been very tough for him. At first the rumour the election was called off in order to secure his seat. Followed by the statement from the Sport Authority of Thailand (SAT), the election was held too late and that his reign ended in December last year. Which in fact would mean that he is no longer president of the FAT since end of March. Further more statements by the SAT, if he would not arrange a new election within a certain period of time, the SAT itself would take care of. In addition Thailand Olympic team fielded one non-eligible player during the qualifier against Palestine. And last but not least, the accusations of Lord Triesman against him. Somehow it seems Makudi went true all this by ease, giving press conferences and travelling around the world on behalf of FIFA and AFC.
According to his statement, Makudi would like to continue his successful work of the past years. Even though he has to put up with, which successful work? Though he claims the boom of the Thai Premier League for himself. However, it seems not fair towards Dr. Vichit Yamboonruang, the boss of the TPL. Of course in his function as an AFC and FIFA-executive member, Makudi made it possible that Thailand hosted a few big continental tournaments on one or the other occasion. However, this rather seems high mathematics of sports politics to us which we rather leave to
others
to talk and judge about.
Though the "VV get out" calls have not past away yet, his opponents from the fan base in the meantime rather seem to strike moderate tones. For sure they still want a change, but somehow would support Makudi if he gets elected for another term and are open to give him a another chance. Whether this has something to do with with the sudden appearance of a candidate supported by Newin we don't know? Maybe it is just about the the least evil.
Who would be your heart leaf? At least tomorrow we will know who will control the fate of the FAT for the coming years and we just hope that this may happen in the interest of all leagues, teams and the men and women's national teams.