Lazarus Kaimbi makes it 2-0
image: © thai-fussball.com
With two sovereign wins Chonburi and Bangkok Glass advance to the final round of the AFC Champions League play-offs. Now two big tasks waiting in China and Japan.
What looked to be a possible high mountain to climb for Bangkok Glass in their AFC Champions League debut has turned out to as an easy task against Malaysian champion Johor Darul Ta'zim. After 90 minutes the scoreboard displayed a sovereign 3-0 win for the Thai FA Cup winner. And they could have scored more. Compared to the Supercup against Buriram United, which one lost 0-1 a fortnight ago, the Rabbits showed a substantially improved performance on the pitch. New signing Narong Jansawek, who moved from Osotspa, opened the account at the LEO Stadium after 27 minutes with a fulminating strike from outside the box.
What the new axis of Leandro, Tasevski and Kaimbi are able to put on the pitch could be seen trough the second half. First it was the Macedonian cutting the Johor defense into pieces with a magnificent trough ball to set up Kaimbi's first goal of the night (51'). And a good 10 minutes later it was the combination Tasevski-Leandro-Kaimbi, in this order, that led to goal success and marked the final score line. Under the reign of tactician Ricardo Rodriquez this trio could become a magic triangle for the Rabbits in the 2015 season.
The result, however, is flattering for the new flagship of Malaysian Football. Tasevski missed a penalty kick and in all other aspects Bangkok Glass was very superior. If there were any notable chances for the visitors to score, they came from set pieces. And so it was Johor's coach Bojan Hodak who admitted that his side is not (yet) good enough to compete at this level. "We can look for many excuses - missing five players and the artificial pitch - but the truth is we are not yet good enough to compete at this level,"
BGFC coach Rodriquez went on record as saying that his side played a good game and is already looking forward to Beijing Guoan next week: "We know we have to play well to win there. The players have to believe that we can win there and if we don't believe that, then we won't. Tonight was a good step but the second step will be a little bit more difficult but we will go to Beijing fighting."
On top of the already heavy task next week in Beijing comes another handicap for BGFC. The sides poor away record. What turns out to be an advantage at home, namely the artificial turf, mostly turns into a disadvantage when playing away. Since the club has entered the Thai Premier League in 2009, Bangkok Glass could manage only 23 wins away from home.
If your alarm bells start ringing in your head when hearing of Beijing Guoan, yep, you are right. It is Chonburi's opponent of last year Champions League qualification. A year ago the Sharks left Beijing with a 0-4 hammering. Already after 18 minutes the hosts were up by three and all fairs were read.
If Guoan was a tough nut for Chonburi last year, Kashiwa Reysol next week won't become a softer one. For the match against the fourth of the 2014 J-League season Chonburi qualified after they could beat Hong Kong side Kitchee by 4-1 on Tuesday night. Against the semi finalist of last years AFC Cup the hosts took the lead after 8 minutes. It was Leandro Assumpção who just have returned from Chiang Rai United to the East coast with his first of three goals this evening. Especially worth seeing his header in the 38th minute to mark the halftime score of 3-1.
Wth the victory over Kitchee SC Chonburi extends his positive record against teams from Hong Kong further. And also here, like with Bangkok Glass, Chonburi easily could have had scored more goals with a more clinical finish.
The Sharks will now have to travel to Japan and as of yet, the only time they played an opponent from Japan was in 2008. 7 years ago during the Champions League group stage with Jadet Meelarp on the sideline, like today, one lost at home 0-2 against Gamba Osaka. However, back in Japan they managed to draw.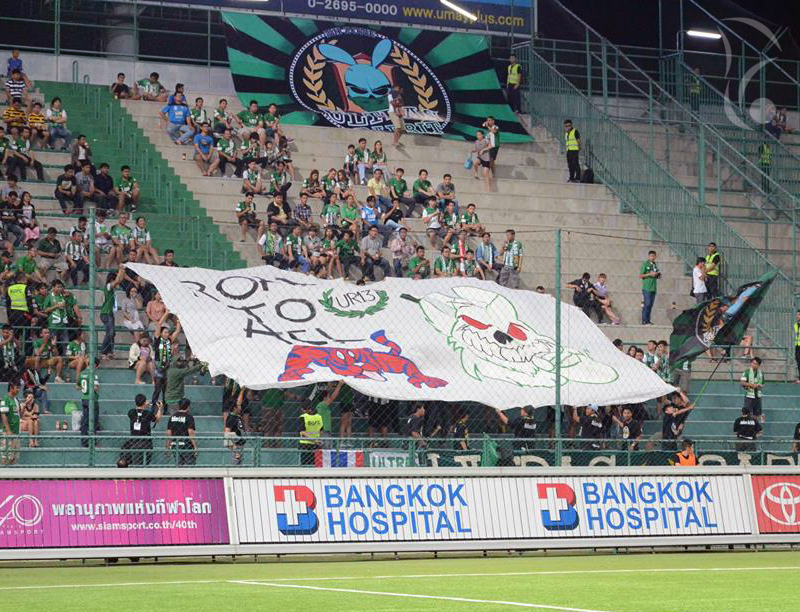 Road to ACL - Bangkok Glass Ultras
image: © thai-fussball.com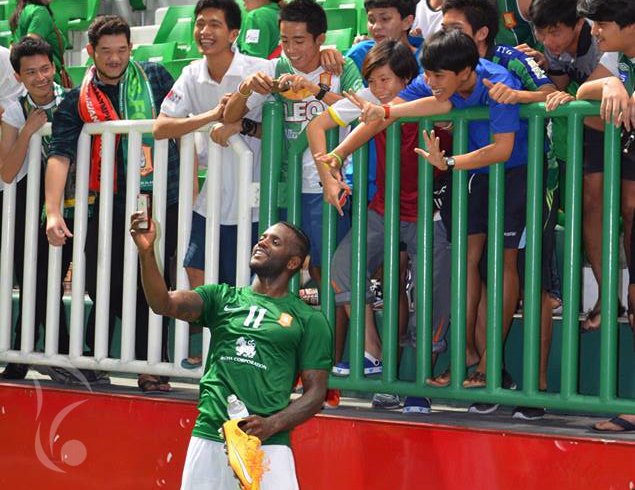 Mr. Selfie - Lazarus Kaimbi
image: © thai-fussball.com