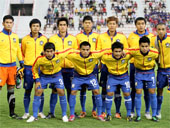 Thailand under-23
© Thananuwat Srirasant
High noon at the AFC headquarter on last Wednesday. In total four drawings were on the schedule. For the first time, drawings have been broadcasted live on the official AFC Website.
The most important of all drawings made, was for the first and second Round of Asian qualifiers for the 2014 FIFA World Cupô. In total six rounds of qualifying matches are necessary to determine the Nations eligible to represent Asia during the worlds biggest football tournament. It will start with the first round in June 2011 and ends with the 6th round in autumn 2013. Thailand qualifying campaign will start with the second round. Opponents are either Afghanistan or Palestine.
Since it is the policy of the AFC that Palestine is allowed to play home games on their home soil, both sides could clash for the second consecutive time. In the first round of the Pre-Olympic qualifier, just a few weeks ago, Thailand under-23 had to travel to the Faisal Al Husseini International Stadium. Surely, neither Palestine or Afghanistan on away, are the easiest tasks you can have. The third qualification round will then start in September 2011. Rather than in a one-leg format with home and away, the 3rd round will be played in a one-league format.
The remaining drawings held, were for the 2nd round of the Pre-Olympic qualification as well as for the U16 and U19 AFC Championship qualification tournaments. The continental youth championship are to be held in 2012.
Within the scope of the Olympic qualifier Thailand under-23 will have to face Bahrain on June 19 and June 23. The team from the small island country missed the final round in Beijing on a small margin. Thailand will have to travel first, before hosting Bahrain on return. As for the sake of Buriram-PEA owner Newin Chidchob, the game shall take place at his new i-mobile Stadium which is scheduled to be completed soon in May or June this year. However, it is not finally decided yet from Thai FA and especially the AFC whether the match will take and can take place there.
In the qualifying round for the U-16 championship Thailand was drawn into Group G together with Australia, Indonesia, Hong Kong, Myanmar and Guam. In Group E of the U-19 championship qualifying round Thailand will also face Hong Kong and Guam. South Korea, Japan and Taiwan complete the group. Both tournaments are held in a one-league format. The two top-teams of each group qualifying for the tournament proper.
The under-16 tournament is scheduled for September 2011, while the under-19 competition is scheduled for November this year. For latter, Thailand is going to bid, to host his group.