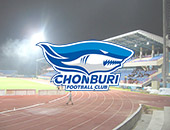 Chonburi FC caused a drum beat last weekend on the transfer market with his latest foreign signing. The 24-year-old Irfan Bachdim, Indonesian international, have put his signature under an one year contract.
The current TPL transfer window, open since mid of December, went rather quietly so far apart of a few signings like the Austrian Roland Linz with Muang Thong United. Now Chonburi FC caused a drum beat on the last weekend with Irfan Bachdim putting pen to paper. Already at the beginning of the year the 24 year-old international spent a few days in Thailand when being on trial with BEC Tero Sasana. However, he apparently hasn't been able to convince the persons responsible. Shortly after it he received an invitation from the
Sharks
for a trial during the "Chang Chonburi Tournament" which started on the 24 January and runs until the 30 January.
After only a few training sessions and the match against Suphanburi on 24 January, Bachdim signed an one year contract on Saturday afternoon. Quite immediately in his second game for Chonburi against Binh Duong, where he went of the field after 70 minutes, he stepped up to take the free kicks and corners.
The only small thing missing, which is needed to make the signing perfect, is the International Transfer Certificate. It became an obstacle last year for Titus Bonai on his way in to the TPL. After he signed a contract with BEC Tero, the deal had to burst at the end for various reasons. One was the ITC which had not been issued by the Indonesian side.
But who is Irfan Bachdim and what makes him a coup signing for Chonburi? He may absolutely have his qualities as a player. But he primarily is perceived because of his look and therefore often dubbed as poster boy. If you like; the Indonesian version of Teeratep Winothai. The news of Bachdims obligation electrified the media in Indonesia and social networks were "glowing".
Now; since Sinthaweechai's guest performance in 2009 with Persib Bandung, there always has been certain interest from Indonesia in the 2007 TPL champion. However, it might reach a totally new level now with the signing of Bachdim. And this of course is also valid for the whole Thai Premier League. Without doubt Indonesia has the potential to be the biggest market in the region in terms of local football. But a positive development in recent years did not happen because of the persistent inability of the acting persons, with two competing leagues and the "sword of Damocles" over Indonesian football to be erased of the world football map due to a ban from FIFA. If still TV rights could be sold now to Indonesia, it could further underline and increase the status of the TPL as the "best league" in the region. Whether Bachdim will see plenty of playing time or not, from a marketing point of view the Bachdim deal can be called a successful.
Irfan Bachdim, born in the Netherlands in 1988, went through clubs like Aiax Amsterdam and FC Utrecht in his youth. After some failed attempts to get a foothold in Dutch leagues, he moved to Indonesia and joined Persema Malang in 2010. His coach there: the German rooted Timo Scheunemann. Talking to thai-fussball.com exclusively, he welcomes the move, because Irfan Bachdim now needs to prove himself and he thinks that it is productive for his further development. Nevertheless he sees problems in his consistency: "A problem is his consistency. Sometimes he is focused for a while, sometimes he is less. If he can stay focused, there is no doubt he is a very good player. If he is not, he is just average, even below." However, the existence of his playing abilities cannot be argued away like Scheunemann knows to tell: "He is quick with and without ball, what is enormously important in modern football. He owns a technic and has a very good awareness. He knows exactly where the ball has to go." Though his temper is also one of his weak points, it shouldn't matter as he is still young, his former coach closed.
The versatile midfielder is married with model Jennifer Kurniawan since 2011 and the wedding took place in Germany where Jennifer was born as a daughter of a German. Bachdims brother-in-law is Kim Jeffrey Kurniawan who spent his entire youth at Winfried Schaefer's former club Karlsruhe SC and earned his first stripes at lower league side FC 07 Heidelsheim before he moved to Indonesia in 2011. Kim currently is a U23 international of Indonesia.
With Bachdim putting pen to paper, Chonburi has concluded his foreign player signings for the 2013 season with Irfan Bachdim grabbing the last available foreign player spot. Samuel Ajayi was signed right after the end of last season from Bangkok Glass FC. Ivan Bošković went under contract just a few weeks ago. At last He played with Nasaf Qarshi and scored against his new team in the quarterfinal of the AFC Cup 2011.