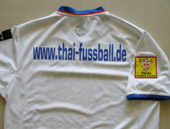 © thai-fussball.de
Football shirt shopping in Thailand? No problem you might think, especially if you want to buy one from a Thai club. However, it is not as easy as you might think. In today's article we would like to provide you with some valuable tips and tricks.
All around the world you can find collectors of football jerseys. Thailand is almost a paradise where they can add to their collections. Compared to Europe, kits from local clubs are very affordable and this almost invites you to acquire one after another. Still there certain things which makes purchasing a jersey in Thailand distinct from buying one in Europe.
This starts with the size of the jersey: a Thai size is not the same as a 'farang' size. Some manufacturers give you a hint in the collar which size you are holding in your hand. However, usually you will have to purchase a size bigger than the one you are holding. For example, if you want to have a size L you should ask for XL. Here you could face one of the first problems. Jerseys sizes from XL and above are hardly ever in stock at the stadium. If you face that problem you had better make your way to the clubshop.

Chonburi FC is a good example here. Within the stadium you can find a clubshop (though it doesn't really deserve the name), but you will be hard pressed to find big European sizes. Therefore you should pay a visit to the Chonburi Superstore at Central Plaza.

Also the dimensions seem to be rather different from one manufacturer to another so you should better try on the jersey in every case. Another problem could come with the width of the collar, which can be very tight (Chonburi, Sriracha).

printed club badge
© thai-fussball.de
With some jerseys, like those from Sriracha FC, the sponsors are already weaved into the material. That's different from Europe and means the jersey is not a fake. The same is valid for jerseys which have club badges and/or sponsors only printed on. As examples we would like to name the 2010 shirts from Sisaket and Khon Kaen.
As long as you purchase a jersey in the clubshop or the booth in front of the stadium it's certain you won't buy a fake shirt. Fakes from Thai clubs were rarely seen a few years back or were even non-existent. But now you can get them in nearly every market in Thailand. Original shirts vary from 250 to a maximum of 700 baht. With prices like that, foreigners shouldn't even have to look at copies.
You should not got irritated by manufacturers' names. Famous international brands are hardly to be found. Muang Thong United and Thai Port were equipped by Adidas last year. The German kitmaker's logo can't be found anymore on Thai clubs' kits this season. The national team however is under contract with Adidas's rival Nike. An original is about 2,000 baht (approx. 45 euros). Unfortunately, the national team jerseys are tough to find. But you should be able to find them at the FBT shop close to the Rajamangala Stadium or the Suphachalasai Stadium (at the MBK) in Bangkok.
Some clubs don't even use a regular kitmaker: shirts are therefore more affordable for Thai fans. Buriram-PEA, Thai Port and Samut Songkhram are such clubs. Thai companies like Kool, Pan, FBT and Grand Sport are represented most often. Bangkok Glass is the only club to use an interantional maufacturer: Umbro.
There does seem to be a problem with the 3rd choice kits: in our experience they are difficult to get. Osotspa and Sriracha could presumably sell substantially more of them if only they were available. The black Osotspa Kit (with M-150 Storm) was not available at the booth in front of the stadium while Sriracha fans even had to wait three months, from the beginning of the season, for the white jersey with the Marlin on it. Most of them had bought the home kit already and might not purchase a second one now.
Though there is other great merchandise in the catalogues of the clubs, you can't always buy it. A reason for this is probably the different treatment of the clubs from the manufacturer as we heard. With no doubt, the best equipped shop, which you can find at the Yamaha stadium, belongs to current Thai champions Muang Thong. As the Yamaha is located in a suburban area of Bangkok, and it is not easy to get there, good alternatives are the aforementioned FBT shops. For travellers going to Pattaya, there is a good option with the Big C in North Pattaya. Just make your way to the first floor and head toward the supermarket. Close to the entrance you will find a shop selling merchandising articles from the big 4 EPL clubs, under official license, but you will also be able to find a lot of stuff from Muang Thong too.
Via the Internet you will be able to acquire Thai club jerseys of your choice from Europe as well. Nevertheless, we advise against using Ebay. Most items are completely overcharged at about 20 euros per jersey. Definitively the best on-line shop you can find is
Soccermania
. Whether they deliver to Europe though is not to our knowledge.
Pattaya United provides you with an on-site service at the fan shop. For 10 Baht per letter they can print your desired name on the back; the sponsors on the sleeve of the jersey can also be printed. The league logo, for 100 Baht, is available in nearly every shop and booth.
Finally we would like to point you to our club info sites which you can access on our website. For every club you will be able to find two minikit graphics which were drawn by us after the the original. The minikits should give you an idea on how the kits look in real life.
We hope that our hints and tips are valuable to you, and it only leaves us to wish you happy Thai club kit hunting!

Editor: Paul Hewitt