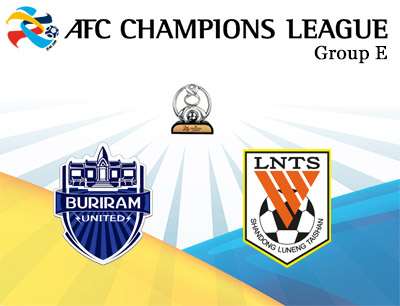 It is AFC Champions League time again and for a third year in a row, Buriram United will be part of the group stage and will try to get closer to his aim of being one of the Top-5 in Asia.
After Muang Thong and Chonburi FC missed to qualify for the group stage, it is Buriram United's turn to be the only team to represent Thailand in Asia's premier club competition. And like in the last two issues of the ACL, Newin Chidchob's team is going to face opponents from South Korea, China and Japan in group E. Namely: Pohang Steelers, Shandong Luneng and Cerezo Osaka.
Last year's Thai Premier League Champion will kick-off his campaign this Tuesday at the Jinan Olympic Sports Stadium in Shandong when taking on CSL runner-up Luneng. The squad of the four times Chinese champion, for the last time in 2010, contains two interesting and known persons. On one hand, there is Vagner Love, which is easily remembered just because of his name, but most football fans might know him from his time at CSKA Moscow where he had two stints. One from 2004 to 2011 and one in 2013. For the reported amount of 12 million Euro he moved to the eastern Chinese province from Moscow last summer.
The second one is head coach Cuca who joined Luneng in December 2013. Last year the Brazilian led Atlético Mineiro, with Ronaldinho, to win the Copa Libertadores. Shandong Luneng is the first station abroad for the 50 year-old coach who was with Spanish side Real Valladolid as a player for one year in 1990. With 24 stints at the helm since 1998, he can be called experienced undoubtedly. Besides many others, he has coached almost every well known club of Brazil. His predecessor Radomir Antić led Shandong two a second place the last year. But they finished 18 points behind Guangzhou Evergrande.
Beside Vagner Love, the Australian Ryan McGowan, the Brazilian Aloísio and the Argentine Walter Montillo round off the foreign player contingent. The signing of Brazilian Junior Urso last week might could have come too late to register him for the group stage of the AFC Champions League. If not, he could be in for Aloísio. Beside Wang Yongpo, who in 2013 was the most dangerous striker of the Chinese with seven goals in the league, four other Chinese internationals are in the squad.
The expectations in Shandong are very high. But also head coach Cuca puts some pressure on his boys "This is not a normal match. For me, the ACL is very important. It is just when I brought Atletico Mineiro to play Copa Libertadores. We have to win it".
Vagner Love
(CC BY-SA 3.0) © Mikhail Slain
But of course, Buriram United want to achieve the same. To win. Or at least to take a point back to Thailand. For it one has spared three regular players during the clubs TPL opener against Songkhla United the last weekend. New signing Jay Simpson, last years leading goalscorer Carmelo and Theeraton Bunmathan. Also being without the three, it was enough to win relatively easy by 3-0. Philippine national striker Javier Patino scored two goals, but same as least year, will be left out of the Champions League squad, while his colleagues appear on big stage.
It's a fact that the splitting of the duo Patino/Carmelo, which has scored 37 goals in the TPL last year combined, on international stage 2013, was close to backfire. Buriram Unikted's attacking force appeared just way too harmless in most of the games compared to the TPL. And with the duo it maybe would have been enough to make it for a semi-final. How well the Simpson/Carmelo will work remains to be seen. Up to now there were only two serious opportunities where both could be tested. The Kor Royal cup (against Muang Thong) and the Toyota Premier Cup (against Nagoya Grampus).
It will be also interesting to see how well the team can manage the change in their heart of the defence at international level. The outstanding Ozmar Ibanez has left Buriram in the direction of FC Seoul. The Spaniard David Rochela will replace him.
Even if coach Menendez praises Luneng's defence as "impeccable", he still believes in a win for his Eleven. "We won't give up until the last second, and I believe we will win."
If you like to see who of the two coaches is right, you can follow the game live on Foxsports. Indeed, at a rather unusual time. Kickoff is at 14:30 loacl time in Thailand, what corresponds to 15:30 in Shandong.