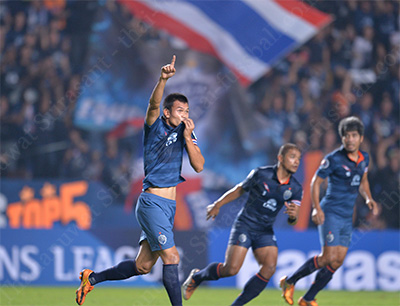 Adisak Kraisorn
image: © Thananuwat Srirasant
The current season doesn't run very well for Buriram United. Behind expectations in the league one is facing an early exit with the prelude to the second leg of the group stages in the Champions League this Wednesday.
One cannot really say things are going well this season for Buriram United so far. The spoiled by success title-hamster currently lies on rank 11 in the Thai Premier League and already has six points between them and league leaders Ratchaburi. And if one takes a close look at the statistics of the last five years, the chance of wining another league title in 2014 seems to be quite vanishing low. Because neither Buriram nor Muang Thong had three defeats on account when they had won the TPL in recent years.
With already two in six games, there isn't much room left for further defeats. And also in the Champions League the quarter finalist of last year, struggles. When the second leg of the group stage is kicking off for Buriram this Wednesday, things are far from being over. But the Thais can't afford another loss, what would be their third. Only a win could keep the hops alive to advance to the next round.
The clubs mission "Top 5 in Asia" - started rather promising. Adisak Kraisorn scored the equaliser for Buriram United in the 92' minute of the campaign opening game against Shandong Luneng in China. The talented striker also provided for the only goal of his team against the Korean representative Pohang Steelers, to whom they eventually lost scarcely by 1-2 at home.
A new low-point was reached a fortnight ago. After a bitter tasting 2-3 defeat against BEC Tero in the league, Newin Chidchob's side got hammered with four goals in Japan by Cerezo Osaka midweek on continental stage. And Bangkok Glass wasn't to shy to add one more and to trample on the supporter feelings by beating their beloved side 0-3. So ten conceded goals by only two scored, withinweeks time, is speaking volume.
To put it plainly - a small squad and Osmar Ibanez. How important the Spaniard, who was transferred to Champions League finalist FC Seoul before the season, was for the stability of the teams defence over the past two years, and how important he was also in offence, can be seen in 2014. The 25-year-old was one of the best players whom one got to see in recent years in Thailand and was by far well above the usual average foreign player in the league. David Rochela, so far was not able to replace him really.
Though Buriram United has made only few changes to his squad ahead of the new season, however, one seemed to have missed to sign creative Thai players, above all in midfield. Properly speaking one has exchanged only a few foreign players, who as usual still have to prove their class and whether they are worth their money. In average, most of the players from abroad don't stay for longer than six months at the
Thundercastle
, and it might has its reasons why. Despite all the success during the last years. With Jay Simpson, newly arrived, Gonzales Carmelo and Javier Patino three non-Thai strikers are in the squad. Maybe too much?
With the three strikers, already aforementioned Adisak Kraisorn finds it hard to make any starting eleven obviously and is mostly used as a substitute in the second half. Although he would deserve far more than just to play the role as a Joker. Not enough, same as last year, the prolific duo Carmelo/Patino is divided. While Carmelo is listed for the Champions League, Pathino isn't. Instead of the Philippine international, Japanese Kai Hirano has been nominated. A decision which, again, could turn out to be a mistake and backfire. Carmelo and Patino have scored 37 goals for Buriram in the league in 2013 and both have seen rarely playing time on the pitch together in the league this season.
At the last weekends 1-1 draw with Chiang Rai United, only 16 players, out of 24, were listed on the game sheet. For the starting formation and the bench! Therefore, Buriram obviously is facing also extreme injury worries. Leaving coach Alejandro Menéndez with only a few options.
In Group E of the ACL, Buriram is bottom of the table with one point on account. The opponent on Wednesday, Japanese side Cerezo, has three points more and is on third. If Buriram want keep their hope alive, a win over the visitor is almost a must. With another three points from the last group stage tie at home against Shandong, one could raise it to seven. A win away at a very strong Pohoang Steelers side seems to be unlikely and so shouldn't be put in to calculation.
Apparently teams from Japan don't like to field their strongest eleven on away games to give their key players a rest and save them of travel strain. These are usually higher in the Asian Champions League than, for example, in Europe. At this example we also can see how far a club from Thailand must stretch up itself, to be able to keep up with other teams from Top-Leagues in Asia. However, for the club from the Isaan, the chance and hope could lie here, to play a trick on Cerezo. So Argentine superstar Diego Forlan, who scored its first goal for his new club against Buriram in the first leg, could find his place on the bench next to former Hertha Berlin Gojko Kačar which is on loan from Hamburg. The latter hasn't played a single minute in the first round tie between the two.
And then there are still Buriram's own fans. While club boss Newin Chidchob didn't had much appearance in the Thai media recently, his wife and at the same time Capo of the Buriram fans, provided for some headlines. She recently reminded her own rows, to stand together and to support the team instead of insulting the players and to boo. Unity is demanded, one wants to reach the round of the last 16 once more.
In 2012 when Buriram United played its first ever campaign in the ACL and finished its group at the bottom, the side finished fourth in the TPL - with eight defeats.
Besides this article, don't miss the
ACL Show of Football-Central
from Australia, where we had an appearance and were talking on Buriram United.