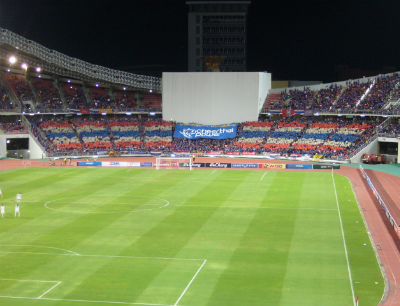 image: © thai-fussball.com
A while ago we have asked Peter Reeves to give us his thoughts on the Thai national team. Some of the followers of Thai Football may know him and his columns mainly from Dale Farrington's Chonburi FC Webpage. Usually his columns are long reads, and so is this one. So we decided to split this column for us in two pieces. However, to cut a long story short, here is our guest column by Peter Reeves.
So how are the national team doing? Well, there is a lot of excitement and confidence in the country and the dream is alive and kicking about the possibility of qualifying for the World Cup in Russia, if there is one, but is that confidence misplaced? Reality and dreams are worlds apart.
There is no debate about this next statement it is a clear unadulterated fact. The good and the great teams have one thing in common. They can defend. Defend very well. Quite simple. Not rocket science. They are hard to score against. And while you keep the goals against to a minimum, there is always the chance that you can win the game and at the very least not lose it. This is a truth frighteningly lost on Thailand and the people involved in the game here. They just don't see it. And worse, if they do they are doing nothing about it. If you can't defend then come up against a good side, not a great one, they will tear you to shreds no matter how good you think you are going forward. Just ask Brazil who walked headlong into the Germans with their heads in the clouds in the World Cup semi-final last summer. Poor defence against a very good team. 1-7. Any clues there?
And this isn't just the national team it pervades the whole of Thai football. I watched Buriram the other night. I have seen them 2 or 3 times this season. The best in Thailand by a country mile but defensively they are vulnerable to a quality team. You can see it, holes everywhere if the opposition coaches knew how to exploit them. Further to this you need to be able to 'keep the ball', not give it away in a futile attempt to play a pass that makes you a hero. Some players can do that. Thai players cannot. Lack of discipline. Lack of good judgement. Lack of sound technical skills. I don't blame the players at all. It's the philosophy of the coaches who taught them that has let them down.
The recent match against Chinese Taipei is a reasonable measure of the state of the national team. Sure, Thailand look ok going forward. They use the wide players well and have a central midfield that can create….but? The two goals they conceded were shameful and demonstrated a lack of defensive quality and organization. And whatever tactical system you play organization and understanding is the key. The difference between winning and losing. Success and failure.
It seemed that every time Thailand mounted an attack everyone wanted to be involved. No discipline or shape to the team was maintained and they were caught out a number of times. A better team would have punished them. But to concede the two goals in the way they did is worrying to say the least. The first where a Taipei player headed a ball in from waist high in the centre of the goal, 2 yards out, with no challenge had me looking again and again to see why. The answer is, they are poor at the back. No defensive capability at all. No leader. Goalkeeper just a spectator.
In a previous match against Vietnam they were 3-0 winners but even that was flattering against a team that were quite poor everywhere and resorted to shall we say, over aggression, at times to try and upset the balance. Once again they looked ok going forward. Played some nice combinations and the link play between the creative and finishing zones was quite good but that is only half the game.
So what does the future hold for Thailand. Not just for the 'dream' of Russia but beyond.
Head coach Kiatisuk Senamuang he is though, clearly the best man for the job in managing the national side. There is no doubt about that and should be given a long time to prove his undoubted worth. Credibility amongst the fans is his main asset, but he does know how to set up an attacking team and seems to get the best out of his players going forward. He clearly takes on the role of offensive coach as well as team coach and they can look dangerous in attack. Bearing in mind they haven't actually played anyone with any quality yet.
If there is a goalkeeping coach then he needs to wake up. In the three matches I watched to write this article the goalkeeper's used had no communication with the defenders in front of them and do not take a dominant role in the area. The Taipei goals being good examples.
A defensive coach? I doubt they have one. Defensive set up is poor. Lack of discipline in shape and formation. Full backs going missing, central defenders playing too far apart. No obvious leader controlling what is going on. No organization defending set pieces.
It looked like they were defending 'zonally' at one point for free kicks against them because no one was following the 'runners'. Zonal defending at set pieces is a disaster waiting to happen. A potential nightmare against a good side. Work to be done there. Lots of it. Kiatisuk can be forgiven for concentrating on attack, it is his forte, but he clearly needs to sort something out behind them.
Fitness? Well not too bad but again they haven't been really tested. You have to be able to run and chase for 120 minutes (in case of extra time). I am not sure they would be able to do that.
Kiatisuk needs a match assessor. Watching videos after the match is too late. You could have lost by then. Probably not a Thai because to take a step up the international ladder you do not need the opinions and attitudes currently prevalent in the Thai Premier League which are light years behind the 'real' world.
In Europe this person is often called a director of football at club level and a team assessor at international level. He is not there for any other reason than to watch the whole picture and to pass on information to the Head Coach who will decide what to do with it. He has no control, doesn't make decisions, no authority, but vital to the Head coach and the overall performance. An observer giving feedback.
The coach is on the bench with his players and support staff and by definition of his visual position cannot get a 'snapshot' of the performance, tactical application, where the 'potential' threats are and what could be done better at any time. He is obviously watching the ball. An assessor sits up in the stands. Watching. Evaluating. Not watching the ball necessarily but looking at shape and movement. And at half time, or during the match if he has comms to the coach, will pass comment. He can see threats that the coach may not be able to see from the bench. He can see if the tactics the coach wants implemented are being fulfilled, he can see if players are out of position and formation and whether the defence is playing together as a unit rather than individuals.
A post match briefing to Kiatisuk will allow him to plan his training sessions accordingly. Doesn't need to be a coach. In fact some coaches who fulfilled this role, and there have been many, do not do it particularly well, and see themselves as 'the coach' and try to enforce their own ideas. That is not the job. You need someone who understands formations, how the team is set up to play and who can see things and is not afraid to be critical.
...to be continued