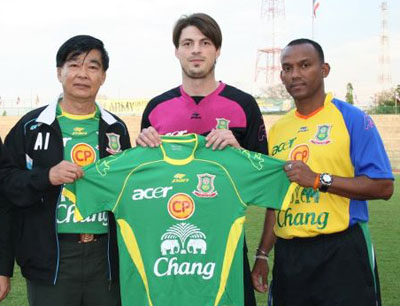 Bjorn Lindemann (middle)
image: courtesy Army United
German Bjorn Lindemann is one of Army United's new signings in the Thai Premier League. Shortly before his departure to Thailand we had the opportunity to speak with him.
It was few weeks ago that Bjorn Lindemann decided to turn his back on football in Germany. His first stay abroad has led him to Thailand; to the military sport club Army United. Lindemann, to German football fans, is known from his time with Paderborn and Osnabruck. In our exclusive interview he speaks of his time in Jena, and how in Thailand he has won back his passion for football. Winfried Schafer, Stefan Brasas: all are interviews we've done in the recent past. Lindemann? This felt different. He is known as a man-about-town. Fan darling in Osnabruck, nevertheless and unexpectedly refreshing and different.
thai-fussball.com:
Your agent suggested you a move to Thailand. How was your initial reaction to it?


Bjorn Lindemann:
The first reaction was a surprise because one could not imagine so much about football in Thailand. We then discussed the whole in detail and at the end it became exact. I was very positively surprised after the first time I was here.


thai-fussball.com:
How long you were on site and how long did you train with the club? One week?


Bjorn Lindemann:
Yes, one week. First it was planned that I have a look at everything, training and surroundings. After I passed the medical, I took part in a friendly game and also trained with the team. All together I was there 10 days and still saw the end-of-season party.


thai-fussball.com:
With Daniel Blanco you will have a team mate who has also played in Germany.


Bjorn Lindemann:
I have directly asked him about this and he said it must be a mistake: he has never played in Germany, but only in Italy, Argentina and Cyprus. Of course, I also had a quick look on him on transfermarkt.de, but his data there is probably a mistake.
thai-fussball.com:
You are effectively the first German professional in the Thai Premier League – a sort of a pioneer. Does it please you? Is this a cool thing for you and affect how you approach the task?


Bjorn Lindemann:
Of course. It gives me a lot of pleasure. I also receive many questions from my circle of friends and acquaintances with regard to Thailand. Up to now I can only speak positively. The club has really looked after me. Also every player with whom I have spoken till now has only had good things to say. It is, in any case, a great alternative to Germany. Training conditions are great, even if not like in the Alliance Arena or such like. Thailand is absolutely a place that German players should consider.
thai-fussball.com:
Now your new club is an army sports club. In Germany this would be frowned upon, and the area of the Army Stadium is swarming with soldiers. Presumably you have no problems or reservations with it generally?


Bjorn Lindemann:
No not at all. There is one of the bosses of the club who was always present in uniform and always wore a club jersey
[manager Gen. Adulyadej Inthapong, editor]
He was really nice. When I've been to the stadium there is always someone who has stood still and greeted me. One does not see such a thing in Germany. This is simply cool and a cool experience.
thai-fussball.com:
According to the media in Thailand you are the most highly-paid player in the club's history, without going into numbers. Does this also mean a certain pressure for you? Or do you simply say, "I am worth it!"?


Bjorn Lindemann:
Hard to say. But as a player you're not going to say "I don't accept the money"! The club made an offer to me and there was nothing to negotiate. And it is a contract which you will, compared with Germany, not get. Then I spoke with my girlfriend about it. After only a few days in Thailand it struck her that I am happier here than at in Jena, and she advised me to sign.
"I have missed the fun in my job in Germany at the end."
thai-fussball.com:
By the way, Carl Zeiss Jena. You last played in Germany in the second team of Jena, and coach Patrick Sander informed you that his plans no longer invole you. Also, there was that one incident in Jena which we do not want to go into detail. But how have you handled the situation? Did things simply have not fit for you in Jena?


Bjorn Lindemann:
At first I must say that my girlfriend has supported me very much during the time in Jena and she will come with me to Thailand. At the time Heiko Weber
[predecessor of Sander, editor]
was there; the situation was rather good, actually. Though most of the time I was sitting on the bench. However, I was fine with that as the team was already in mid-season. Then I caught up in training and was relatively fit. Maybe simply too fit. Then there was the coaching change and for the first time in my life I wanted to stop playing football. I simply had no more passion.
Things simply didn't fit any more and I just didn't feel fine any more. It was basically a very difficult time and I said to myself "before I stop with football I would like to go abroad". So Thailand came to me quite nicely. As soon as I was there, suddenly I got a kick out of it and pleasure returned. Getting up and going to training – doing some extra training: this has given me renewed spring in my step. Anyone who knows me knows that I always give 100 percent, no matter where I play. I hate losing and always want to win. This is why it makes no difference to me whether I am playing in the Oberliga or Kreisliga.


thai-fussball.com:
Regarding the extra training this is quite interesting. In the German press one mostly reads only about the man-about-town Lindemann. But in this respect then one can say that the positive side – with the extra training and 100% committment – balances your 'other pursuits'?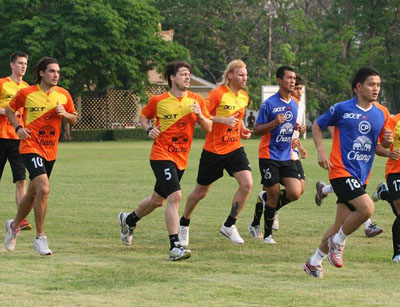 running practice
image: courtesy Army United

Bjorn Lindemann:
Yes, of course I am also a man-about-town; however, it is not only like that. But actually that's one of the reasons I want to turn my back on Germany. You end up in a pigeon-hole and there is now way out. Many of my coaches certainly can confirm that I have always given 100 percent. I think there was an interview with Heiko Weber, he gave sometime, where he says, Lindemann always trained outstandingly, but unfortunately was not able to convert it on the pitch. But, well, if Jena is bottom of the table it is naturally hard for everyone.
But, nevertheless, I love this sport. I have not chosen this job for nothing. Nobody has made me become a professional. If I stand on the field I have fun. Sure, sometimes I go silly with the running practice, but I make the work because it is my job. Over the past five years almost, I have been one of the best in the lactate test. However, I am also not the kind of guy who discusses or argues. Like it was with Sander who was sending me to the reserve team. There I do not discuss or seek a quarrel like others are doing. I am somebody who is putting himself at the service of the team.
Why I should use the media to put pressure on the coach to select me? If it is the decision of the trainer or the club I have to accept it; they have the right, after all. Nevertheless, I always find it a pity if newspapers write nonsense if things don't fit – like he's guilty or some such. But nobody comes to me and asks me: "Mr. Lindemann what is wrong?" I have missed the fun in my job in Germany at the end. And in Germany's 3rd divsion they have a habit as if they were Bundesliga sides. But the bottom line is you can play for nearly the same amount of money in lower leagues with a regular job besides and less stress.
thai-fussball.com:
Given to my first impressions I can say that you will certainty fit very well into the community of foreign players in Bangkok. I personally know yourself only from the television and the cup battles which you have fought out with Osnabruck...


Bjorn Lindemann:
... they were totally sensational. Tobias Nickenig today still sends me pictures of that time because it was simply a cool time. It is not always about the money. It is also about the human and team spirit. And this matters a lot.
"Why am I here if I don't want to get to know the culture and people?"

thai-fussball.com:
Coming back to Army United. How have you been received by the club and coaches?


Bjorn Lindemann:
At first the coach didn't want to know much about me or just didn't know what to do with me – which is completely understandable, however. Then after the first game we talked and everything was fine. It was ok for me because it is something different than in Germany. One cannot compare. Things are a lot more relaxed; however, training units are the same as in Germany. Anyway, I've already had contact with two to three Thai players and with the foreign players. We have really got on. Everybody lives in the same building and there is nobody who frowns at you.
As I said everything is very much relaxed, everybody gets on well. It is really a pleasure to go to training. You always have nice weather; you have fun; you go to practice and at the weekend you have a game to play. After the game everybody sits together and is happy whether you've lost or won. Army United finished 13th last season but after the last game of the season the president has spoken as if we had become German champions. I find this outstanding. I like it if there is a good mood overall.
thai-fussball.com:
Any plans to learn Thai?


Bjorn Lindemann:
Yes of course, and I'm sure this will happen. If I am out somewhere then of course I would like to get to know the language and the culture. I have already eaten Thai food from street kitchens, which was absolutely tasty. I have never eaten so well. I have already eaten so spicy that I had hiccups. Why am I here if I don't want to get to know the culture and people? If not, I could remain at home.


thai-fussball.com:
Do you like to head into the gym?


Bjorn Lindemann:
Well, I only need to look at the devices then I bulk up. Otherwise, not really. But from time I like to go. Who does not like to have a well-formed body?


thai-fussball.com:
Then I can entrust you to
Stefan Brasas
; he'll certainly have some tips for you.


Bjorn Lindemann:
... he is totally crazy.


thai-fussball.com:
Before you signed with Jena last year, you were close to signing with a Chinese club?


Bjorn Lindemann:
Yes. I was over there.
thai-fussball.com:
Exactly. However, it came to nothing?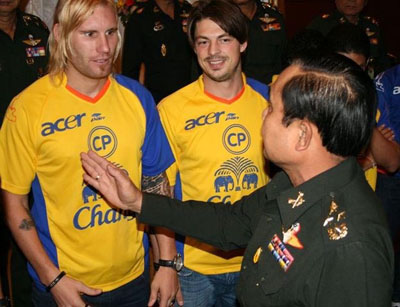 official welcome
image: courtesy Army United

Bjorn Lindemann:
Actually, everything was already cleared and they were talking money. As I said, I was there and was surprised at the end that it didn't work out. Manager and coach absolutely wanted me to sign. However, it was not the same as Bangkok. It was not such a nice exciting city. You also don't see any Europeans or like-minded people.


thai-fussball.com:
Was, perhaps, Shanghai Shenhua the club in China?


Bjorn Lindemann:
No. It was Jiangsu Sainty.


thai-fussball.com:
If you do not have to play a game or to train do you like to go out and watch other matches?


Bjorn Lindemann:
Absolutely. From time to time I even like to watch my village club which plays down the pyramid. There you can see nice things over and over again.


thai-fussball.com:
At the beginning you mentioned that you had a chance to observe Daniel Gunkel during his trial with BEC-Tero Sasana. Did you have the opportunity to talk with him?


Bjorn Lindemann:
Yes. We even met in the evening. He told me that if one has this possibility, with Thailand like me, you should do it. But he himself can't really do it yet. He still has a contract in Offenbach and a family with child. He also said that he was very much surprised about the possibilities here and the football in Thailand. Something one completely underestimates.
thai-fussball.com:
Who for you, regardless of any discipline problems, was your best coach?


Bjorn Lindemann:
I still must say the best coach for me was Ralf Rangnick
[at Hannover 96, Editor]
. He taught me the most when it comes to tactics and reading the game, and he improved me very much. Nevertheless, I am still friends with many other coaches – whether it is Pavel Dotchev or Karsten Baumann. Maybe if there is one in whom I was a little bit disappointed then it was in Paderborn.
thai-fussball.com:
Your girlfriend has come with you to Thailand, as you said?


Bjorn Lindemann:
Absolutely; however, she has to go back to Germany in the summer because of her studies. Of course, she is also curious about Thailand and Bangkok.


thai-fussball.com:
That means you have never been in Thailand before, not even on vacation?


Bjorn Lindemann:
No. Not up to now. I have never been abroad much. It is our first stop abroad and I really looking forward to it. I have kept myself fit all the time here and at home and at my home club, and I hardly can wait for the first competitive game. If it was up to me, we would start tomorrow!
* If you are interested to publish the whole interview or a part of it, for Print or online media, please ask for permission via: info [at] thai-fussball.com. Many thanks for your understanding.*
With many thanks to "
Stone Sports Management
" for arranging the interview.
Autor & translation: lokomotive
Editor: Paul Hewitt