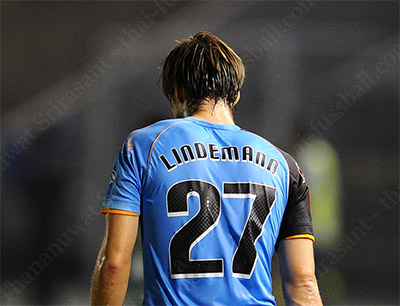 2012 still with No. 27
image: © Thananuwat Srirasant
Almost exactly one year ago we spoke with Bjorn Lindemann for the first time. At that time he was on the verge of starting his adventure in Thailand. Now a year later, we have met again with the German midfielder.
This time in Bangkok. Bjorn Lindemann has plied his trade in Thailand's top-flight since last year. As things weren't working so well in Germany anymore, he decided to turn over a new leaf in Bangkok with Army United. After several coaching changes throughout the season and eventually played in his favorite position, he finally found his form and helped the team to reach the Thai FA Cup Final. Now the 29-year-old heads into his second year in Thailand.
In our exclusive interview, Lindemann looks back at his first season with Army United, tells us what he appreciates about being and playing in Thailand and why he does not regret this step which, as we found out, made him mature as an adult.
thai-fussball.com:
You decided to stay for one more year in Thailand and with Army United. How did that come about?
Bjorn Lindemann:
Simply, I wanted to stay in Thailand. I looked at one or two offers from clubs in Germany. But then I was there for Christmas and it was cold and somehow everything did not fit. And then of course there was Army United. The club wanted to extend my contract.
thai-fussball.com:
Were there still other clubs interested in your signature? For a while you were linked with Phuket FC.
Bjorn Lindemann:
All the time Army had the possibility to extend my contract, and as I have got this clause, they rejected all inquiries. Moreover, I feel comfortable in Bangkok, and why should I drop down a league?
thai-fussball.com:
How is the training with Mano Polking in comparison to last year when coaches changed constantly?
Bjorn Lindemann:
For me it is an improvement. Now there is a concept. The squad is smaller, we are taught more tactics and we now have a strong all-round game – not only in regards to general fitness: now you are able to perform one or two bursts of speed more in a game than before. You just feel fresher. Training is also more pleasurable and enjoyable. It is short, to the point and adjusted to the heat.


thai-fussball.com:
Once you told us the team practice didn't use to start on time sometimes. Mostly later than scheduled.
Bjorn Lindemann:
Yes, last year it was pretty much 'Thai Style', as the phrase goes. If one did not feel like it, sometimes one just came later or simply only half of the team was present. This has totally changed. Now everybody is on time and many are even there half an hour before training starts. So everything is in a much more disciplined way. However, one should not change the Thais overnight. In principle it is still much more relaxed than in Germany of course.
'...we didn't gel properly as a team'
thai-fussball.com:
Yesterday, during the pre-season game against TOT you wore No. 10. Is it your new number?
Bjorn Lindemann:
Yes. I insisted on it. Last year it was Sarayuut Chaikamdee who had the ten when he was still with us. Though I have heard that it is a bad omen to carry this number when playing for Army United because players wearing the number moved out after one year mostly, but I think it is time to change it.
thai-fussball.com:
And this will be your tactical position?
Bjorn Lindemann:
Now, owing to the fact that we are taught more in tactics, we are of course more variable and we are more adjusted to stronger opponents. If we now play in a 4-2-3-1, my role is to be second striker with all the liberties the role allows.
thai-fussball.com:
What are your aims for the new season?
Bjorn Lindemann:
Personally, of course, that I can score more goals and help the team to be even more successful. For the team, I wish that we are able to play a more attractive style of football. Last year we were positioned a bit better individually, but we didn't gel properly as a team. Meanwhile, I do have a much better understanding with the Thai players which, in turn, spreads to the game.
thai-fussball.com:
Last year it seemed that you had your best performances against stronger teams, for example against Muang Thong or Buriram. Do you just rise to the big occasion?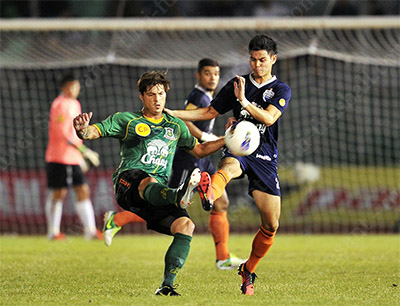 LIndemann and Teerathon
image: © Thananuwat Srirasant
Bjorn Lindemann:
No, I don't think so. Against better teams it was easier for us to perform. With all the changes at the helm it wasn't easy for us to find to a system. Then the new coach had us play safety first: "high and wide brings security". Then I also played lone striker sometimes and was on my own. Against big sides it was a case of them controlling the game and we could sit back. And then of course you could hit speculative long balls up front. Addfitionally, you have moments like against Buriram when hitting the right ball or like against Muang Thong when you are warming the bench and subbed in seething with anger!
Then the Thai players start to notice, "hey this lad can play football and I can even pass the ball to him". Thus it went better. Moreover, it is a pleasure for every footballer to play in front of backdrops like at Muang Thong or also Chiang Rai. Or, of course, the cup final against Buriram. One goes to the stadium and sees thousands of Buriram fans and many, many Army fans. Also a lot of neutral spectators who wished us the best of luck. These are nice experiences one simply does not forget.
thai-fussball.com:
News came out recently that there were attempts to bribe the Japanese referee before the cup final. Was this a subject in the dressing room?
Bjorn Lindemann:
I think our Thai players were more bothered about it than me. The bottom line is I do not really know what happened and to mourn after is pointless. And one has to say, Buriram was simply the better side that day. Ok, fair enough, now we could play Champions League maybe, but I do not think that we could have made the group stage.
thai-fussball.com:
...and the medal has a place of honour?
Bjorn Lindemann:
Yes, I also kept my complete player's kit of the final.
thai-fussball.com:
Today you are going to watch the Supercup between Buriram United and Muang Thong. The latter are going to be your opponents on the opening day of the Thai Premier League. Will you take the opportunity to observe potential opposing players?
Bjorn Lindemann:
Yes, of course one has an eye on it. I also like the style of Muang Thong. One can recognise a philosophy behind their game. But of course Buriram ain't bad either. However, in the first place I hope to see a nice game in front of a great backdrop.
'Here, for the first time, I became conscious of what football really means to me'
thai-fussball.com:
Almost every Thai supports a team in England. How is this within your team? Are there blocks of players cheering for Manchester United or Liverpool for example?
Bjorn Lindemann:
Yes, sure there is. But not necessarily as a group. From time to time it also happens that we will watch a game together on TV. But meanwhile some of us are looking to Spain and everybody knows Bayern Munich and even HSV [Hamburger SV, ed.], although they are currently not well placed. Personally, I'm enjoying English football and, for example, I am a big fan of Robbie van Persie.


thai-fussball.com:
As the first German pro-footballer here, you are in a pioneering role so to speak.
Bjorn Lindemann:
I think that Thailand is going the right way and that we will see more good foreign footballers playing here in future. Not necessarily world stars, but players who can enrich the game here. Look at Linz. He has a good name in Austria and he hasn't come to Thailand for no reason.
Maybe one day some younger players will come here who are not already 35 or something and again just want to earn some money. Players also come here to enjoy the life in Bangkok. I find nowhere else one can play football so calmly like here in Thailand or Asia in general. It is always warm and it is rather relaxed. Of course training is tough, but it is part of the job.
thai-fussball.com:
If one lives abroad, one really finds out what one misses mostly. What was this with you?
Bjorn Lindemann:
At the beginning above all, German television. Then, however, I have got tips where one gets good food or places where one can go out from time to time. First I lived away from downtown. From there I always had to go to the city by Taxi. Now I live much more centrally; I bought a scooter and I can get faster everywhere.
Meanwhile I also have German television at home and actually I must say I miss nothing, and I am very contented. The first half of last year was difficult, and sometimes I doubted whether this was the right step. Particularly as I did not find the training conditions that good and also did not know the players. It needs time to adapt to the whole thing. But then everything works.
thai-fussball.com:
During one recent interview with a German paper you said that you have become adult in Thailand. Was this because you are away from home and on your own?
Bjorn Lindemann:
Yes clearly. One must be more on his own feet here. In Germany this was always easy. The club arranged everything for you. This is of course more difficult here. Here, for the first time, I became conscious of what football really means to me and how good life is. If one sees the Thais, some of whom have two or three jobs and must work hard for little money, there one gets a different view on things which one otherwise does not perceive at all. In Germany everything is much more regulated and you always get enough money to live. It's completely different here.
Within our club, one staff member earns only 100 Euro. In Germany immediately it would cause an uprising in the media. If one player in Germany gets 1,000 Euro, he does not know what to do with it and starts to grumble. Here they are happy with what they get. He gets to eat and to drink, can live in the camp and gets his clothes from Army United. The player is contented and laughs. Then I must say it was new to me when people suddenly started getting interested in me again, because of being the first German in the TPL and how to deal with it. This has been quite a new kind of self-reflection for me.
Here in Bangkok I sometimes sit on the balcony; it is warm and I look at the skyline and then I think about what I have reached in my job, although I had a lot of trouble in Germany. Sure, sometimes I also think about home; I maybe could have played in the Bundesliga, but then again I also would not have seen all this here and had the experience. If then I ask myself "what else do you want to achieve?", I say to myself: I concentrate on my sport, for example I don't drink any alcohol for a year, just to see how the body could perform and how far I could push it before exhaustion.
In any case, I regret nothing.