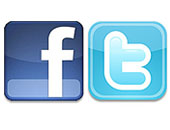 Birds twitter with pleasure, since today thai-fussball.de tweets as well. As friends of new media we always like to be at the top of our time.
Therefore it goes without saying to make use of them. For nearly one year now you can find us on
Facebook
and it's rather successful. About 600 people follow us there in the meantime. For a well recognised but still small website like us a good achievement as we think. At least we hadn't planned on that. The second big network of our time is called, as everybody knows, Twitter. After a long consideration, we have decided to open an account on
Twitter.
Thus gives you the possibility to stay in touch with us and stay up-to-date about events all around Thai football, via a second network platform.

Our Facebook page as well as our Tweet channel are public. There is no need to register for you in order catch up short and quick news.