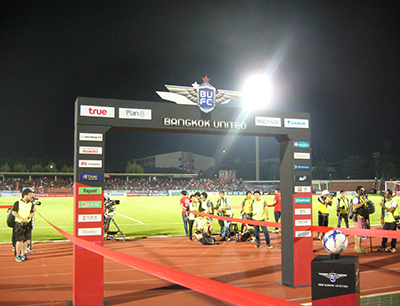 Bangkok United
image: © thai-fussball.com
After Thigao Cunha (to Port FC) and Sinthaweechai Hathairattanakool (to Suphanburi FC) the third big domestic deal in Thailand just happened these days.
121 games, 59 goals. These are the bare numbers of the latest signing of Bangkok United and the name behind the numbers is no one else than Mario Gjurovski. The Macedonian arrived in Thailand in 2012 and was under contract with Muang Thong United since. He is regarded as one of the stars of the Thai Premier League and after 4 years with one of the two leading clubs of the League it was hard to imagine he could move elsewhere within Thailand.
According to reports in the Thai Media, Muang Thong and Gjurovski could not agree on a new two year contract. Shortly thereafter, the 30-year old was linked with a move to freshly promoted J.League side Omiya Ardija. But before anything could develop out of the story, true or not, Bangkok United did a proper job and unveiled him as new signing. Both sides agreed on a 3 year contract. It is not much known about the agreed salary, but it is hard to imagine that Gjurovski would earn less at the 'Bangkok Angels' then he did at Muang Thong. Which should not be less than 1 Million Baht per month.
With no doubt Muang Thong lose one of his most important player. At the same time, the signing of the offensive midfielder marks a bang and can be considered as a signal of Bangkok United that the side want more than a fifth place on which the 'Angels' have finished 2015.
Mario Gjurovski is a very nice guy and playing wise a great addition. But he sometimes attract negative attention through his antics and his behavior on the pitch. Like the scene when he pulled off his shorts and pulled them over his head for a goal celebration. Or the free kick, in which he kicked the ball with his head. During the recent Thai FA Cup Final against Buriram United he only stood out through his gripe after a (legitimate) second yellow. It will be interesting to see to what extent Mano Pölking can get him under control and expel such on the pitch behaviour.
Taking the numbers together from 2015, there should be no shortage of firepower in the Bangkok United squad for 2016. Gjurovski have found the net 20 times, Dragan Boskovic 13 times, Jaycee John and Leandro Tatu nine times respectively. That might be good enough in the end to attack a second or third place, but probably not more. Although many attest Bangkok United to be playing the best football in the league, but at the end Mano Pölking's team concedes too many goals. 47 last season. The worst value among the Top-6 teams. Looking at the past few years, the number of 30 goals, is essential, if one want to finish within the Top-3. To finish the league as runner-up or even one better, conceding not more than 25 goals seems to be a must.
Besides the former Macedonian international Bangkok United has signed current U-19-international Sansern Limwattana, defender Ernesto Amantegui from Army United and Pongsakorn Seerod from TOT SC. Thus, the personnel planning by Mano Pölking is largely completed as he told us. He is now only looking for a Thai striker he can add to his squad.