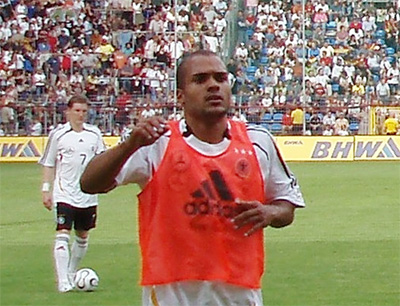 David Odonkor (2006)
image: © CC-BY-SA-2.5 Florian K
Most of the German football fans will remember this scene very well. World Cup 2006 and Poland is holding on to a draw. Stoppage time and David Odonkor spurts down the line, crosses in a magnificent ball and Oliver Neuville converts. Both went into history books and become heros.
Now one of both heroes, Odonkor, could continue his career in Thailand. On Sunday several media reported the winger is in contact with newly promoted Thai Premier League club Bangkok United. According to head coach Sasom Pobprasert the salary expectation is feasible and a trial is not necessary. However, the crunch point could be the physical state. Therefore Odonkor will have to be put to the acid test. Not too wrong. Over and over again David Odonkor was plagued by knee problems and had to pause several months in each case.
After the World Cup in 2006 the German-Ghanian signed a five year contract with Real Betis. During his time with the Spanish side he made only 52 appearances. Not least because of the already addressed problems with injuries. Odonkors captain with Betis was, by the way, Arzu. Should the former international really move to Thailand, he could face his former team captain at the beginning of August when BEC Tero will have to take on Bangkok United.
Currently without contract, the winger signed for a year with the Ukrainian top flight Zakarpattya Uschhorod in last summer. Some months ago he was cited in German media that nothing runs after plan in Uschhorod and that his family needs to feel fine and Odonkor was looking for way back to German football. However, he finished the season the and his contract in the Ukraine with 14 appearances.
At the moment Bangkok United has already seven foreign players on its roster. One too much. But the problem could sort itself out soon. After the signing of Hussein Alaa Hussein and Nattaporn Phanrit, Brazilian Marco da Silva probably has no future and is already associated with a move to Rayong FC.
Odonkor is expected to arrive in Bangkok over the next couple of days for the medical since the transfer window closes at the end of July. He would be the seventh mid-season signing of the
Bangkok Angels
in this transfer period.