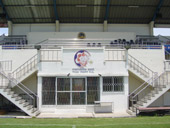 Main stand of PAT Stadium
(c) Thai-fussball.de
Besides all the matches we've seen during our last stay in Thailand, a stadium tour through Bangkok was on our schedule as well. In Bangkok and its vicinity you can find a lot of stadiums to visit. But probably you would need a couple of days to see all of them. In total we selected four, those have been, the PAT Stadium, Thephasadin, Suphachalasai and Rajamangala. A visit to national museum of sport was on top of it.
Around 7 o'clock in the morning we headed towards Bangkok by bus. Unfortunately our ride took longer than planed and we started to worry about our schedule. Finally in Bangkok, we gave esgede a call and arranged a meeting with him at the MBK shopping mall later today. Now it was time for us to move on. PAT Stadium was our first place to visit. The stadium can be found at Klong Thoei district. It's very close to the Sukhumvit Area in Bangkok. Klong Thoei, located at the docklands, is one of the poorest area in Bangkok and the home of Thai Port FC. By underground train, we went on to the "Queen Sirikit Convention Center" Station.
PAT Stadium
Inside the fan shop of Thai Port FC
(c) thai-fussball.de
Arrived at our destination, we tried to walk our way to the stadium. Soon we recognized that the distance was to far for a walk. We hired a motorbike taxi, and a few minutes later we have been in front of the clubs fan shop. From outside we had a look into the shop and we didn't see anyone inside, no lights were switched on. As we thought the shop might be closed, we got frustrated a bit. What a nice start. However, we took some pictures from outside and went on to find a way to the stadium. We passed the training pitch from Thai Port FC and found him in very bad conditions, the pitch looked bumpy and dry. While starring at the pitch we spotted a young Thai going directly to the fan shop. Does it mean the shop is open? Indeed, the guy sneaked into the shop, and we just followed him. Still nobody to be seen inside. Seconds later, a small head turned up from the table behind the cash desk. Now we knew the reason for spotting nobody inside before. The cashier was sleeping with her head on the desk. How cute that was, and all frustration was gone.


Be

this

what it may, we found the shop filled with just a few merchandising products. A fact, that even fans from Thai Port are claiming. As we already owned a kit, there was no need for us to buy one. But we purchased the magazine about the Thai FA Cup win in 2009. We went out of the shop and finally found a way into the stadium. There was an open door at Gate C, and we sneaked in. Few pictures later it was time to enter the pitch. On our way, we stepped on a metal plate, and it causes some noise. Due to that, a construction worker was woking up during his ....yep you are right, lunchtime sleep. He didn't bother us nor he showed any interest in us, and we went on. Eventually we found an open door next to the main stand. Just opposite the other side, where we entered the C Gate. After an extensive look around from the pitch, we took some nice pictures. You should pay a visit to that stadium. It knows how to impress you. Especially with all those skyscrapers all around the stadium. A highway is passing the stadium from where you can gave a look into it. We had the chance to do so a few days ago already, on our way to the Thunderdome in Nonthaburi. That time it was less impressive than now.
Thephasadin & Suphachalasai Stadium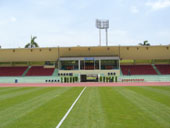 Thephasadin main stand
(c) thai-fussball.de
Time to move on. We had to meet our friend and website member
esgede
at the MBK. Using the Skytrain to go the Stadium, or even MBK was an easy one. After a short "Hello" we went on to the Thephasadin Stadium. It is very close to the Skytrainstation, just a few meters away and located right next to the Suphachalasai. You can't miss it. Thephasadin Stadium is actually the home ground of Thai Premier League club side BEC Tero Sasana.
We stood in front of the stadium, but it didn't looked like that we could manage it to step in. As soon as we spotted a jogger inside the stadium, we looked for the open Gate. Once inside we were astonished about the fresh looking green from the pitch. Really in top condition. The Stadium is able to host up to 6.000 people, for a club like BEC Tero more than enough. An advantage of this stadium is the good transportation connection. Small little Stadium with a nice touch and a skyline in the background that is. Even though the skyline couldn't impress us that much as the Thai Port ones. Under the main stand, there is a tunnel, which brings you to a small ground next to the Thephasadin and we ask ourselves why BEC is not train on that pitch. As we knew from Douglas Cobo, playing for the club, they still train at their old stadium in Nong Jork, outside of Bangkok. There usually is no shadow to be found, others than here. We passed the small pitch and found us right in front of the Suphachalasai. Our game, "find an open gate" moved on the next round.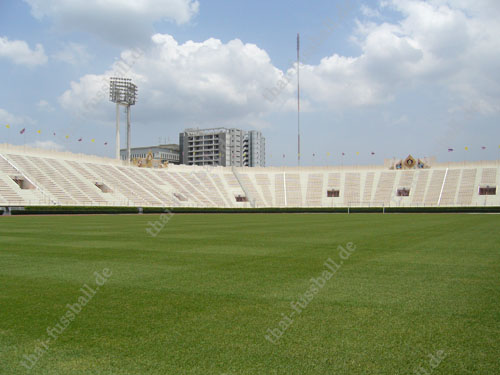 Suphachalasai Stadium
(c) thai-fussball.de
Since the first time we have seen the stadium on pictures and in TV, we thought that it is really a nice place. And yes, it is probably one of the most attractive stadiums in Thailand. The pitch again was top class. Seeing all this, the FAT may need to ask themselves why the national team has to play at the big Rajamangala. Even if they now, that maybe only ten or fifteen thousand people may come to watch a game vs Jordan or something like that. What kind of sense does it make to play in such a big bowl like the Rajamangala? Is this going to help the team if fans are lost in the ground? However the stadium can host up 26.000 people and was build in 1935. Conspicuously are the pictures and paintings of King Bhumibol Adulyadej which you can find all around outside on the stadium walls. In 1966, 1970 and 1978 the Asian Games have been held at this ground. A group stage match of the Asian Cup 2007 was played here.

After finishing our inspection, we went on to the backside of the stadium. There is a FBT shop, where we purchased one more kit for our collection. We discovered some other interesting shops and things in that street, but we prefer not to mention it here. Try to find it out by yourself. Early afternoon, and just two topics left on our agenda. The big bowl Rajamangala and the museeum of sport. As we found out later, it was a good decision to that we first went on the Rajamangala.

Museum of Sport & Rajamangala Stadium
We hired a taxi and made our long way to the Stadium. Arrived, we found out that our taxi driver stopped at the wrong place. He dropped us right in front of the Ramkhamhaeng University. We tried to find our way through the campus. After wandering around for about 30 minutes we finally found to the forecourt. From distance the Rajamangala Stadium simply looks like a big bowl. The only stadium we ever seen like this, and we can compare with, is the old Zentralstadion in Leipzig. Rajamangala Stadium was opened in 1998 for the purpose to host the Asian Games. With that it replaced the Suphachalasai as national stadium in Thailand. Probably one of the finest our in Thai football could be seen 1998 at the new Stadium. In the quarterfinals of the Asian Games,
Thailand faced South Korea
, and eventully beat them by 2-1 in extra time.
As we got close to the stadium we have seen a lot of cars and motorbikes inside. That was a push for our hope to get inside the ground. And again no obstacles in our way towards inside. How crazy that is. Just imagine you easily gain access to Wembley or the Olympiastadion in Berlin if there is no game taking place. Myself visited the Rajamangala Stadium already. At a time when nobody thought about doing a website named thai-fussball.de. It was back in 2004, Germany played Thailand in a friendly. But instead of sitting on some plastic chairs in the stands and watch a football match, our mission now was to find a way onto the pitch. However it dind't took us long to found ourselves on the opposite stand. While looking around we realized that some renovations were going on.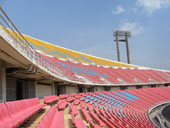 Inside Rajamangala Stadium
(c) thai-fussball.de
In order to get to the main stand we went back to the stairs and made our way through the catacombs. Suddenly we saw a sign which informed us that the entrance to the museum of sport was right in front of us. Indeed it turned out later that it was exactly the same museum which we had on our agenda. If some of you ever wanted to make a ramble though the history of sport in Thailand, this museeum is worth to pay a visit. No entrence fee is required. You will be able to find a lot of collected items from various sports, but football as well. After our trip though Thai sports history it was time to enter the main stand. Climbing up a few stairs, and we were there. We took a rest and just enjoyed the view. Really breathtaking. Couple of minutes later we stood on the pitch, what a feeling. From outside, the stadium looks like a big bowl, when you are on the pitch, it feels like you are able to grab the stands. It's like the stands are very close to the pitch. Totally different to when you were sitting in the stands. What a great optical illusion. Standing at the kick off sport it doesnt even look likes the goals might be 50 meters away.

With that view, we simply were happy, and our stint was nearly done for today. Just opposite the forecourt of the stadium you are able to find an FBT and Grand Sport shop. Inside the FBT shop, just on the ground floor you can find the Thai Premier League shop. Unfortunately he was totally out of date. We only found a few kits from the actual 2010 season. Nevertheless, we purchased some items. We did the same in the Grand Sport shop. If you are looking for a bargain, and rare items, you have to visit those two shops.

Done. From 11 in the morning till five in the afternoon, four stadiums across Bangkok. Wow what a day, but now it was time for a beer. A taxi brought as to Sukhumvit road, were we paid a visit to a bar, which I have not seen for years. It was planned to have a beer and than took the bus to back home....in the end it was more than one......on a really exciting day.
As usual you are able to find all the pictures from our report in our
picture gallery
.