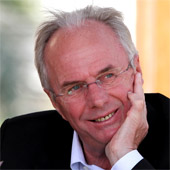 Sven-Goran Eriksson
A fortnight ago Andrew Ord was released from his duties as BEC Tero Sasana coach. In search of a new man on the sideline the club seems to have made a find in well-known Sven-Goran Eriksson.

What have spread as a rumor first this weekend, seems to be certainty meantime. The well-travelled Swede Sven-Göran Eriksson is to be appointed new head coach of Thai Premier League club BEC Tero Sasana. It is scheduled to introduce him on Monday officially. Andrew Ord who saw himself promoted from youth to senior side coaching by manager Robert Procureur at the beginning of the season, has been relieved from office two weeks ago to become academy director. Of course the name Rene Desaeyere was traded immediately as his successor with whom the Tero manager won the championship with Muang Thong in 2010. And also Jose Alves Bervis, who coached TTM in 2004 to winning the Thai Premier League was in the rumor mill.
Now the 64-year-old from Sweden. This may surprise at first sight, however, Eriksson who always had a special relationship with Thailand, have spent some holidays in the
"land of the smile"
. Just recently in May he was spotted at the LEO stadium as well as at the Thepasadin, his coming work place presumably. Back that time, when Eriksson was following a BEC Tero game from the VIP-boxes, in our editorial office we joked around that he is just there to watch his new team. Not for a moment we were serious about.
But of course this is not the only connection among him and Thailand. Since under Thaksin Shinawatra he was coaching the
Citizens
, and also at his recent station, Leicester city, he had to deal with Thais on the executive floor. With his move to Thailand Eriksson seems be on his own given schedule apparently. During a training camp in Thailand with Manchester City in 2007/08 season, he betrayed Didi Hamann at the pool: «You know Kaiser, I like this place. I think I will manage for another five years and come back here and live with two women. Yes. I think I need two beautiful women.» So the German in his autobiography. Exactly five years have passed since. Although Eriksson is not yet here to retire in Thailand, however, at least he is there. And concerning the two women's, well, that is up to your imagination.