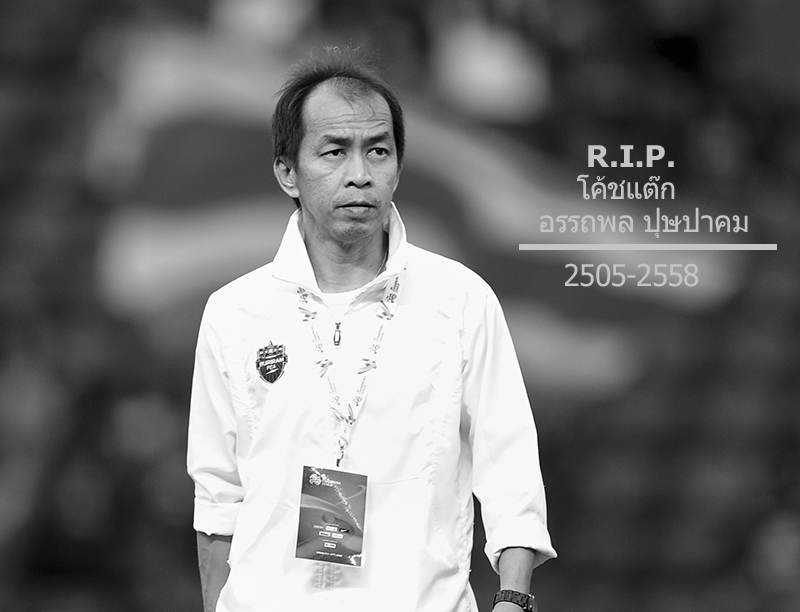 Attaphol Buspakom
pircture: © Thananuwat Srirasant
Thailand's football community is mourning. Attaphol Buspakom, head coach of Police United, suddenly and unexpectedly passed away at the age of 52.
Coach Tak, how he is called respectfully by fans, passed away in the morning of the 16 April 2015 as a result of a blood infection. Right after a league encounter on 8 April in Songkhla he was brought to hospital in the evening. In January this year Buspakom underwent a kidney transplantation for which he waited two years. The blood infection eventually reached his lungs.
Born in Sattahip, Attaphol Buspakom has been the most successful Thai coach over the past 15 years. At his first coaching position he led BEC Tero Sasana to the AFC Champions League Final 2003. He won the TPL with Muang Thong United in 2009 and Buriram United in 2011 and led the latter to its first ever knock-out stage of the Champions League in 2013. He as well could win the Thai FA Cup and the League Cup twice for Buriram United. In addition to it he was named 'coach of the year' three times (2002, 2009 and 2013). During his playing career he appeared more than 200 times for Port Auhtority FC (Port FC) and played abroad for Malaysian side Pahang FC.
Condolence over his death by the Thai football community throughout the last Thursday where overwhelming. Clubs and players, also foreign players like Darko Tasevski or Björn Lindemann, have passed on their condolences over social networks. Even former Thai national team coach Winfried Schäfer had the time to express his mourning over the death of
Coach Tak
.
The League Cup round of the coming weekend, with which everybody would have like to see Coach Tak back at the sideline for Police United, will certainly stand in the sign of grief about the death of the 52-year-old.
R.I.P โค้ชแต๊ก