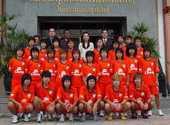 Thailands U23 men squad qualified for the round of the last 16 already. Now its the girls turn. However, opposite to their counterparts, we cannot expect any goal or any point.
This statement have nothing to do with the skills of the girls, which we rate highly. Rather it is because of the opponents they will face in Group B. The Thai ladies will have to face the two top ranked womens national sides of Asia. Namely Japan and North Korea, which are also ranked within the Top-Ten in the World. So far Thailand women's national football team participated the Asian Games two times.
1998 and 2006. First time they played the Asian Games was in 1998 and and a 0:15 defeat against North Korea was one of the worst ever. The first opponent this year will be Japan and we keep our fingers crossed.

Jatuporn Pramualban is the head coach of the ladies. He is rumoured to be the successor of Thawatchai Damrong-Ongtrakulat on Pattaya United hot seat. In regards to this, Janpen Sriseaum didn't want to make any statement until the Asian Games are done.

The ladies squad is listed below:
Goalkeeper:
Waraporn Boonsing, Kanyawee Sudtavee (beide CAS Khon Kaen)

Defender:
Darut Changplook (North Bangkok FC),Thidarat Wiwasukhu, Duangnapa Sritala (both Rattana Bundit), Pikul Khueanpet, Sunisa Srangthaisong, Suphaphon Kaeobaen (aall CAS Khon Kaen)
Midfield:
Wajee Kertsombun, Junpen Seesraum, Kanjana Sung-Ngoen (all Rattana Bundit), Chidtawan Chawong (CAS Khon Kaen), Waranya Chaikantree (North Chiang Mai), Anootsara Maijarern, Treeratchada Boonpload, Wilaiporn Boothduang (all Rattana Bundit)
Striker:
Pitsamai Sornsai, Nisa Romyen (both Rattana Bundit)