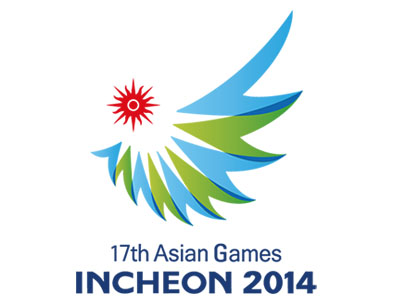 Logo of the Asian Games 2014
Beside the AFF Suzuki Cup, the Asian Games in South Korea is going to be the second great footballing event this year. All together 29 male national teams and 11 women's team fight for gold at the 17th Asiad.
The draw to the 2014 Asian Games footballing tournament must have been one of these nights where the Thai officials couldn't stop to grin all over the face. So well she went. No. Even better. She couldn't have run any better. Almost. If one refrains of the Maldives, Group E, where Thailand's man where drawn in with Indonesia and Timor-Leste, has become a pure Southeast Asia group. In addition, all three sides have faced just eight months ago in Group B of the 2013 SEA-Games. Back then Thailand won both of its group games and met his rival from Indonesia in the Final again, to grab its first gold medal since 2007.
Because of the performance four years ago when Thailand reached the quarter-finals and was eliminated by Japan, Thailand was put in pot 1 and so could avoid heavyweights like Japan, South Korea, Iran or also Uzbekistan, for the moment. But if Thailand should advance to the knock-out stage, they could face China, North Korea or Pakistan from group F. The Thais aim to reach the semi-finals and a possible Bronze medal match seems very ambitious. To make it ot the round of the last eight, however, could be feasible with some luck.
While the Thai Premier League is taking a break just for the Asian Games, the Asian Games squad is headed for a two week training camp on Phuket. There, three more tests are on the schedule. Against Myanmar on 31 August, both hit only recently in May for a friendly against Phuket FC on 3 September and, finally, on the 7 September against Qatar's U-23. The latter withdrew at very last minute from the Asian Games.
The shape of the 20 players could become a concern to coach Kiatisuk Senamuang. Up to Pinyo Inpinit (Police United) and Adisak Kraisorn (Buriram United), most of them are key players in their respective clubs. Not bad at all for sure. But they all have played more than 20 games for their clubs respectively since the beginning of the season in February. Without any break and permanent mid-week fixtures. Not to talk about League Cup and Thai FA Cup games.
Different from the SEA-Games, at the Asian Games it is allowed to call up three over-age players to a core of under-23. Alongside Kawin Thammasatchanan, Zico originally nominated Theeraton Bunmathan and Pratum Chutong. But the Buriram United duo had to withdraw following order of club boss Newin Chidchob. Instead of the two, Kroekrit Thaweekarn from Chonburi and Suriya Singmui from Muang Thong are called up.
The Asian Games are a tournament that is not sanctioned by the worlds governing body FIFA, hence Buriram is not forced to release his players. Although Newin Chidchob's reason to hold them back might be others than sportingly. Because the TPL and Division One is taking a break just for the Games. Or rather, the mid-season break is used for them. As a comparison, South Korea is able to field two Bundesliga players in Kim Jin-su (TSG Hoffenheim) and Park Joo-ho (Mainz 05), while Son from Bayer Leverkusen has to stay with the Bundesliga side.
Not only the men's team was handed a good draw. The same applies for the, at the moment, outshining Thai women's national team. Although facing hosting nation South Korea, one of the top-teams of women's football in Asia, the Maldives and India should not be much of a concern for a Thai team that recently qualified for its first ever World Cup. The last time Nuengruethai Sathongwien eleven has faced the Koreans was during the Asian Cup in May and the Thais lost 0-4. On a possible way to the semi-finals, Thailand could clash once more with arch rival Vietnam, of whom they could pry the ticket to the World Cup 2015 out of their hands in May.
Differently than expected and hoped-for, there will be no domstic women's league before the Games nor are there any signs it could happen after them. Perhaps that could be one of the reason why Taneekarn Dangda and Thanatta Chuwong moved to Swedish club Östersunds DFF in August, at least if one reads between the lines for the given reasons of this change. However, both will not be available for the Asiad. As it looks now, it is furthermore planed to send more players to Europe, to UK and Netherlands respectively. For whatever reasons the Thai FA has, sending players abroad rather than let them compete in a domestic league.
In preparation to the Asian Games, the Thai women's have an one week training camp in China with a friendly against China on 9 September, before traveling to South Korea.