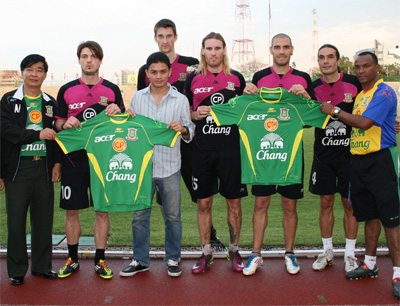 Army new signings
image: © thaileagueonline
Now it is fixed. German Bjorn Lindemann has signed a contract with the Thai Premier League side Army United. Together with the other new signings, he was introduced mid week. The board of directors forked out additional 20 million Baht for getting the foreigners under contract.
Just a few days ago Army United introduced his new entries. These include German Bjorn Lindemann. The 28-year-old midfielder successfully passed the medical and finally put pen to paper as his management confirmed towards us. Lindemann will be the first German professional in modern times making his trade in professional Thai football. Together with the other new signings he pursued a 1-3 home defeat against relegation candidate SCG Samut Songkhram this weekend.
Lindemann, who will fly back to Germany this weekend, recently was under contract with German third division side Carl Zeiss Jena. Under mutual agreement both parties agreed to end contract by 31 December 2011. His new club Army United becomes his first one abroad. In the present course of his career among others he played for the 1.FC Magdeburg, SC Paderborn and VfL Osnabruck. At least, with latter he reached the German Cup quarterfinal in 2010. Signing with Army United his main task might be to feed Thailand's "goal phantom" Sarayuth Chaikamdee. The leading goal scorer of 2003 and 2005 just moved away from Bangkok Glass a few weeks ago on a 2 million Baht transfer fee. At this point we like to wish Bjorn all the best in his new "home" and we hope he not becomes a second Berkant Goktan. However, we already work on an exclusive interview with Lindemann.
Lindemann certainly will be able to talk to Daniel Blanco in German, another new entry. Though Blanco was born in Argentine, he started his career in the youth of Bayer Leverkusen back in the 90's and holds a dual citizenship. Till recently Blanco played for Cyprus side Ermis Aradippou.
Same goes on for Australian Danny Invincibile who played alongside with Blanco on Cyprus. Invincibile, he really is called in such a way, played for Swindon Town in England and Kilmarnock in Scotland for most of his career. For both sides, he capped more than 300 times between 2000 and 2010. Thai Port's Scot Steven Robb is happy to welcome him in Thailand's top flight. With his ex-club St. Mirren often enough he crossed blades with Danny in the Scottish league.
The Argentine Matias Recio Eduardo joins on a free transfer from Vietnam. With Hanoi T&T he clashed with Muang Thong United in the AFC Cup 2011 and obviously was impressed about the Thai side. In the season 2009/10 he played in the Indonesian league for Persita Tangerang. In contrast to the remaining signings he might need less time to adopt to Thai league.
The last in the alliance is Kert Kutt. The 1.99 tall goalkeeper completes the field of the new foreign signings. 31 year of age, the Estonian laced his shoes for JK Nõmme Kalju in his homeland recently. He played in the qualification to the Europe league in 2011 with the club. Kert went through nearly all youth international teams of his country up to U23.
The budget of Army United for the season 2012 reaches a reportedly amount of 80 million Baht. 20 million Baht are added especially for the new foreign entries. Up to Recio Eduardo and maybe Kutt, the others might need time to settle and adopt with the league.