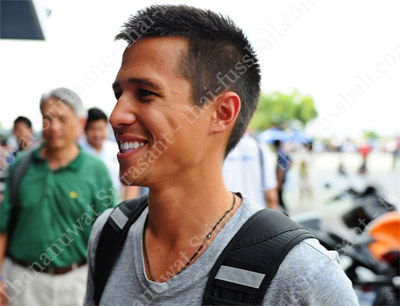 Anthony Ampaipitakwong
image: © Thananuwat Srirasant
Does he come or does not come? In fact, Anthony Ampaipitakwong is set to arrive in Thailand within a couple of hours. The Thai Premier League transfer window opens on 9 June, and the current MLS player could see his debut for a Thai club soon.
Already last week, first rumors were to be heard Anthony Ampaipitakwong, who is playing in Major League Soccer, could sign with Buriram United. Since last night, the usually well informed daily newspaper '
Thai Rath'
reported that both sides agreed on terms. That would go along with news that Anthony is just on his way to Thailand where he aims to stay for a total of one week. Though, according to our information he should still have a valid contract with San Jose Earthquake.
Whether life of the Carrollton, Texas, born player with Thai roots, fits to Buriram, is hard to believe. What club, town and province have to offer are shurely not exactly what a 23-year-old footballer is lookiing for, apart from the financial.
The first time, the name of Ampaipitakwong caused bigger attantion in Thai press was last year. Thai media reported about an invitation for the national team. However, a visit and training with the Thai senior side under coach Winfried Schafer never came about to date.
Anthony Ampaipitakwong is 23 years old and son of a Thai father. He began his career in the JMG academy where he also made his High School degree. The fact that BEC-Tero manager Robert Procureur has not become active is surprising. He is for many years the boss of JMG Thailand. "Ampai" like Anthony is also called, helped his University side of Akron to become champion in 2010. In 2011 he was drafted by the Major League Soccer club San Jose Earthquakes. In his first season the versatile player made 12 appearances for the Earthquakes. He gave his debut on 12 March 2011 against Real Salt Lake.
Privately he is a fan of the Dallas Cowboys and American football Quarterback Tim Tebow. For all female fans would be noted at this point, Anthony is in a relationship.