Siracha FC Cheerleader
(c) thai-fussball.de
Finally today we will release the last report about our Thai tour from May and June 2010. Within one week we were able to see two home matches of Siracha FC. The match against Customs FC at the same time marked the end of our trip. To watch at least one match of Siracha, was compulsory for us, because the city can be considered as our "homebase".
Well, an "An evening with Michael Byrne" wasn't really the headline we had in mind for our report. Moreover we where thinking about something like "A visit at Siracha FC". But how life goes, Michael Byrne wasn't the only surprise for us at that night.
A few days ahead of our first match, we made an appointment already with our old friend Dale Ferrington and his kind wife Nui. On our schedule, the 2nd round of the Thai FA Cup. Opponent, league rival Songkhla.
Siracha FC - Sonkhla FC
The match kicked off at 18:00 at the Si Racha Stadium. Until to the start of the 2010 season, Siracha used to play at the Princess Sirindorn Stadium. The now used Stadium is located right in the city center, in a beautiful vicinity. Jut opposite the main stand, the Ko Loey Park is located, just next to the sea. At the corner side, there is a refuge, with a clock tower in the middle. So the stadium is quite is easy to find with such an unique surrounding. On the other side of the refuge you will be able to find the club shop. Right in front of it, there are chairs for your convenience. Furthermore, you can get a taste of the pitch there. The chairs are placed on an artificial turf, and artificial turf is used in the stadium.

We arrived a bit too late on that day and missed the kick off. A quick look on the scoreboard, and we knew that we didn't missed a goal. Maybe 2000 people turned up, and the stadium was far from being empty. At the moment a new main stand is under construction and according to our information, Siracha has plans to use the same stadium in the next season as well. Even in case they earn promotion and are going to play in the TPL. The away block contained about 20 supporters from Songkhla, a thaing that really surprised us. Considering they may had a 15 hour trip from the west coast to the east coast for a match to be kicked on a Sunday evening. Kudos to those fans.

While we just took our seat in the corner stands, and started to focus on the game, a name caused some uproar in the stands. The name Michael Byrne made his wave through the stadium. And indeed. Michael Byrne, considerably one of the Thai Premier League superstars appeared on the fences. Together with another star of the league, Douglas Cobo from BEC Tero. Douglas used to play for Siracha and Chonburi in 2009 and is a good friend of Michael. Back then in June, Michael was wearing the Chonburi FC jersey. We saw him that night, we saw him in three games with Chonburi during our trip. Even more it was hard to believe for us, that just a few weeks later he would switch the kit.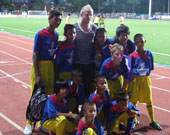 Michael posing with kids
(c) thai-fussball.de
However, our friend Dale moved on to say "Hello" to the lads, as he is familiar with them. Coming back, he asked us, whether we would like to join and switch to the (temporary) main stand with them. There was no doubt for us to agree. Right from the beginning, Michael did not behave like being a star of the league. He was down-to-earth and really friendly to everybody. Even he was there in private, he was available to everybody asking for a photo or an autograph. Not enough surprises, we also met his (former) coach Jedet Meelarp. Back in 2008 I was introduced to him by Dale, after a match against Samut Songkhram. While Michael and Douglas had a chat with the coach, we took a place and turned our attention to the match.

For the first 30 minutes Siracha was in control of the game, but were not able to put the ball into the back of the net. Every cross was grabed by Songkhlas tall goalkeeper Emmanuel Ouaye without any problem. With no goals on either side, the teams went into half time. Meanwhile Michael took a place right next to me. Players of Siracha had to pass us on their way to the cabins. Michael had a quick chat with Gonzales Gaston Raul the striker from the home side. Just telling him to take a straight shot the next ime.

It appeared that he followed the advice from Michael. Just a few minutes into the second half, he took a shot and scored the winning goal of the evening. While the second period moved on, Dale and Michael were talking about the Big Match between Muang Thong United and Chonburi, which just took place two days ago that time. It was quite difficult for us to follow their conversation, being focused on the pitch the same time. It wasn't because of our English listen abilities. But if you are a German like I am, and two natural English lads talking to one another it's tough to follow. Especially as Michael used to speak in his welsh accent. Nevertheless, there was one sentence I could grab and which kept in my mind. If you are conceding 4 goals, there is no need to blame the referee.

After the game we lingered around in the stadium and it gave us the chance to swirl around and making some pictures. While heading to exit Nui, Dales wife, were talking to Jadet and vent to anger about the 1-4 defeat two days ago. Michael used a reserve goal aside to us, just to show the coach where his shots were hitting the woodwork. To my personal luck, I just took a look over my shoulder back into nearly dark stadium and I spotted a face in the shadow which was familiar to me. Only from pictures though. I could hardly believe my luck, because It was Wittaya Lahokul standing away from us just a few meters. Their might be some people asking ....who?....well for us a s a German based website reporting about Thai football, there is nearly nothing else you can compare with, meeting him. Wittaya or Heang how he is called, was the only Thai which ever made it to the German Bundesliga. At the end of the 70's he used to play for Hertha Berlin and was under contract with Saarbruecken. In total he made 33 appearances for the Berlin side. Nowadays he is the Development Director of Chonburi FC.

Withaya Laohakul (right)
(c) thai-fussball.de
Being totally surprised I made my way towards him. I called his name while still disbelieving it could be Wittaya. I made a kind Wai and soon we started to chat and I learned that he is still able to speak decent German. Together we moved on to the parking place and at least that gave me the chance to ask him some questions. Unfortunately I was not prepared and I didn't had any specific questions in hand or even a voice recorder. However, Wittaya was still suffering from a car accident back in December 2009. Therefore he was still wearing a wristband around his belly. A few years ago he was leaving Thailand towards Japan, because he was not satisfied with the work the FAT did. Jadet Meelarp took over his position as Chonburi head coach.

Arrived at the parking place, we said good bye to each other. We as thai.fussball.de, are in hope to get the chance again to meet him, but just being better prepared than. However the rest of us, including Michael and his family, moved on to the next restaurant where we ordered some Pizza and Pasta. Michael, professional footballer as he is, didn't put a finger on any alcohol. Which was very impressive to us. The rest of the evening, should kept private. As same as Michael was there to visit the match.

Siracha FC - Customs FC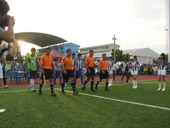 Teams entering the pitch
(c) thai-fussball.de
Just a week later, on a Sunday as well, Siracha had to take on Customs FC in a league match. This match at the same time marked the end of our holidays. It was our last evening before we had to head back to Germany the next day. From the match the week before we learned that we are only able to gain access to the inner zone via the main stand. So of course we tried our luck there first and we were able to enter. Arriving at the inner zone, we mixed up with the other pro photographers and were able to took some nice shots of either teams. After that we were looking for a nice place on the stands. Soon Michael Byrne and Douglas Cobo passed our ways again. Just the day before, Douglas got a red card in the match between BEC Tero and Samut Songkrahm. After a short Hello, we could ask him about his opinion getting booked with a red card.

However the lads had to move on and we tried to focus on the match. Soon we jumped up just to spend nearly the whole game close to the pitch. We were trying to get some nice shots for our cam. Especially when the goals had been scored, we ever have been on the wrong end of the pitch. Customs won the game by 2-1 in the end. As it is not allowed to consume some beer in the stadium we made our way outside at half time. Just opposite the stadium we were able to find a small shop, selling a nice cold and blond Chang. On our way back into the stadium we had to pass the merchandising booth, but there was nothing new to us. We visited the club shop already in the early afternoon.

In the second half, Mika Chunuonsee had to leave the pitch with a minor injury. He passed us while heading towards the bench. Mika was grown up in Wales and was with Muang Thong during the second half of the 2009 season. We gave him a shout and he posed for us. Unfortunately our camera didn't liked him. Although we had the chance to have a chat to him right after the match. He told us that he has settled well in Thailand, and that his future lies in Thailand. At that time he was even very confident, that Customs will be able to earn promotion. Well at least from today, it is still possible by mathematics.

After talking to Mika, who was very friendly and kindly, we tried to talk to Masao Kiba. He plays his role as defender within the Customs team and is a natural born Japanese. He earned 233 caps for Gamba Osaka in the past, and was the skipper of the team for a long time. Kiba san gave as a warm welcome. Bad luck for us, he turned his attention towards his Japanese Fans and we were not able to exchange some words.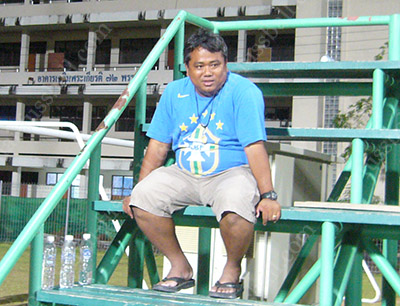 Jadet Meelarp
(c) thai-fussball.de
Leaving the pitch, we met Jadet. He again payed a visit to Siracha right after last weekend. As I was interested in the actual TPL results, I asked him straight forward. Muang Thong was playing against Pattaya at the same time. However we had a nice talk and Jedet's English speaking abilities were very decent. We said good bye to him and headed towards the exit.

Next to the stadium there is a 7/11, so we bought a beer, put our ass on the steps and listened to some Siracha supporters. A few minutes just to relish the moment. Than it was time to hire a motorbike ......24 hours later we would be back in Germany. 6 matches within a two and a half weeks time we watched. Again, we experienced a lot. We met new and old friends, had some interesting chats. It was worth every minute. And how the Pink Panther used to say? " We will be back - no doubt."
All pictured related to that two matches can be found in our
Gallery
.
At the end, all related reports from out trip during May / June which are available in english so far: