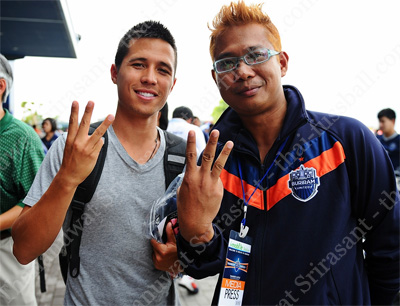 Anthony on the left
image: © Thananuwat Srirasant
It is a done deal. San Jose Jose Earthquakes midfielder, Anthony Ampaipitakwong, will be under contract with Buriram United from the second half of the season. Both sides agreed on terms and conditions this week.
As we already
reported
at the beginning of the week, Anthony Ampaipitakwong got on the way to Thailand to enter negotiations with Buriram United about an arrangement. Together with his father, he arrived early of the week. The Isaan club has been very keen on signing him and the management revealed, is looking for further signings of players with Thai roots in future. Beside the contract negotiation Anthony had ample opportunity for inspecting training facilities, stadium and lodgings.
On Wednesday he attended the Thai Premier League top-match between Buriram and Muang Thong and got the chance to see his future colleagues playing. The 23-year-old American obviously was impressed by club, stadium and fans.
Anthony passed the medical without problems. The key data of his contract: 2.5 years plus option on another year. He is to earn a reported salary of 150,000 Baht a month. After current exchange rate this might not be hardly less, but also not much more than his salary at San Jose Earthquakes.
There could be various reasons for his move to Thailand. In his rookie season with San Jose last year, he earned 12 caps, while he not have seen a minute of action this year. He could not make it for the US under-23 in his career so far, and with turning 24 this month, surely will not anymore. And for the senior side, coached by Jurgen Klinsmann he may just not be good enough at the moment. Therefore the way would be open for the national team of Thailand and with Buriram he would have the possibility to recommend himself a place in the squad for the AFF Suzuki Cup at the end of the year.
Born and raised in America, and without a Thai passport, he might count as foreigner in the squad. At least for time being. If now somebody asks for Peter Lšng, well he was signed by Bangkok Glass when he had his Thai passport already due to prior Thai national team duties.
Whether Buriram United have to pay transfer fee to San Jose and which amount, is not known. But maybe both parties are simply agree on ending the contract by mutual agreement.
Welcome to the Thai Premier League, Anthony Ampaipitakwong.