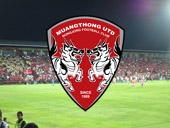 Image: © thai-fussball.com
Just midweek, Muang Thong lost the Thai Cup final to Buriram and a day later the management promised to throw money after first class players. They did not even hesitate and the club announced it's first foreign signing for the new season.
As the club announced late Thursday night on his official website, Muang Thong signed midfielder Adnan Barakat. Surprisingly it is not a big name in football. But his statistics offers a lot for a midfielder. Adnan Barakat is 29-year-old and was with FK Baku recently. It's the same club current Thai national team coach Winfried Schafer reigned in a six-months stint from June 2010 to January 2011.
However, the Moroccan-Dutch player made his way through the Ajax Amsterdam academy and gained Eredivisie experiance with NAC Breda.Further stations of him are FC Eindhoven, Cambuur-Leeuwarden and FC Den Bosch before he moved to Azerbaijan and joined FK Baku.