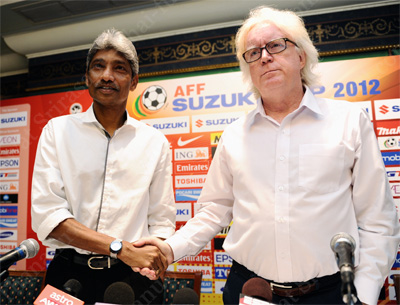 Schäfer and Rajogabal
image: © Thananuwat Srirasant
We are just few hours away from the second leg of the 2012 Suzuki Cup semi final between Thailand and Malaysia. From a sporting point of view there are less news to report ahead of the tie. Though a "paddy field" and crackers have kept fans and officials busy.
After the 1-1 draw in the first leg on last Sunday it is now all or nothing for both and which side will join Singapore in the final of the 2012 Suzuki Cup. Will it be Thailand making it to the final for the first time after 2008 or will it be Malaysia with the chance to retain the title? We will know by Thursday, after either 90 or 120 minutes. Or even after a penalty shoot-out. With an away goal in hand, the home team is having a slight advantage and there should be enough support from the fans as well with a sold out Suphachalasai Stadium.
Via Thai Ticket Major 17,000 tickets were sold in advance and on Wednesday 1,000 more went on sale at the venue. All gone after 40 minutes. As some fans couldn't get a ticket, it is reported they showed their displeasure by throwing eggs at the office of the Thai FA.
The biggest stadium of Thailand, the Rajamangala is not available with the "Race of champions" taking place there. Therefore, the semi final tie has to move to the Supachalasai, build in 1935, only able to host about 20.000 spectators compared to the 50.000 seater. For all those who couldn't get a ticket, there will be a big scrfeen put in place inside the nearby Thephasadin Stadium.
Meanwhile the guests from Malaysia had a problem with their training pitch. The team had to hold his Tuesday's practice units on a public field which lacked of sanitary fittings and dressing rooms, according to an official complaint issued by Malaysia to the AFF and the Thai FA. In addition, mud puddles were found at some places of the field, on the edge as well as in the area of the goals.
Sportily there is less to report in the approach of the duel. Thailand has no injury worries to report and all man aboard apart of Winfried Schafer himself. After his "sending-off" on Sunday he will take his place in the stands and his assistant Mano Polking will be in charge. Thailand appealed against his ban, but it turned out an unsuccessful attempt. "My second coach has all the instructions for tomorrow and the players know what they have to do. I have never lost a match when I was in the stands, I have won all matches." Schafer said at the press conference. Rather going for a stalemate, the German want to attack. "Tomorrow we go on the field for three points, we will not play for 0-0. We have to play for a goal, it is very important. We cannot sit back and defend for 90 minutes and hope to keep a clean sheet."
The guests from the neighboring state are expected to start with two strikers. One of them is Safee Sali who returns after a slight injury and was brought in with 75 minutes played on Sunday. Zambri returned to practice after he had to pause because of a groin strain. Malaysia coach Rajogabal is positive: "We are optimistic, also we have nothing to lose. The players know they have to play their very best and raise the level from the first match."
About an incident which happened in the first leg we would like to report briefly as is came to our notice after our game report went online. There we praised the great atmosphere at Bukit Jalil, and there's no doubt about that! Nevertheless, who has seen the goal of the Malaysians, will presumably have heard some crackers exploding. Unfortunately these were lighted on the terrace above the visiting Thai supporters and also were thrown down. Bangkok Glass FC reporter Chalinee Thirasupa amongst the pack
documented it on this picture
. Fortunately only one fan became slightly injured on his leg. Sad enough though.
For Thursday's game, 500 seats are spared for the away fans. Presumably these will be in the main stand, like last year at the same venue between Thailand and Australia.
Let's hope everything will go smoothly, crackers and puddles will be forgotten. That every one enjoys the party and Thailand can makes it to the final.