Alfred Riedl
(c) tintuc.xalo.vn
It is just around the corner that the biggest tournament in Southeast Asian region, the AFF Suzuki Cup, will be kicked off. To tune you in, we do have an interview for you with Alfred Riedl the actual head coach of Indonesia. Thailand will have to face the side of Riedl in the very last group match. Furthermore we plan to have interviews with David Booth (Laos), Radojko Avramović (Singapore), Henrique Calisto (Vietnam) and Simon McMenemy (Philippines).
However we like to kick off
our countdown
with Mr. Riedl. He was born and raised in Vienna and during his time as player he was one of the topscorers in Europe during the 70's. He played for Austria Vienna and
Standard Liège. At Ryoal Antwerp he even played together with Louis van Gaal and Eric Gerets. Alfred Riedl was honoured as Belgiums Topscorer in 1973 and 1975. Since May 2010 he is in charge for the Indonesian National team.
thai-fussball.de:
Mr. Riedl, since the early 90's you are coaching away from Austria. Recently I saw an article talking about such coaches like you, looking for new challenges all around the world. Josef Hickersberger, which whom you played together at Austria Wien, is such an example but also the likes of Berti Vogts, Holger Osieck or Wolfgang Sidka. What are the reasons behind for such coaches to go abroad and not to come back? Do they simply not want to come back?
A. Riedl:
Sometimes it is easier to find a job in foreign countries than at your doorstep. If you like to work, you can't wait for ages to get a job. After the first step, sometimes it is not that easy to go back home.
thai-fussball.de
: On of your first appearances as coach came with Zamalek SC in Egypt. Were you already in charge when Zamalek played the Afro-Asian Championship in September 94? If so, can you remember the match against Thai Farmers Bank FC which have been the opponent that time? Most likely it was your first contact with Thai football than.
A. Riedl:
Yes. We lost the second leg 0-1 (2-2 on agg) against Thai Farmers. I have been to Bangkok for the first time.
thai-fussball.de:
Between 1998 and 2007 you have been in charge for Vietnam three times and lead them to three AFF Suzuki Cup's (Tiger Cup). During the breaks you coached Al-Salmiya SC (Kuwait) and Palestine. Why did you come to back to Vietnam every time? Didn't you had to start from scratch every time?
A. Riedl:
Their resources were limited only in 1998, but since than the football in Vietnam pushed really forward. My wife and I, we feel very well there and thats why we came back three times.
thai-fussball.de:
In 2008 Vietnam won the AFF Cup for the first time under the reign of Henrique Calisto. Would you say that his success was based on your work you did before?
A. Riedl:
It was just a matter of time until Vietnam would win a big tournament. In 2008 they had the fortune, they were lacking of in previous years. However, everybody who is and was working for the football in Vietnam is having his share in the success of 2008.
" My target is to reach the final "
thai-fussball.de:
Since May 2010 you are the head coach of Indonesia. Before that you lead Laos under-23 to a great and surprising 3rd place at the SEA-Games in December 2009. Why it didn't had enough at the end to extend the contract?
A. Riedl:
Because the Lao Football Federation was in a changes that time and it took awhile. Right inbetween I got the offer from Indonisa.
thai-fussball.de:
In the likes of Mano Nhouvannasak you even had a German-Lao national in your squad. Actually he is on the jump to sign a contract with a Thai Premier League side. Why he couldn't make it to the final SEA-Games squad?
A. Riedl:
Mano would have been part of the squad. But his Lao passport wasn't done in time.
thai-fussball.de:
Let's get back to your actual task, the Indonesia national football team. Since you are started there back in May this year you are facing some chilly headwind. During the first weeks, it was to hear that other coaches may take your job. Recently team manager Andi Darussalam designated you as arrogant. And just a few days later the Indonesian FA came out and said that you have to win the AFF Cup, or otherwise you will get sacked. Even though you signed a two years contract. How do you deal with such a situation and such circumstances?
A. Riedl:
I read about it, but I don't care. Because as an employee of the FA I can be sacked every time. The issue with Andi is solved but it should not happen again. Otherwise I will not hold my breath and that would not be a good thing for the one or the other. My target is to reach the final. Other ones target doesn't concerns me. I do my job 100%. If it is not enough in the end, as said, I am just an employee.

Alfred Riedl 2010
(C) Steindy
thai-fussball.de:
As we mentioned already before, the AFF Suzuki Cup is just around the corner. How your preparation looks like? How is the actual situation and what will happen until your first match on 1 December against Malaysia.
A. Riedl:
On Monday will start our training camp with 25 players. We will have three pre-friendlys. 16 November against Philippines, on 21st against Hong Kong and on 24th against Chinese-Taipei.
thai-fussball.de:
It is said your players would lack of fitness. On the other hand, the season in Indonesia just started. After a long season the Thais are very tired. An advantage for your side when you will have to face Thailand in the last match of the group?
A. Riedl:
I think the players will get the rest they need. They will have fresh legs and will be in a good shape when facing us.
thai-fussball.de:
Is there any tactical scheme you prefer to play? If yes, which one?
A. Riedl:
Our tactic will depends on our opponent.
thai-fussball.de:
In your eyes, who will become first and second in your group and whom you see as favourite to win the tournament? Where your team will end?
A. Riedl:
The usual suspects, Thailand, Vietnam and Singapore. However don't underestimate Malaysia. In other ways as well you take any team easy. As said, we hope to be in the final.
thai-fussball.de:
Which league in the area of ASEAN you are consider as the best and strongest?
A. Riedl:
V-League in Vietnam. It looks like they made the strongest improvement.
" In generel for Southeast Asia, the youth development needs to be improved. "
thai-fussball.de:
Which foreign player regulation you would rate be the best? Indonesia having a five player foreign rule, as well as Thailand. Malaysia over the past two years even didn't allowed any foreigner.
A. Riedl:
The five player foreign rule is just good as half. If just three foreign players can be on the pitch the same time I am fine with. Like in Vietnam over the last years. In Indonesia actually we do have the rule of five foreign players are allowed to be on the pitch the same time, which is anything else than good. Because the local teams still don't have a chance to progress in Asia and the foreign players are just blocking the way for local kickers. The national side would benefit in the regional tournaments like AFF Cup and SEA-Games. On international level there would be no improvement.
thai-fussball.de:
What needs to be changed in Indonesian Football to do the next step? What needs to be changed especially in terms of youth development?
A. Riedl:
I am here just a few month, so I can't give a clear answer. In generel for Southeast Asia, the youth development needs to be improved. However, for that you need money, patience (long term planning) and good coaches.
thai-fussball.de:
Actually in Thailand we do have a few Germans working in different position within clubs. Would that be something for your? Could you imagine to coach in Thailand?
A. Riedl:
For myself, I can imagine to work in any country, even at youth level. I am experienced enough....
thai-fussball.de:
Lets go way back in time when you were on the pitch as player. In your time, you have been a Topscorer in Europe. Why you earned only four caps for Austria?
A. Riedl:
At this time Austria simply had too much good players. Hans Krankl, Kurt Jara, Walter Schachner and so on. I've been champion and cup winner for a few times
(only in Austria, red.)
, but thats all. But I scored a few goals
(more than 200!, red.)
.
thai-fussball.de:
Where have you been in 1978, during the "Miracle of Cordoba" (
Austria beat Germany by 3-2 during the World Cup, red.
)
A. Riedl:
I was the 23rd player.....I was in a very good shape to that time at Standard Liège. Anyway, I wasn't called up. It wasn't a big problem, tough because I just signed a new 4-year contract with Standard.
thai-fussball.de:
Who is or was the best player ever from Austria for you?
A. Riedl:
Herbert Prohaska. He was also chosen as the player of the century in Austria.
thai-fussball.de:
Who was your toughest marks man that time?
A. Riedl:
Eric Gerets during my first years in Belgium. Later I played together with him at Standard Liège for a four years time.....fortunately.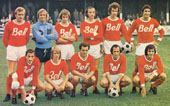 Riedl with Royal Antwerp 1974
thai-fussball.de:
During your spell with Royal Antwerp, Louis van Gaal was your teammate. Can you remember him? As a player it's believed he wasn't the best. Back in the days, was he already something like a "General" as he is nowadays known for? Was it foreseen that he would become such a big and successful coach as he is known today?
A. Riedl:
Lois van Gaal was a player with a lot of technical skills. But his other skills weren't that good. How can you see whether someone in the age of 25 can become a great coach later on?
thai-fussball.de:
You are now in the age of 61. Any thoughts of retirement? Would you prefer to spend the tome of your pension here in Southeast Asia or Austria?
A. Riedl:
I would like to work for a few more years, three to five. But than I will go back home.
thai-fussball.de:
Anything you miss on Austria?
A. Riedl:
Family, friends, heurigen (
sorry special Austrian wording, red.
), watching football on TV till the cow comes home!
thai-fussball.de:
How far you can get in Southeast Asia with the famous "Viennese snide humour" or did you put it aside already?
A. Riedl:
"Viennese snide humour" in private only, or outside football. I am totally different on duty.
thai-fussball.de:
You have been to so many different countries, beside Sacher cake and sugared pancake with raisins, what is your favourite dish from all those countries?
A. Riedl:
The dishes in Southeast Asia are fabulous. There is no need for Austrian food for us.
thai-fussball.de:
..and last bot not least...do you prefer a Austrian wines like Zweigelt and Veltiner or a beer from here?
A. Riedl:
Beer and wine everything at his time. But never drunken.

We like to thank Alfred Riedl very much for his time and the extense interview. We also would like to wish him all the best with his Indonesian side, but of course, not against Thailand.