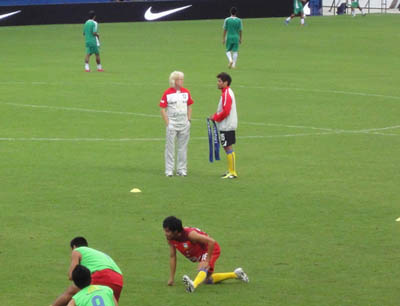 image: © thai-fussball.com
At the end of the Thai Premier League season 2012, preparation for the AFF Suzuki Cup begins for Winfried Schafer and his national team. At least almost.
Not all players Schafer has appointed in his temporary 35 strong squad is really completely available to him from 1 November in Chiang Mai. The FA Cup final on 4 November as well as the League Cup final on 11 November fall right into preparation time with all players of the involved clubs are released from camp for the Finals of course. Same is valid, in the against all odds case, Chonburi makes it to the final of the AFC Cup in a fortnight. Definitively affected of it are the nominated players of Ratchaburi FC and Buriram United. The latter possibly could even appear in both finals.
Originally friendly games were on the schedule for 14 and 18 November. However, the plan changed a bit and and the first warm-up will be on 7 November against Malaysia in Chiang Mai. Against whom, where and whether there will be any preparatory game on both appointments at the middle of November is not fixed yet. If Thailand remains with just that one game against Malaysia, the national teams brings it up to only three games since Oman in February this year. So if any of the Thai FA members expect Thailand to come away with the AFF Cup at the end of this year, they should look who's talking.
The biggest surprise with the nominated is Bangkok United's striker Sompong Soleb. At the beginning of the year he was stroked off the King's Cup squad by the German coach for an
unauthorised departure from the team's hotel
. The fact that the German over and over again conjures player out of the hat with pleasure becomes apparent again in case of Chaiwat Nak-iem. The Army United defender is already 34 and received his first call up to the national team ever. However, this late chance for him could vanish into thin air if he reaches the Cup Final with his club on 4 November.
Buriram United's Anthony Ampaipitakwong who had to strike sail after he received his first call up few weeks ago because of a food poisoning and most likely will have to play two cup finals, might have rather good chances to make the cut. Schafer must name his final 20-men line-up after the international against Malaysia.
GK:
Sivaruck Tedsungnoen (Buriram United), Kawin Thammasatchanan (Muang Thong), Kosin Hembut (Army United), Sinthaweechai Hathairattanakool (Chonburi FC)
DF:
Panupong Wongsa, Weerawut Kayem, Piyaphon Bantao (Muang Thong), Anucha Kitpongsri, Cholratit Jantakam, Natthaphong Samana, Jetsadakorn Hemdaeng (Chonburi FC), Theeraton Bunmathan (Buriram United), Nattaporn Phanrit (BEC Tero Sasana) Niweat Siriwong (Pattaya United), Chaiwat Nak-iem (Army United), Prahyat Bunya (Ratchaburi FC)
MF:
Datsakorn Thonglao, Phichitpong Cheuichieu, Jakkraphan Pornsai (Muang Thong), Adul Lahso (Chonburi FC), Anthony Ampaipitakwong, Jakkraphan Kaewprom, Surath Sukha (Buriram United), Apipoo Suntornpanavej (Osotspa), Chanathip Songkrasin (BEC Tero Sasana), Attapong Nooprom (Ratchaburi FC)
FW:
Teerasil Dangda (Muang Thong), Pipob On-Mo (Chonburi FC), Suriya Domtaisong (Buriram United), Chatree Chimtalay (Bangkok Glass FC), Thana Chanabut, Surachart Sareepim (beide Police United), Kirati Keawsombat (Wuachon United), Napat Thamrongsuphakorn (Samut Songkhram), Sompong Soleb (Bangkok United)