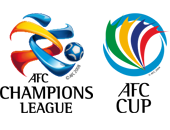 That is what it is all about

As already reported earlier, a group of AFC inspectors coming to Thailand. From 1st to 9th of October they will visit all Thai Premier clubs. Main reason of their visit is an evaluation about all the clubs. This is necessary in order to proof Thai clubs are fulfill the criteria from the AFC to participate on AFC Champions League and AFC Cup level. Different to the UEFA in Europe, there is no coefficient based on success, how to allocate the spots in the respective competitions. In Asia it is more important how the league and clubs are run in terms of professionalism.
It will be a matter of fulfilling some certain conditions like league structure, venues or media. Due to that, national associations in Asia are forced to create efficient structures on club level, how they are self-evidently in Europe. All this is part of a reform initiated by the Asian Football Confederation a few years ago. In Thailand, as a first result of all those reforms, the Thai Premier League Co. Ltd was founded in 2009.
The company now acts as the organizer of the Thai Premier League and the Thai Premier League Division 1. Furthermore all clubs must become a registered company. This resulted in the withdrawal of clubs like Bangkok Bank FC and Krung Thai Bank FC from the highest level in Thai football. Hence Bangkok Glass FC was buying out Krung Thai Bank FC.

The current evaluation will lead into a consultation within the AFC in November. Than the AFC will have a closer look at the assessment results and will make a decision about the allocation for the 20011 and 2012 AFC Champions League and AFC Cup seasons. AFC chairman Mohamed Bin Hammam announced in July already, that only fully professional clubs and leagues are eligible to play in the Champions league.

Nevertheless, Sout Korea could be an exception. Gwangju Sangmu FC is not a registered company and the players do not have a professional contract. All the players within the club serving the Korean army and therefore are not able to get such contracts.

Assessment criteria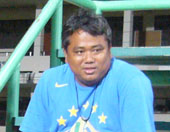 J. Meelarp, one of the few
Head coaches with AFC A license
(c) thai-fusball.de
Last time the AFC did an assessment was between 2006 and 2008. As a conclusion, Thailand got 221 points and were ranked 12. In consequence Thailand lost two direct entries for the AFC Champions League. Until now they have only one qualification spot for the Champions League and one direct entry for the AFC Cup.
Below is a summary of the conditions being a key role during the inspection. In brackets you are able to find the highest possible score at first, the second digit marks the score Thailand were able to achieve. All this as of May 2008.
1. Organisation (20 Pts/ 18):
Number of clubs in the highest tier, Round-robin system, a season over eight months at least, minimum six international referees, disciplinary code
2. Technical Standard
(100/ 33): based on the allover continental standard over the past five years
3. Attendance figures (100/ 26):
gate receipt, average attendance, decent ticket accounting and announcement of attendance figures
4. Management and credit rating of clubs and national associations (50/ 35):
no influence by the government, management structures and full contractual capability of the league leaders
5. Marketing and Promotion (20/ 14):
centralized sale of TV rights, marketing strategy
6. Business volume (100/ 3):
what kind of revenues, centralized sales procedure and merchandising as well as the level of revenue
7. Match organisation (20/ 20):
separated zones for fans, players, media and officials, security and fan service
8. Media (20/ 9):
possibility of accreditation for media , media stand, press conferences, at least 30% of all games are televised in full length, at least one live match will be broadcast each match day
9. Stadium (20/ 4,2):
work space for media representative, possibilities for live broadcasting, floodlight, stadium is within a 200km reach of an international airport
10. Clubs (50/ 41):
registered company or club, youth development, AFC coaching license of class "A", at least 18 players under pro contract, Stadium with at least 3.000 seats
Overall a total of 500 points could been achieved.
The real impact of the criteria in the 2010 assessment will not be known officially until November, when all the results, from all countries are evaluated by the AFC. A new major criteria might be the availability of high class hotels for players and officials. As well as local transport and Visa issues.
Chances for Thailand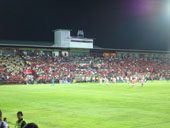 Should fit the AFC standard,
the Yamaha Stadium
(c) thai-fussball.de
Attendance figures have been one of the major problem during the last inspection for Thailand (an average of 2.000 was requested) and coaching licenses as well. The AFC is clearly asking for AFC "A" coaching license at all clubs. During a pre-visit a few months ago, Singapore and Thailand were praised for their progress. However, the Asian Football Confederation, raised the bar for average attendance figures to 5.000. Originally it was scheduled to be introduced in 2012. The figure of so called "Class A" stadiums also been raised to two. Such called stadiums should be available for Champions League matches and should have at least 5.000 seats covered by a roof. In that case there is not that much Thai clubs may have to worry. In the worst case stadiums in Bangkok will be used like already in the past. Thai Port FC had to play their 2010 AFC campaign at the Supachalasai National Stadium as well as Chonburi FC did in 2008.

Thailand improved a lot in those 100 point categories, and therefore is could be possible to overhaul Indonesia (287 pts) and Singapore (279 pts). Espacially Singapore could face some problems on the increased conditions.

Allocation
So far the allocation for the group stage was like, 15 spots for clubs from East Asia and 15 Spots for clubs from West Asia. The remaining two spots are battled out in Qualification. 8 Groups than are sorted by regional terms. Means that 4 groups are made of countries from East and 4 from West. Simple reason behind segmentation is the distances between the counties and the travel costs. Imagine you may have to travel from Kuwait to Japan just for a group match would make no sense. So most likely there will be changes to be seen in the future.

Four spot each are allocated to three countries from East and West Asia. Only the Top-10 leagues get a direct entry to the group stage. It's not clear how this may change in the future. Maybe "big" nations like Japan, China or Iran going to loose one of their 4 spots and get one in the AFC Cup.

Author:esgede