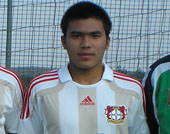 Surachet Ngamtip -
U19 Skipper
courtesy of H. R. Emser
AFC U19 Championship 2010 will kick off tomorrow with the opener China against Saudi Arabia. It will be the 36th edition of the most important youth tournament in Asia. With the final to be played on 17 October it will come to end.
Thailands U19 qualified for this tournament and was drawn into Group A. They will face China, Saudi Arabia and Syria. Surely not an easy one. Head coach Chalermvud Sangnapol, former Bangkok Bank Coach, told the media: "In our group, Saudi Arabia, China and Syria are very strong. I hope also to qualify because we came with the target of qualifying. It will be hard but we hope to qualify also." China clearly is favourite for winning Group A. The Thais will play matches at the Zibo Sports Center Stadium in Zibo.
Thailand was able to qualify, coming second behind South Korea in the qualification tournament in 2009. Since 1992 the Thais never missed a U19 Championship final round.
However only in 1994 they were able to advance to the semi finals. Since than, the team failed to made it beyond the group stage and mostly earned not more than four points. Thailand U19 won the Championship by just one occasion, way back in 1962. In the final they edged South Korea by 2:1.

Regarding the squad for the actual campaign, we have to admit that we are lacking of information. Once again the Thai FA have not been able to put any information on their official Website. You might be able to find the final score there, but no information about the squad nominated.

Nevertheless, it very secured that the youngsters are with their skipper Surachet Ngamtio from Bangkok Glass. In addition Sarat Yooyen, Chakrit Rawanprakone and Adisak Kraisorn from Phuket FC, as well as Chayanan Pombuppha, Police United. After we have seen the scoresheet from the first match, surely will know much more and provide you with the names and respective clubs, if available.

There is not that much hope of a live coverage. But obviously the matches with Chinese involvement will be broadcasted. That at least gives us hope to see the last group match against China on 7 October.